Gov. Edwards announces easing of statewide mask mandate, coronavirus restrictions
.
Updated: Apr. 27, 2021 at 3:05 PM CDT
BATON ROUGE, La. (WAFB) - Louisiana Gov. John Bel Edwards held a news conference about the state's response to COVID-19 at 3:30 p.m. Tuesday, April 27.
Gov. Edwards announced he is amending the statewide mask mandate to allow local governments to set their own mandates.
However, masks will still be required in certain places.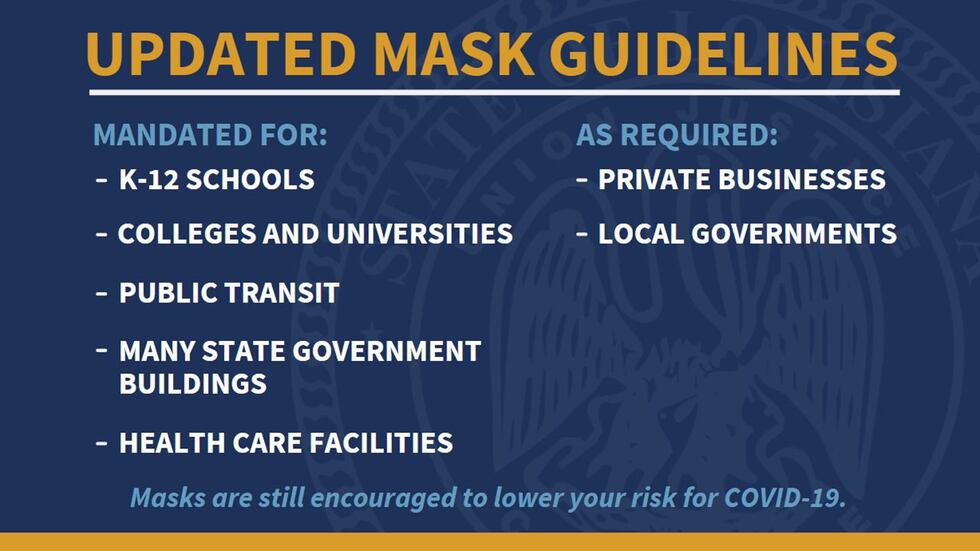 Gov. Edwards said the revision of the mandate is not an end to the recommendation of wearing a mask to prevent the spread of the coronavirus.
The governor's current executive order, which keeps a statewide mask mandate in place and the state in Phase 3, will expire on Wednesday, April 28.
Gov. Edwards said Tuesday he signed a new executive order for his amendment to the mask mandate and to lift many coronavirus restrictions that will go into effect Wednesday.
RELATED: CDC says many Americans can now go outside without a mask
The Centers for Disease Control and Prevention (CDC) issued new guidance Tuesday saying fully vaccinated Americans don't need to wear masks outdoors anymore unless they are in a big crowd of strangers.
RELATED: Louisiana House to debate whether to legalize marijuana use
Gov. Edwards continued to urge residents to get vaccinated against the coronavirus despite hesitancy among many to get the vaccine.
RELATED STORIES:
Health officials report 1.2 million Louisiana residents have completed a COVID-19 vaccine series, as of Monday, April 26. That number is 26% of the state's population, according to Gov. Edwards.
Completing a COVID-19 vaccine series means a resident has received both doses of the Pfizer or Moderna vaccines or one dose of the Johnson and Johnson vaccine.
RELATED: Louisiana's population has grown by 107k since 2010, Census says
The governor's address will be streaming live in this story and on the digital platforms of WAFB-TV in Baton Rouge, WVUE-TV in New Orleans, KALB-TV in Alexandria, KNOE-TV in Monroe, KPLC-TV in Lake Charles, KSLA-TV in Shreveport.
Click here to report a typo.
Copyright 2021 WAFB. All rights reserved.