Gov. Edwards signs bills into law from 2023 Legislative Session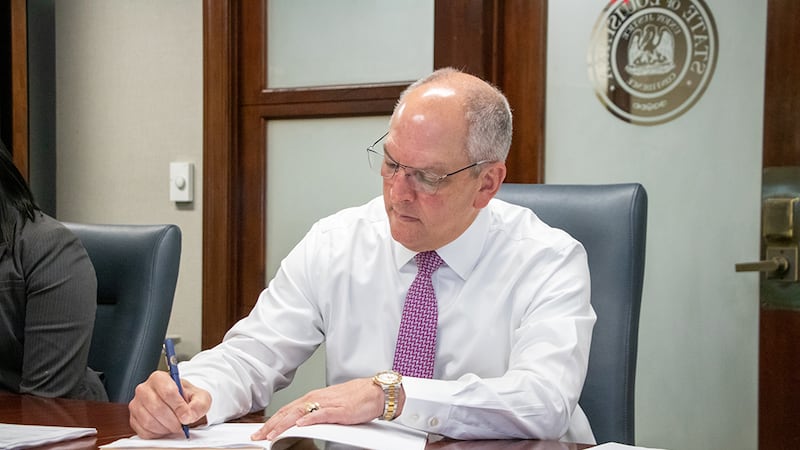 Published: May. 25, 2023 at 4:02 PM CDT
|
Updated: Jun. 28, 2023 at 1:42 PM CDT
BATON ROUGE, La. (WAFB) - Gov. John Bel Edwards signed new bills into law on Wednesday, June 28, from the 2023 Legislative Session.
See the full list of new acts below:
ACT 1-HB294 Provides for certain insurance premium discounts.
ACT 2-HB113 Provides relative to volunteer board members of certain interlocal risk management agencies.
ACT 3-HB123 Provides relative to nursing home requirements and standards for emergency preparedness plans.
ACT 4-HB319 Repeals a provision of licensure by endorsement for nurses.
ACT 5-HB230 Provides for the continuous revision of the Code of Civil Procedure.
ACT 6-HB6 Extends deadline for annual January meetings of certain public postsecondary education boards.
ACT 7-HB7 Provides relative to default judgments.
ACT 8-HB11 Provides for contract limits for projects.
ACT 9-HB20 Provides relative to court costs for the City Court of Lake Charles.
ACT 10-HB27 Provides with respect to reporting of gaming revenue.
ACT 11-HB48 Provides relative to mayor's court costs.
ACT 12-HB110 Provides relative to fortified roof endorsements.
ACT 13-HB112 Provides relative to the Louisiana State Board of Private Security Examiners.
ACT 14-HB133 Provides relative to the Prescription Monitoring Program Advisory Council.
ACT 15-HB171 Provides relative to requirements for dealers and marketplace facilitators to collect and remit sales and use taxes.
ACT 16-HB194 Provides relative to post-adoption visitation rights of grandparents.
ACT 17-HB200 Provides relative to newborn screening for certain genetic conditions.
ACT 18-HB216 Authorizes certain military members stationed in Louisiana to serve as commissioners.
ACT 19-HB232 Provides relative to licensing and reporting procedures for charitable gaming.
ACT 20-HB248 Provides for the burial of pet remains with human remains.
ACT 21-HB256 Requires extension of the deadline to pay local sales taxes when the deadline for payment of the tax falls on certain holidays.
ACT 22-HB302 Provides relative to cemetery trust funds.
ACT 23-HB314 Provides relative to trained peer support members.
ACT 24-HB337 Eliminates the minimum child support award in the child support guidelines.
ACT 25-HB393 Provides relative to certain building code roofing inspections of a commercial or residential structure.
ACT 26-HB395 Provides relative to filings with the secretary of state's office.
ACT 31-SB15 Provides relative to per diem received by commissioners of the Vinton Harbor and Terminal District.
ACT 32-SB17 Provides for the composition, terms, powers, and duties of the Shreveport police and firefighters' pension boards of trustees.
ACT 33-SB20 Provides relative to hospital service districts and scholarships for certain healthcare professionals.
ACT 34-SB24 Provides relative to the Louisiana Board for Hearing Aid Dealers.
ACT 35-SB29 Provides relative to the use of a surgical smoke plume evacuation system.
ACT 36-SB36 Provides for funding of certain insurance costs for retirees of the Ascension Parish Sheriff's Office.
ACT 37-SB53 Provides for the powers and authority of the commission of the Cane River Waterway District.
ACT 38-SB55 Provides for procuration or mandate by a succession representative.
ACT 39-SB59 Authorizes the sale of certain school property by the Natchitoches Parish School Board and the State Board of Elementary and Secondary Education.
ACT 40-SB64 Creates Ezekiel's Law and provides relative to protecting children from abuse.
ACT 41-SB68 Provides for the lease of property located within Jefferson Parish.
ACT 42-SB98 Provides for adding interest in bone marrow donorship to the list of options offered during application for renewal of a state-issued driver's license.
ACT 43-SB100 Provides for advanced recycling facilities.
ACT 44-SB101 Provides for the distribution of funds from the Lafayette Parish Visitor Enterprise Fund.
ACT 45-SB113 Provides for certain insurance premium discounts.
ACT 46-SB115 Provides relative to educational benefits for children, spouses, and surviving spouses of certain veterans.
ACT 47-SB143 Provides for former officers or insolvent insurers.
ACT 49-HB19 Provides relative to group insurance expenses of the clerk of court of Evangeline Parish.
ACT 50-HB28 Designates certain portions of highways in Iberia and St. Landry parishes.
ACT 51-HB30 Provides with respect to the salary of magistrate judges in the Fourteenth Judicial District Court.
ACT 52-HB49 Provides relative to transcription fees charged by court reporters in the Thirty-Sixth Judicial District.
ACT 53-HB72 Provides relative to the designation of military and veteran-friendly campuses.
ACT 54-HB73 Designates a portion of Louisiana Highway 433 in St. Tammany Parish as the "Captain Walter B. Abney Memorial Highway."
ACT 55-HB78 Provides relative to school facilities preservation and systemwide needs programs in certain school districts.
ACT 56-HB86 Creates the "Protect Teachers Act."
ACT 57-HB87 Provides relative to the board of commissioners of East Feliciana Gas Utility District No. 1.
ACT 58-HB124 Authorizes the sale or exchange of sixteenth-section state lands by the Cameron Parish School Board.
ACT 59-HB140 Provides relative to the Mid City Economic Development District in Orleans Parish.
ACT 60-HB142 Provides for the termination of custodial property under the Uniform Transfers to Minors Act.
ACT 61-HB150 Increases certain fees for justice of the peace courts.
ACT 62-HB161 Changes local sales and use tax exemptions for commercial fishermen and certain seafood processing facilities from optional to mandatory.
ACT 63-HB191 Provides relative to teacher certification.
ACT 64-HB202 Provides relative to fees for the City Court of Hammond.
ACT 65-HB441 Provides relative to assault upon a utility service employee.
ACT 66-HB209 Provides relative to Cameron Parish Water and Wastewater Board for District No. 1
ACT 67-HB226 Provides relative to marshals and constables.
ACT 68-HB227 Provides relative to uniform traffic citations.
ACT 69-HB231 Provides relative to Louisiana veterans cemeteries.
ACT 70-HB233 Provides relative to court costs and fees for the City Court of Ruston.
ACT 71-HB235 Provides relative to the guaranteed issue of Medicare supplement policies.
ACT 72-HB240 Increases certain fees for the justice of the peace courts in East Baton Rouge Parish and Jefferson Parish.
ACT 73-HB262 Provides relative to the sale of annuity products.
ACT 74-HB264 Designates a bridge located on Louisiana Highway 1 between Pointe Coupee and Avoyelles, Louisiana, as the "Marion Peter Roy, Sr., Memorial Bridge."
ACT 75-HB271 Provides relative to sequestration of jurors.
ACT 76-HB273 Provides for the expropriation of property by a declaration of taking by certain political subdivisions of Calcasieu Parish.
ACT 77-HB285 Provides relative to the use of state sales tax increments in certain local tax increment financing initiatives.
ACT 78-HB297 Provides a time limitation for citing intentional and simple littering violations.
ACT 79-HB316 Provides for Louisiana High School Seniors Voter Registration Day.
ACT 80-HB320 Provides relative to nursing education.
ACT 81-HB334 Provides relative to private insurance for certain deposits and shares.
ACT 82-HB336 Provides relative to the capital outlay process and reporting requirements.
ACT 83-HB338 Provides relative to the Early Childhood Care and Education Commission.
ACT 84-HB367 Provides relative to pupil appraisal and services for children transitioning from EarlySteps to services provided by the local public school system upon their third birthday.
ACT 85-HB370 Provides relative to criminal blighting of property.
ACT 86-HB378 Provides relative to the DNA database exchange.
ACT 87-HB447 Requires agency referrals of delinquent debt to the office of debt recovery for collection to include certain information.
ACT 88-HB455 Provides relative to rights in minerals.
ACT 89-HB474 Provides relative to licenses for certain raffle games.
ACT 90-HB479 Provides relative to expungement of records.
ACT 91-HB496 Makes revisions to the Louisiana Election Code.
ACT 92-HB527 Designates a portion of Louisiana Highway 398 as the "Commander Glenn Daigle Memorial Bridge."
ACT 93-HB561 Provides relative to the Louisiana State University Agricultural Center.
ACT 94-HB579 Provides relative to pet insurance.
ACT 108-HB34 Provides relative to the funding deposit account for Municipal Police Employees' Retirement System and authorizes the board of trustees of the system to modify employer contributions.
ACT 109-HB50 Designates the bridge located on Interstate 55 service road in Manchac between Lake Maurepas and Lake Pontchartrain as the "Robert E. Mayers, Jr. Memorial Bridge."
ACT 110-HB57 Designates a portion of Louisiana Highway 657 in Larose, Louisiana, as the "Clarence Marts, Jr. Memorial Highway."
ACT 111-HB64 Provides relative to per diem and reimbursement of expenses for members of the Cameron Parish Library Board of Control.
ACT 112-HB67 Authorizes the University of Louisiana System to establish tuition and fees for a Doctor of Physical Therapy program at the University of Louisiana at Monroe.
ACT 113-HB80 Provides relative to the prior approval process available to potential suppliers.
ACT 114-HB83 Provides relative to toll exemptions for students traveling on ferries, roads, and bridges.
ACT 115-HB93 Provides relative to per diem paid to members of the governing board of Fire District No. 5 of Allen Parish.
ACT 116-HB111 Extends the tax exemption period for cigars and pipe tobacco products sampled at the Premium Cigar Association convention.
ACT 117-HB132 Provides relative to advertisement and sponsorship signs on property of the Department of Culture, Recreation and Tourism.
ACT 118-HB138 Provides relative to administrative adjudication of certain ordinance violations in the city of DeRidder.
ACT 119-HB304 Prohibits an elected official who has retired or resigned from office from filling the vacancy his retirement or resignation created.
ACT 120-HB331 Provides relative to automatic weapons.
ACT 121-HB347 Provides relative to court costs and civil filing fees in Alexandria City Court.
ACT 122-HB356 Provides relative to compensation for Ouachita Parish hospital service district commission members.
ACT 123-HB368 Establishes the official state nut.
ACT 124-HB383 Requires each insurer subject to the Louisiana Insurance Guaranty Association Law to provide for a data transfer plan and file such plan with the commissioner of insurance.
ACT 125-HB403 Authorizes substitution of certain biosimilar biological products relative to step therapy or fail first protocols.
ACT 126-HB488 Provides relative to inspections of riverboats.
ACT 127-HB524 Provides relative to distilleries.
ACT 128-HB644 Creates Affordable Digital Textbook and Learning Materials Pilot Programs.
ACT 129-HB647 Provides relative to manufacturing distillers of alcoholic beverages.
ACT 130-HB651 Provides relative to alcoholic beverage products for consumption off restaurant premises.
ACT 131-HB13 Changes the name of one member on the South Tangipahoa Parish Port Commission.
ACT 132-HB18 Designates certain portions of Louisiana Highways in Calcasieu and St. Tammany parishes.
ACT 133-HB21 Provides relative to extended leave for school bus operators and public school employees.
ACT 134-HB37 Provides relative to the board of trustees of the Firefighters' Retirement System.
ACT 135-HB44 Provides relative to the board of trustees of the Firefighters' Retirement System.
ACT 136-HB59 Authorizes the use of personal watercraft between sunset and sunrise.
ACT 137-HB92 Provides relative to the composition of a parish executive committee of the Democratic Party in Caddo Parish.
ACT 138-HB101 Provides for membership on the Fireman's Supplemental Pay Board.
ACT 139-HB105 Provides relative to the civil service status of employees of Kinder Public Housing Authority.
ACT 140-HB114 Exempts certain state property in Lafourche Parish from state park size requirements.
ACT 141-HB185 Provides relative to the Lake Terrace Crime Prevention District in Orleans Parish.
ACT 142-HB301 Provides relative to compensation to wrecker service companies for costs associated with undertaking remedial action involving hazardous material accidents.
ACT 143-HB343 Redesignates a portion of Louisiana Highway 171 in DeSoto Parish as the "Chris Gray Memorial Highway."
ACT 144-HB345 Provides relative to the Pointe Coupee Parish Retired Employees Insurance Fund.
ACT 145-HB359 Creates a Juvenile Justice District to include the parishes of Ascension, Assumption, St. Charles, St. James, and St. John the Baptist.
ACT 146-SB26 Provides relative to public notice of hearings of the Ethics Adjudicatory Board.
ACT 147-SB40 Allows the use of summary proceedings in matters pending before the Ethics Adjudicatory Board.
ACT 148-SB49 Increases penalties for the crime of creation or operation of a clandestine laboratory for the unlawful manufacture of certain controlled dangerous substances.
ACT 149-SB51 Provides relative to the Louisiana Electric Utility Energy Transition Securitization Act.
ACT 150-SB103 Renames the Department of Natural Resources.
ACT 151-SB182 Increases penalties for violations relative to the purchase of junk, used or secondhand property or scrap metal.
ACT 152-SB218 Provides for powers, duties, and functions of the State Plumbing Board.
ACT 153-HB137 Provides relative to the secretary of the municipal fire and police civil service board for the city of Monroe.
ACT 154-HB210 Provides relative to the Louisiana Local Government Environmental Facilities and Community Development Authority.
ACT 155-HB215 Provides relative to acceptable methods of payment for the office of motor vehicles.
ACT 156-HB223 Provides relative to the Iberville Parish Parks and Recreation District.
ACT 157-HB225 Provides relative to the Sewerage and Water Board of New Orleans.
ACT 158-HB268 Provides relative to the salaries of firefighters employed by the city of Sulphur.
ACT 159-HB270 Provides relative to the growth and accumulation of grass, weeds, and other deleterious matter in Orleans Parish.
ACT 160-HB274 Provides relative to the investment of certain funds by the governing authority of Lincoln Parish.
ACT 161-HB279 Provides relative to conveying by the La. Tax Commission of ad valorem tax assessment information it receives from local assessors.
ACT 162-HB296 Provides relative to the Mid-City Security District in Orleans Parish.
ACT 163-HB323 Creates the "Juneteenth" specialty license plate.
ACT 164-HB348 Provides relative to school safety.
ACT 165-HB350 Authorizes the exchange of certain state property in Calcasieu Parish.
ACT 166-HB357 Creates the Acadiana Regional Juvenile Justice District.
ACT 167-HB394 Establishes special prestige license plates for certain Louisiana schools.
ACT 168-HB398 Requires persons being transported offshore by aircraft wear life jackets equipped with personal locator beacons.
ACT 169-HB407 Provides relative to the Louisiana Drone Advisory Committee.
ACT 170-HB438 Provides relative to oyster seed ground vessel permits.
ACT 171-HB493 Provides for fees on emergency ground ambulance providers and the disposition of fees.
ACT 172-HB516 Provides for placement of a special identification sticker or decal on a motor vehicle operated by a person with autism spectrum disorder or their guardian.
ACT 173-HB520 Creates the "Utility Line Worker", the "Louisiana Soccer Association", and the Louisiana Respiratory Therapist "RT STRONG" special prestige license plates.
ACT 174-HB532 Provides relative to fees charged for certain military honor license plates and the processing of plates at the office of motor vehicles state headquarters.
ACT 175-HB565 Creates the University Security District in East Baton Rouge Parish.
ACT 176-HB592 Provides relative to driver education skills test.
ACT 177-HB643 Provides relative to cytomegalovirus (CMV) testing for newborns.
ACT 178-HB650 Provides relative to compensation and other requirements for official journals of parishes, municipalities and school boards.
ACT 179-SB127 Constitutional amendment to authorize the local governing authority of each parish to provide a limited ad valorem tax exemption for qualified first responders.
ACT 180-HB289 Provides relative to organ donation instruction in public high schools.
ACT 181-HB412 Establishes a program to be administered by the La. Educational Television Authority for the purpose of encouraging reading for young children and creates a fund within the state treasury for the purpose of funding the program.
ACT 182-HB587 Provides relative to the Louisiana Community Health Worker Workforce Board.
ACT 183-HB645 Creates the crime of unlawful production, manufacturing, distribution, or possession of Xylazine.
ACT 184-SB18 Provides for benefit increases for retirees, beneficiaries, and survivors of state retirement systems and the funding therefor.
ACT 185-SB22 Provides relative to soil conservation policy.
ACT 186-SB37 Provides relative to the civil service status of employees of the Berwick Housing Authority.
ACT 187-SB39 Establishes the Community Options Waiver Fund and provides for dedication of revenues and use of monies in the fund.
ACT 188-SB43 Exempts certain persons who sell trolling motors from licensing requirements.
ACT 189-SB57 Provides for the board of commissioners for the East Baton Rouge Parish Communications District.
ACT 190-SB58 Provides for creation of a public benefit corporation in Jefferson Parish.
ACT 191-SB67 Requires certain financial documents related to the Louisiana Timber and Agriculture Transportation Group Self-Insurance Funds.
ACT 192-HB92 Provides for the board of commissioners of veterans' memorial districts.
ACT 193-SB169 Provides for tracking rape kits from collection through conviction.
ACT 194-SB210 Provides relative to the practice of optometry.
ACT 195-SB222 Provides relative to the civil service status of employees of the Morgan City Housing Authority.
ACT 196-SB223 Increases the transaction fee for processing office of motor vehicles transactions in the city of West Monroe.
ACT 197-SB232 Provides for creation of the Victoria Farms Crime Prevention and Improvement District.
ACT 198-HB244 Provides relative to the Revenue Stabilization Trust Fund.
ACT 199-HB254 Repeals provisions in the Louisiana Constitution related to various funds.
ACT 200-HB311 Prohibits the use of monies from a foreign government or nongovernmental source to fund elections.
ACT 201-SB14 Provides relative to schedules of the Uniform Controlled Dangerous Substances Law.
ACT 202-SB28 Provides relative to grain sampling and grading.
ACT 203-SB70 Authorizes the creation of cooperative economic development districts affiliated with Southern University and Louisiana State University in East Baton Rouge Parish.
ACT 204-SB76 Creates a special medical district in St. Martin Parish.
ACT 205-SB87 Provides for the jurisdictional boundaries of the Benton Metropolitan Planning Commission.
ACT 206-SB106 Requires the insurer to provide upon written request of the insured claim file for certain records in connection with an unsettled property insurance claim.
ACT 207-SB135 Provides relative to Medicaid reimbursement for services provided by a licensed midwife or certified nurse midwife.
ACT 208-SB150 Creates the Louisiana Literacy Advisory Commission.
ACT 209-SB161 Provides for the Louisiana Small Wild Catfish Processor's Act.
ACT 210-SB200 Provides that retaliation against an employee for an absence from work due to genetic testing or a medically necessary cancer screening shall be an unlawful employment practice.
ACT 211-SB202 Provides relative to campus accountability and safety.
ACT 212-SB229 Provides for the boundaries and certain payments to the New Orleans Exhibition Hall Authority Economic Growth and Development District.
ACT 213-SB231 Provides relative to the creation of the Mickens Place Crime Prevention and Improvement District in East Baton Rouge Parish.
ACT 214-HB55 Provides relative to mental health treatment of incarcerated people.
ACT 215-HB68 Authorizes public high schools to offer a course of instruction in the history and literature of the Bible.
ACT 216-HB77 Provides for attorney general investigation for publishers and distributors of material harmful to minors.
ACT 217-HB89 Provides relative to the collection of certain traffic stop data by law enforcement.
ACT 218-HB94 Provides relative to theft or criminal access of automated teller machines.
ACT 219-HB121 Requires public schools to provide at least one recess period per school day in schools with any grade kindergarten through fifth grade.
ACT 220-HB128 Provides relative to nuisance ordinances regarding grass cutting in West Baton Rouge Parish.
ACT 221-HB135 Prohibits a registered sex offender or child predator from serving as a commissioner or watcher.
ACT 222-HB136 Provides for the abolition of the office of police chief and the police department for the village of Noble.
ACT 223-HB139 Provides relative to administrative adjudication of certain ordinance violations in the parish of Acadia.
ACT 224-HB167 Provides for a tuition waiver for certain disabled veterans.
ACT 225-HB174 Prohibits the disclosure of certain information regarding the active duty or dependent status of certain voters.
ACT 226-HB184 Provides relative to a child in need of care.
ACT 227-HB192 Provides an exception to allow an immediate family member of a village governing authority member to be appointed or employed by the village under certain circumstances.
ACT 228-HB193 Provides relative to transcription fees charged by court reporters in the Thirtieth Judicial District.
ACT 229-HB217 Provides relative to commissioners of the Nineteenth Judicial District Court.
ACT 230-HB224 Provides relative to contracts awarded to socially and economically disadvantaged businesses in the city of New Orleans.
ACT 231-HB258 Establishes a state maritime academy within the University of Louisiana System.
ACT 232-HB275 Provides relative to Concordia Parish Hospital Service District No. 1.
ACT 233-HB434 Provides relative to the state medical assistance program.
ACT 234-SB12 Requires an automated external defibrillator on the premises of all educational institutions and at sponsored athletic events.
ACT 235-SB16 Provides relative to parish boards of election supervisors.
ACT 236-SB23 Requires approval by the secretary of state for the use and expands permissible locations of alternative locations for early voting.
ACT 237-SB34 Provides for "Crisis Lifeline dial 988″ to be included on all state-issued driver's licenses and personal identification cards and the home page of LA Wallet.
ACT 238-SB46 Provides for review of textbooks and other instructional materials.
ACT 239-SB61 Creates an individual income tax checkoff for donations for Holden's Hope.
ACT 240-SB80 Provides for transparency and community engagement in redistricting.
ACT 241-SB84 Requires the La. Board of Ethics to send certain communications electronically.
ACT 242-SB89 Provides relative to the net capital gains deduction for individual income tax.
ACT 243-SB117 Provides relative to the crime of assault by drive-by shooting.
ACT 244-SB145 Provides for methods to contract for certain airport facilities.
ACT 245-SB152 Creates the Louisiana Cybersecurity Commission.
ACT 246-SB167 Provides relative to design-build.
ACT 247-SB213 Provides relative to the costs for public records.
ACT 248-SB225 Authorizes the city of Denham Springs to levy a hotel occupancy tax.
ACT 249-SB8 Provides relative to interest applicable to local sales and use taxes paid under protest.
ACT 250-SB62 Provides for the notification of certain hazardous material releases.
ACT 251-SB69 Extends the sunset of the research and development tax credit.
ACT 252-SB72 Provides relative to the issuance of revenue bonds on behalf of the Department of Public Safety and Corrections.
ACT 253-SB108 Provides relative to the Angel Investor Tax Credit Program.
ACT 254-SB110 Provides for patient's right to prompt coverage.
ACT 255-SB118 Extends the sunset of the Louisiana Tax Free Shopping Program.
ACT 256-SB124 Increases the penalty for driving a vehicle without a license plate attached.
ACT 257-SB130 Authorizes retired law enforcement officers and retired elected law enforcement department heads to carry concealed firearms if POST certified at the time of retirement.
ACT 258-SB144 Provides relative to horse racing.
ACT 259-SB147 Creates the Louisiana Churches and Nonprofit Religious Organizations Self-Insured Fund.
ACT 260-SB163 Requires numeracy professional development for certain teachers.
ACT 261-SB173 Provides for the disposition of monies designated for horse racing purses.
ACT 262-SB183 Provides relative to the construction code retrofitting deduction for individual income tax.
ACT 263-SB186 Provides relative to the Occupational Therapy Licensure Compact.
ACT 264-HB8 Requires display of the national motto, "In God We Trust", in every public elementary, secondary, and postsecondary education classroom.
ACT 265-HB36 Provides for the Delta Agriculture Research and Sustainability District.
ACT 266-HB69 Provides for the screening and diagnosis of students with respect to dyslexia.
ACT 267-HB103 Adds Financial Literacy as a required course for high school students.
ACT 268-HB242 Provides relative to corporal punishment in elementary and secondary schools.
ACT 269-HB269 Provides relative to the Delachaise Security and Improvement District in Orleans Parish.
ACT 270-HB272 Provides relative to maternity support services of doulas.
ACT 271-HB298 Provides relative to parental rights in certain circumstances.
ACT 272-HB305 Provides relative to electronic signatures by judges.
ACT 273-HB332 Provides for the transfer of certain state property in Tangipahoa Parish.
ACT 274-HB355 Authorizes the city of Eunice to levy a hotel occupancy tax.
ACT 275-HB358 Provides relative to the membership of the governing board of Waterworks District No. 1 of Pointe Coupee Parish.
ACT 276-HB444 Provides relative to parole eligibility for certain offenders.
ACT 277-HB449 Provides relative to the rights of voters with disabilities.
ACT 278-HB477 Provides relative to information provided when prosecuting offenses.
ACT 279-HB485 Creates the Louisiana National Guard Patriot Scholarship Program to cover the cost of mandatory fees for members attending La. public postsecondary education institutions.
ACT 280-HB497 Provides relative to Louisiana Board of Chiropractic Examiners.
ACT 281-HB578 Provides relative to a smoking cessation benefits program.
ACT 282-HB624 Creates the Evangeline Economic Development Authority in Evangeline Parish.
ACT 283-HB649 Provides for a Louisiana Music Trail and related programs.
ACT 284-SB5 Provides for alternatives in lieu of payment under protest for challenges to ad valorem tax assessments.
ACT 285-SB189 Provides relative to electronic or video bingo machines and licensed premises.
ACT 286-SB192 Provides relative to the Louisiana Gaming Control Board.
ACT 287-SB204 Provides relative to the M.J. Foster Promise Award program.
ACT 288-SB56 Reinstates the Second Amendment sales tax holiday.
ACT 289-SB75 Provides relative to the assessment of taxes by the Department of Revenue.
ACT 290-SB96 Provides the Louisiana Insurance Guaranty Association and the Louisiana Citizens Property Corporation shall not be liable for certain property damage insurance claims.
ACT 291-SB129 Requires certain state entities to report corrective actions taken to mitigate state risk exposure upon request of the litigation subcommittee of the Joint Legislative Committee on the Budget.
ACT 292-SB166 Authorizes the division of administration to waive local match requirements for certain non-state entity projects.
ACT 293-HB60 Provides for the regulation of fueling stations for electric vehicles.
ACT 294-HB435 Provides relative to medicaid coverage of chimeric antigen receptor T-cell therapy.
ACT 295-HB446 Provides relative to online handgun education course curriculum.
ACT 296-HB652 Authorizes certain healthcare professionals to certify the existence of an illness.
ACT 297-HB127 Exempts from state excise and sales taxes certain items given free of charge as samples at conventions, trade shows, and similar events.
ACT 298-HB148 Provides relative to supplemental pay for municipal or parish fire department employees.
ACT 299-HB186 Provides relative to health insurance coverage for standard fertility preservation services.
ACT 300-HB207 Establishes penalties associated with minors swimming in certain waterways without personal flotation devices.
ACT 301-HB213 Exempts certain school surveillance and security video from the Public Records Law.
ACT 302-HB237 Provides relative to certain activities regarding contraband.
ACT 303-HB265 Provides relative to release and dissemination of booking photographs of an arrested person.
ACT 304-HB276 Provides relative to fines for building code violations in New Orleans.
ACT 305-HB282 Requires free school breakfast and lunch for certain students.
ACT 306-HB335 Creates the North Lake Charles Economic Development District.
ACT 307-HB344 Provides with respect to certain permits required by parishes and municipalities.
ACT 308-HB361 Prohibits the use of TikTok and related applications on computers and networks owned or leased by the state.
ACT 309-HB376 Provides relative to protective orders.
ACT 310-HB411 Expands the types of investments eligible for the insurance premium tax credit.
ACT 311-HB460 Provides relative to the dispensing of medical marijuana.
ACT 312-HB468 Provides relative to utilization review standards and approval procedures for healthcare service claims submitted by healthcare providers.
ACT 313-HB505 Authorizes the transfer of certain state property in Orleans Parish.
ACT 314-HB506 Creates the Louisiana Interagency Council on Homelessness within the office of the governor.
ACT 315-HB526 Establishes a chief resilience officer and provides for interagency coordination of resilience planning.
ACT 316-HB163 Provides relative to the secretary of the Baton Rouge municipal fire and police civil service board.
ACT 317-HB196 Provides relative to summary judgment.
ACT 318-HB353 Provides relative to student behavior, discipline, and behavioral and mental health.
ACT 319-HB409 Provides relative to stormwater utility systems.
ACT 320-SB33 Increases the amount of supplemental pay for eligible law enforcement and fire service employees.
ACT 321-SB44 Provides relative to high-occupancy vehicle (HOV) lanes.
ACT 322-SB66 Provides relative to telehealth services.
ACT 323-SB102 Provides relative to the Acadiana Watershed District.
ACT 324-SB104 Provides for health insurance coverage of genetic testing for diseases and other medical conditions.
ACT 325-SB137 Creates the Office of the State Child Ombudsman and the state child ombudsman.
ACT 326-SB142 Authorizes the utilization of court reporters licensed in another state in certain circumstances.
ACT 327-SB146 Provides for Megaprojects Leverage Fund investments.
ACT 328-SB156 Provides that no property insurance policy shall prohibit an insured from hiring a public adjuster.
ACT 329-SB83 Provides for certain change orders when certain unit prices are contained in the initial contract.
ACT 330-SB184 Provides for repayment of personal contributions or loans.
ACT 331-SB185 Provides relative to the licensing and regulation of virtual businesses.
ACT 332-SB187 Provides relative to cremation of bodies.
ACT 333-SB188 Provides for utilization review and approval procedures of claims for healthcare provider services.
ACT 334-SB207 Creates the School Safety Act of 2023.
ACT 335-HB33 Modifies structural pest control provisions related to the registered technician examination and the appointment of research committee members.
ACT 336-HB41 Provides relative to health coverage plan benefits for occupational therapy services delivered via telehealth.
ACT 337-HB43 Provides for nonrecurring lump-sum supplemental payment to certain eligible retirees and beneficiaries.
ACT 338-HB74 Provides relative to home inspectors.
ACT 339-HB129 Repeals the provisions of the Lake Charles North Redevelopment Authority.
ACT 340-HB261 Provides relative to the Revenue Stabilization Trust Fund.
ACT 341-HB281 Provides relative to the Louisiana Automobile Theft and Insurance Fraud Prevention Authority.
ACT 342-HB286 Provides relative to expungements for certain amounts of possession of marijuana.
ACT 343-HB288 Requires auditees to report progress on implementation of recommendations following a performance audit.
ACT 344-HB292 Provides relative to the Louisiana Underground Utilities and Facilities Damage Prevention Law.
ACT 345-HB293 Repeals certain funds within the state treasury.
ACT 346-HB315 Provides relative to administration of public schools.
ACT 347-HB326 Requires foundational numeracy skills standards as a component of teacher education programs.
ACT 348-HB362 Provides relative to the qualifications of an elected or appointed police chief.
ACT 349-HB385 Provides relative to manufactured housing.
ACT 350-HB408 Exempts certain research and development tax credit recipients from detailed examinations by the Department of Economic Development.
ACT 351-HB430 Authorizes payments from unclaimed funds to certain agents for locating, delivering, recovering, or assisting in the recovery of unclaimed property.
ACT 352-HB450 Authorizes the governing authority of East Baton Rouge Parish to rebate sales and use tax revenue collected on the sale of admission tickets to certain events.
ACT 353-HB457 Provides for a Commemorative Certificate of Miscarried Child.
ACT 354-HB475 Provides relative to admissibility of evidence of a defendant's creative or artistic expression.
ACT 355-HB500 Provides with respect to the applicability of the additional property tax exemptions for certain veterans with disabilities.
ACT 356-HB503 Provides relative to hull identification numbers issued by the Department of Wildlife and Fisheries.
ACT 357-HB539 Provide relative to the authorization of the office of motor vehicles to impose fines on contracts.
ACT 358-HB548 Provides relative to the 340B drug pricing program.
ACT 359-HB628 Provides relative to the membership of the Livingston Parish Library Board of Control.
ACT 360-HB656 Provides relative to water cooperatives.
ACT 361-HB56 Authorizes the Monroe City School Board to levy an ad valorem tax for the purpose of funding early childhood care and education.
ACT 362-HB169 Provides for safety protocols for elementary school students when being dropped off at and picked up from school.
ACT 363-HB181 Provides relative to telemedicine access for coroners.
ACT 364-HB183 Prohibits the assignment of certain benefits.
ACT 365-HB189 Provides relative to alcoholic beverages.
ACT 366-HB250 Authorizes assessors in each parish to increase their annual compensation.
ACT 367-HB291 Provides for visitation policies at certain healthcare facilities and requires that such policies allow for in-person visitation.
ACT 368-HB339 Provides relative to motions for summary judgment.
ACT 369-HB459 Provides relative to phlebotomists.
ACT 370-HB462 Requires public school governing authorities to post certain fiscal information on their websites.
ACT 371-HB472 Provides for the state's entry into the Interstate Teacher Mobility Compact, which provides relative to certification and qualification of teachers.
ACT 372-HB533 Changes the composition and qualifications of the board of commissioners of the Red River, Atchafalaya, and Bayou Boeuf Levee District.
ACT 373-HB547 Provides relative to catalytic converter sales law.
ACT 374-HB556 Provides relative to electronic monitoring.
ACT 375-HB558 Provides for the collection and remittance of state and local sales and use taxes.
ACT 376-HB563 Creates a law enforcement recruitment incentive fund.
ACT 377-HB568 Provides relative to sanctions for a lapse in required vehicle liability security.
ACT 378-HB571 Provides relative to carbon capture and sequestration.
ACT 379-HB573 Provides relative to prohibited provisions in certain public contracts.
ACT 380-HB583 Provides relative to franchise fee audits.
ACT 381-HB593 Provides relative to cemeteries.
ACT 382-HB629 Exempts from local sales and use taxes certain prescription drugs administered by topical system in medical clinics.
ACT 383-HB653 Provides relative to Granting Unserved Municipalities Broadband Opportunities.
ACT 384-HB654 Provides for the collection of fees associated with facilitating an electronic signature or authorization.
ACT 385-HB660 Provides relative to the carrying of concealed firearms by qualified retired law enforcement officers.
ACT 386-SB31 Creates database to track trafficking arrests, convictions, restitution, fines, and civil asset forfeiture.
ACT 387-SB73 Provides relative to truancy and assessment and service centers.
ACT 388-SB77 Provides relative to the capital outlay process.
ACT 389-SB136 Provides relative to the governance of the Baton Rouge North Economic Development District.
ACT 390-SB140 Provides relative to online judicial sales.
ACT 391-SB153 Creates the Correctional Facility Capital Outlay Fund.
ACT 392-SB197 Provides relative to teacher certification.
ACT 393-SB201 Provides for meetings of boards and commissions via electronic means.
ACT 394-SB205 Creates the Louisiana Foundational Integrated Research System for Transformation (LA FIRST).
ACT 395-SB132 Provides relative to exemptions to capital outlay procedure.
ACT 396-SB227 Provides for state and local sales and use taxes on digital art sold in a cultural product district.
ACT 397-HB560 Makes supplemental appropriations for Fiscal Year 2022-2023.
ACT 398-HB3 Provides for the Omnibus Bond Act.
ACT 399-HB90 Provides relative to penalties for distribution or possession with intent to distribute fentanyl or carfentanil.
ACT 400-HB104 Appropriates funds for the expenses of the judiciary for Fiscal Year 2023-2024.
ACT 401-HB176 Provides relative to transfer of ownership of movable property.
ACT 402-HB222 Provides for Revenue Sharing Distribution for Fiscal Year 2023-2024.
ACT 403-HB247 Establishes a tax credit for purchases of firearm safety devices.
ACT 404-HB255 Establishes a tax credit for restaurants that recycle oyster shells.
ACT 405-HB327 Relative to the Taylor Opportunity Program for Students (TOPS), provides that dependent children of parents living overseas meet TOPS residency requirements if certain conditions are met.
ACT 406-HB369 Provides for a premium discount for certain military personnel.
ACT 407-HB379 Provides relative to liability associated with parades.
ACT 408-HB388 Provides for the ancillary expenses of state government.
ACT 409-HB484 Provides relative to suspension of a driver's license and eligibility for a hardship license for certain offenses of operating a vehicle while intoxicated.
ACT 410-HB550 Provides for the transfer, deposit, and use of monies among state funds.
ACT 411-HB562 Provides relative to the Motion Picture Production Tax Credit.
ACT 412-HB586 Provides for civil liability for actions related to fentanyl.
ACT 413-HB618 Provides with respect to the credit and the deduction for taxes paid to other states.
ACT 414-HB635 Increases the rate of the excise tax on vapor products and electronic cigarettes and dedicates a portion of the avails of such increase to payment of salaries and related benefits for La. State Police.
ACT 415-HB636 Makes appropriations for the expenses of the legislature for Fiscal Year 2023-2024.
ACT 416-SB 94 Adds certain substances to the Uniform Controlled Dangerous Substance Law.
ACT 417-HB 16 Provides relative to the crime of simple burglary.
ACT 418-HB 54 Provides relative to the discretion of the district attorney to prosecute a juvenile as an adult for certain offenses.
ACT 419-HB 65 Designates the crime of burglary of an inhabited dwelling as a crime of violence.
ACT 420-HB 84 Provides relative to disposition of juveniles after adjudication of certain felony-grade delinquent acts.
ACT 421-HB 220 Provides relative to actions to determine ownership or possession.
Click here to report a typo.
Copyright 2022 WAFB. All rights reserved.