SHOWCASING LOUISIANA: Christopher John Rogers
Updated: Feb. 24, 2021 at 10:02 AM CST
BATON ROUGE, La. (WAFB) - He's been hailed as "The One To Watch At New York Fashion Week".
He's also been honored as one of Forbes 30 Under 30 Designers and Artists who are creating and designing the future of fashion and the arts.
27-year-old Christopher John Rogers is a designer who has created clothing for Beyoncé, Lizzo, Ashley Graham, Tracee Ellis Ross and most recently, the Vice President of the United States Kamala Harris.
The young designer is creating waves in the fashion industry in the beginning of his career.
Just about 10 years earlier he was designing his line for New Orleans Fashion Week as a senior in high school.
The Brooklyn-based designer has deep ties to the Bayou state. Rogers was born and raised here in Baton Rouge.
"When I got here I actually met a lot of people who are from Louisiana who were either makeup artists or hair stylists or worked in different parts of the fashion industry," he said. "People usually don't know what to think so I'm always like 'It's just a really big small town' to me. Everyone is really nice and it's incredibly diverse, I think. I'm really lucky to have grown up in Baton Rouge because it definitely gave me the designer and the person that I am today drawing on again like this idea of dressing up and when you think of cotillion balls, Mardi Gras or prom or things like that. But also like a football game or hanging out on the weekend like mixing high drama or being your best self with something incredibly pragmatic in every day is the basis of what I do."
His inspiration came early inside the walls of a local church.
"My grandmother was the mother of Greater Mount Gideon Baptist Church in Baton Rouge and every Sunday we would go with her and my family to church. One of the things that stuck out to me the most was sort of the switch that people made in terms of the way they dressed or [how they] presented themselves in this space," he explained. "So obviously if you go to school, if you're going to the grocery store or you're going to the football game or hanging out those are all kind of more casual affairs. But as soon as these people turned up to church everyone was in head-to-toe green or head-to-toe purple or head-to-toe red or white or whatever color. Or people wore prints. Everyone really tries to present their – the most elevated version of themselves – in that way."
That inspiration shows through his designs. Just look at the iconic monochromatic pieces worn by Michelle Obama, Rihanna and Gabrielle Union.
Rogers gives his parents all the credit for his success. He says from a young age, his parents encouraged him to lean into his artistic side.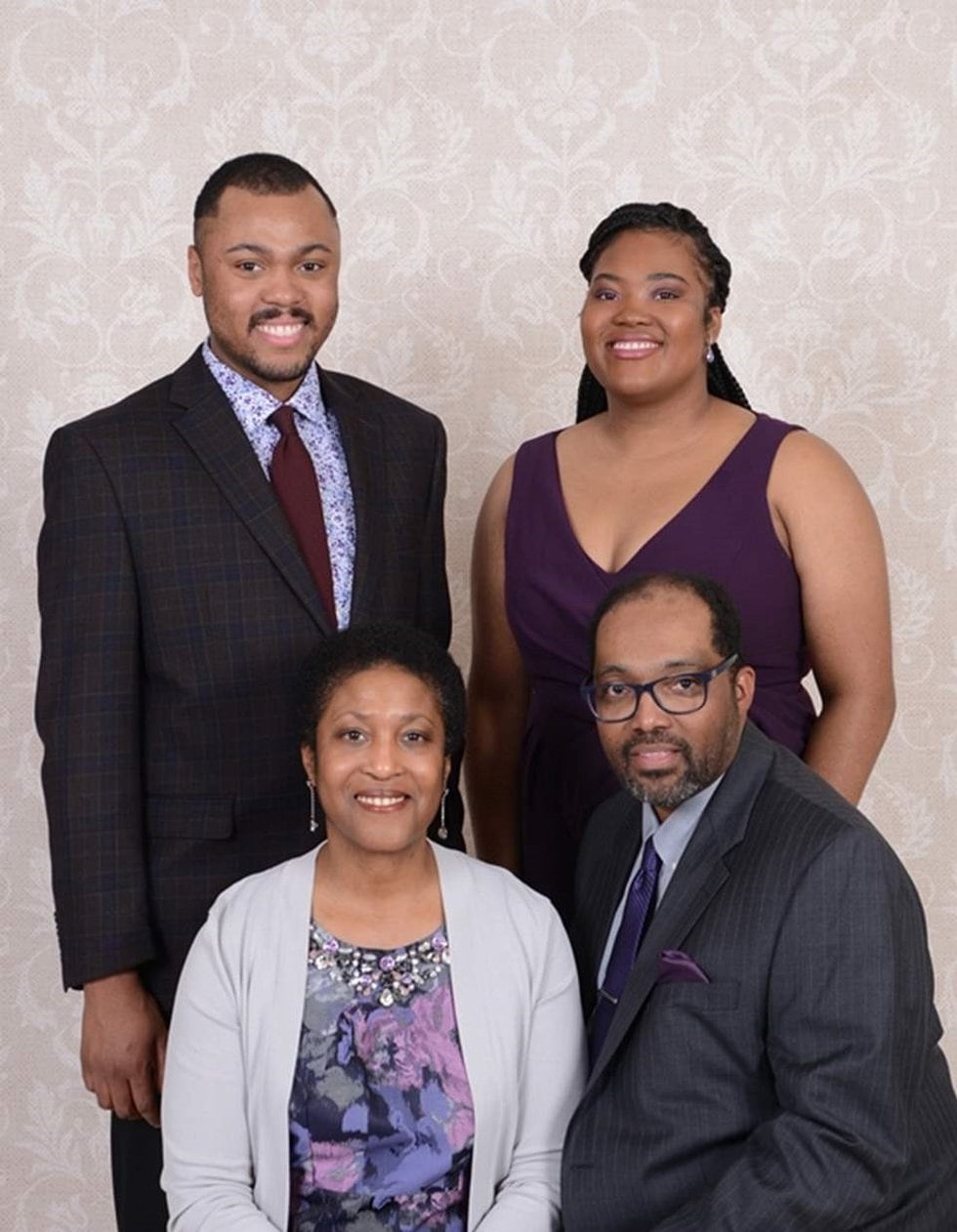 "Instead of trying to repress it, I was really lucky to have parents who put me into talented art programs. I got tested really young and ever since I was in first grade, I think, I was in talented art. So my parents have always been really supportive. If I wanted to learn how to sew my mom would drop me off at one of my co-students at Baton Rouge High (we had a fashion show one year). Then her mother came up to me after the show and was like, 'I really love what you did. I think you're really talented. If you want to learn to sew properly…' because I didn't even know how to sew at that point," Rogers said.
That woman was Carol Keto. She makes custom clothes and she's a local alterationist.
She and Rogers spent many afternoons together sewing and creating custom designs for his New Orleans Fashion Week line.
"He would come in after school and he's cheerful and he would start his ideas out on sketches. I was showing him how to make patterns and he was writing papers for his next assignment while I was putting zippers in outfits and his mom was making us dinner and his dad was showing me the garden. He had such a support crew. His parents were completely on board with him pursuing a dream and that gave him the space to do that. He was absolutely fearless and he had a vision of what he was going to do and where he was going to be and he was forming the ground work," said Keto.
Rogers leans into the things that come naturally to him. Think specific categories like colors, decades and fabrics.
He found that at a special place here in the Capitol City.
"I think one other inspiration that I think was really important to me was seeing the boutique Time Warp which is still around, amazingly. It's right by Baton Rouge High, but they would organize the store either by color so it was like all of the reds, all of the oranges, all of the greens together or it was by decade. My favorite was when it was by color because you could see this 1980s men's suit next to this frilly women's dress or whatever and it wasn't about anything other than the color together. So, finding weird connections through silhouette and making them unified through color is something that I found really inspiring as well," Rogers explained.
"He's become absolutely an icon at such a young age. In 10 years they're going to look back and more and say he was always on this rise verses, 'Yeah he kind of plateaued. He tried, but it was hard.' He doesn't look at it hard. His vision is this is what I want to do and I'm going to do what that takes, and he does it with grace and humility," she said.
As for where he sees himself in ten years Rogers says he just hopes to keep doing what he's doing now.
"I know that I'm in a really privileged position to be able to make clothes that I like and that my team enjoys working on so I just hope that in 10 years I'm still making clothes under my own name," he said.
Click here to report a typo.
Copyright 2021 WAFB. All rights reserved.