Twins survive in-utero surgery at Woman's Hospital
Updated: Mar. 12, 2018 at 7:41 PM CDT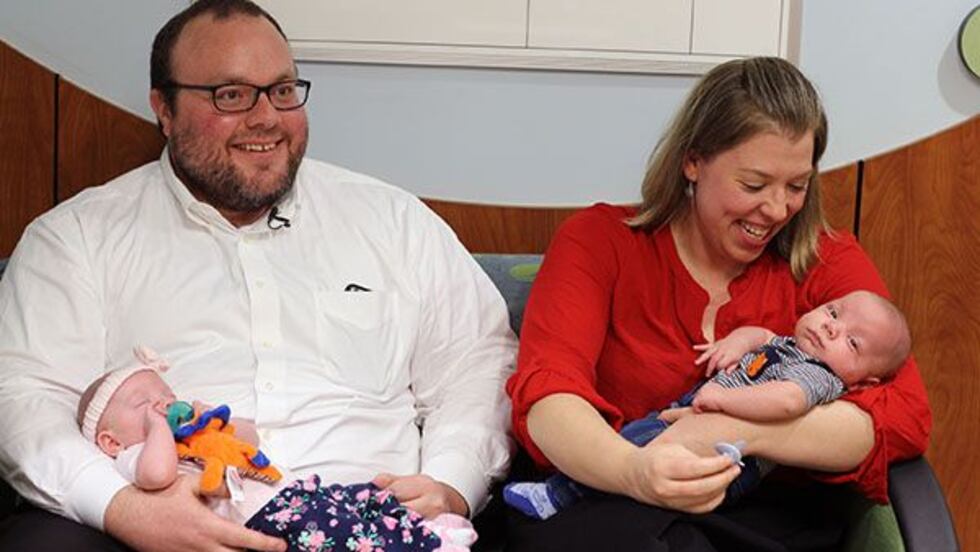 BATON ROUGE, LA (WAFB) - It's a birth story five years in the making, one the Rauschenbergers share willingly with a smile on their faces and their newborn twins cradled in their arms.
What started with a struggle to get pregnant led them on a journey from tears to fears and then hopes turned into miracles. They credit the doctors, nurses, and other staff at Woman's Hospital for helping them survive a scary diagnosis that resulted in an in-utero surgery.
RELATED STORY: Woman's Hospital launches pregnancy and baby app
As documented in their personalized story on the Woman's Hospital blog, it took Hank and Abby Rauschenberger four years, two rounds of intrauterine insemination (IUI), and three rounds of in vitro fertilization (IVF) to become pregnant.
"They told us I was very pregnant and at the time I was just very excited. I didn't think what that might be. Apparently very pregnant means twins," said new mom, Abby Rauschenberger.
The Rauschenbergers also learned early on that they were having a baby boy and girl. Since the twin pregnancy was considered "high-risk," the Rauschenbergers were referred to Maternal-Fetal Medicine at Woman's Hospital to monitor the pregnancy.
While the pregnancy progressed normally, by week 27, they found themselves frantically educating themselves about a scary new diagnosis that came about thanks to a routine ultra-sound. There was fluid on both sides of their little girl's chest cavity. After draining and testing the fluid, the condition didn't resolve.
Fetal surgeon, Dr. R. Clifton Moore, Maternal Fetal Medicine, was brought in for a consult. He says the condition is pretty rare, with the hospital seeing it in one out of every 10,000 births or so. Making it even more rare, this case involves twins.
"One of the problems with fluid in the chest is it can cause the heart not to beat like it should and it can cause the baby to go into heart failure," said Dr. Moore.
In order to relieve the pressure in the chest cavity and allow the little girl's lungs to expand and grow, the decision was made to perform surgery.
"It was all done in the womb, not bothering her brother. Her brother was fine where he was," said Dr. Moore. "We did all our procedures to keep her in longer. We got approximately three weeks out of it, which I think made a really big difference in our overall survivability."
During surgery, under ultrasound, Dr. Moore used a large needle to push into the twin girl's chest. He described it as a needle with a little curly straw, with one end that goes into the chest and the other sticking out into the fluid that the baby is floating in.
"That allows the fluid that's inside the chest to kind of migrate out and take pressure off the lungs," said Dr.  Moore. He placed a tube on one side of her chest. That tube was removed after the twins were born.
Babies Harlan and Henrietta were born premature at 30 weeks. Both were moved to the NICU because of their gestational age. Henrietta was monitored to see if the fluid would return, which it did, but not badly, according to the family.
"The prognosis was frightening, but luckily they have a great medical staff here, great nurses, and it's just a miracle that we are where we are right now, said new dad, Hank Rauschenberger.
"There's a lot of things you can do in medicine that can make a difference, but when you make a difference in a baby and you save a baby that's got a whole life in front of it, that's the best part," said Dr. Moore.
At 3-months-old, Harlan weighs 13 pounds and Henrietta, whom they affectionately call Etta, now weighs 10 pounds. Both are home and healthy and just started smiling.

MORE STORIES:
Copyright 2018 WAFB. All rights reserved.