Raising Cane's family gets bigger with addition of Cane III
Published: Jan. 29, 2018 at 6:04 PM CST
|
Updated: Jan. 31, 2018 at 8:41 AM CST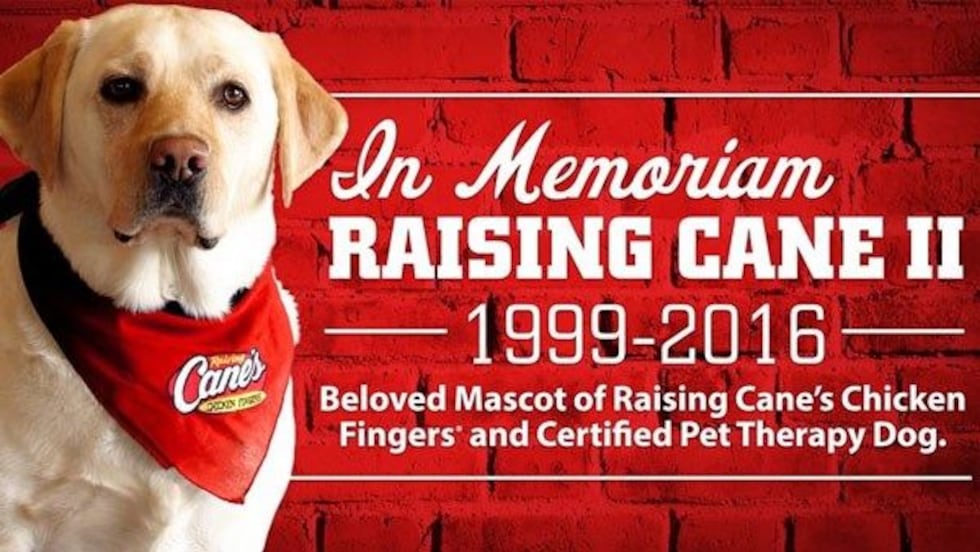 BATON ROUGE, LA (WAFB) - A new heir to the Raising Cane's fortune has been named... sorta.
Cane III is the newest mascot for the Baton Rouge-based fast food company.
Founder Todd Graves showed off his new pup at the 2018 Washington Mardi Gras celebration in our nation's capital. Graves held the little guy up in true "Lion King" fashion.
"While it is our hope that she can continue the legacy of our beloved Cane II as a certified pet therapy dog, it's too soon to know if that's possible," says Todd Graves. "This is an exciting day for my family and all of us at Raising Cane's and we can't wait for the community to meet her."
Cane II died in 2016.
RELATED: Beloved Raising Cane's mascot dies at age 16
Raising Cane's founder and CEO Todd Graves opened the first restaurant in Baton Rouge in 1996. He named the restaurant after his dog.
"The name of the restaurant was going to be 'Sockeye's Chicken Fingers' after the Sockeye salmon I fished for in Alaska to raise money to start the restaurant," states the Raising Cane's website. "Luckily, a friend convinced me to name the first restaurant after my dog."
The story goes that his dog, Cane, would hang around the restaurant while he was renovating the building. When the friendly yellow lab and namesake of the restaurant passed away, Graves' wife, Gwen, surprised him with a new yellow lab puppy for Christmas.
"Cane II has become a very popular and well-known dog and stays busy with restaurant visits, community activities, and is often with us at our Restaurant Support Office," states the website. "As a certified pet therapy dog, Cane II takes weekly visits with Gwen to Children's Hospitals."
The "one love" concept may have not been inspired by a dog, but Cane II certainly shared in the great success that has become the Raising Cane's franchise.
Copyright 2018 WAFB. All rights reserved.