Boy stands at attention in uniform to honor Lt. Anderson during procession
Updated: Mar. 27, 2017 at 6:59 PM CDT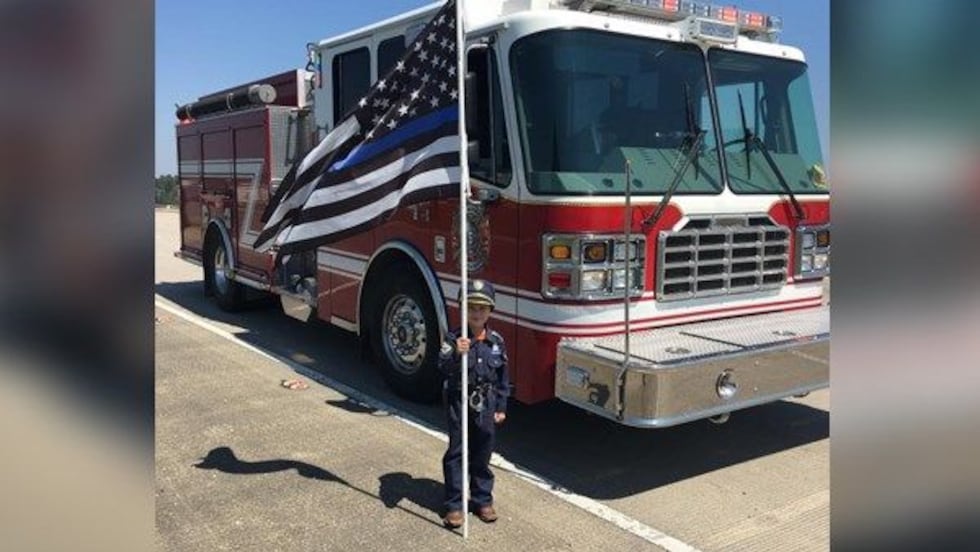 BATON ROUGE, LA (WAFB) - As Lt. Shawn Anderson's funeral procession made its way to the burial site, hundreds of people lined the streets, including fellow law enforcement members, men, women, and children.
For one little boy, going to the procession meant honoring the fallen deputy the best he could for the sacrifice he made.
"Let's get your belt on," said Tiffany Sanchez to her son as she helped him get dressed in his police officer outfit. It's pretty much a daily routine for Samuel Sanchez, 5, to put on his officer outfit.
"Here's your gun and your handcuffs. You want your radio," asked Sanchez.
The 5-year-old boy at the Juban overpass last Thursday waiting for fallen Lt. Shawn Anderson's funeral procession.
"Once the procession came, he stood there with a flag in one hand and saluted with the other," said Jessie Simoneaux, Samuel's uncle.
Uncle Jessie is who took Samuel to watch the procession that day, but before they could go, Samuel said he had to wear his police outfit. "When I gave him a flag to hold, it meant a lot to me because he knows respect. He's been taught respect. It's amazing to be a part of his life," said Simoneaux.
When asked why he wanted to be at the funeral procession, Samuel responded, "He did dangerous work and he got died and I just love that cop and that's why I went out there. I went out there to honor and respect to that cop who got killed."
Samuel wants to be a police officer when he grows up "to protect people." His mother told him about Lt. Anderson's sacrifice so her son would understand what comes with the job: paying the ultimate sacrifice. When asked if he becomes a police officer, is he scared of something like that happening to him, Samuel responded, "No."
For now, he arrests his dad and siblings and in some cases, puts them in jail, which is his bedroom. But this little boy completely understands the sacrifice Lt. Anderson's family made. "I'm sorry your daddy got killed and I feel sorry about you," said Samuel.
"I'm a very proud daddy. It just fills my heart with joy to know that is in his heart. That much goodness is in his heart," said Samuel's father, Nefthali Sanchez. "I'm not usually sentimental, but it brought tears to my eyes."
Samuel's mother has taught all her children three lessons: love God, respect authority and law enforcement and: "They can make a difference in the world. There's so much bad, but you can. You can choose to be good or you can choose to be the bad in the world, but you can make a difference for good," said Sanchez.
And Samuel wants to tell all the police officers out there something: "I love y'all."
Samuel plans to be a brother in blue one day.
RELATED STORIES: Remembering Lt. Shawn Anderson
Copyright 2017 WAFB. All rights reserved.