Sportsline Player of the Week: East Ascension's Justin Daniels (Week 8)
Published: Oct. 27, 2016 at 5:33 AM CDT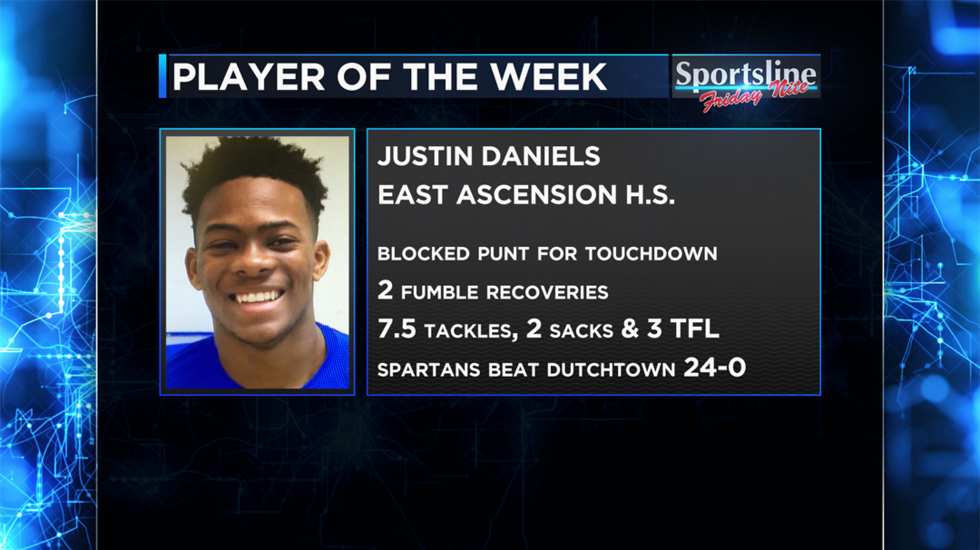 GONZALES, LA (WAFB) - It is probably tougher than it should be for a defensive player to win Sportsline Player of the Week, but East Ascension senior linebacker Justin Daniels fits the criteria and then some.
Against Dutchtown, Daniels blocked a punt that was recovered for a touchdown, sacked the quarterback twice, and recovered two fumbles. The huge effort not coming a moment too soon for the Spartans, who finally got their first win of the season in a 24-0 shutout.
"I was really excited. I came from Dutchtown my sophomore year. So it was exciting playing them, my old school, and I felt like I had to show out," Daniels said.
"He's got something special, that something extra where he'll make a play. That you can't ask for. Defensive is asked to do one thing and he finishes it off with that extra it and that pretty much summarizes Justin. He's a special kid," said head coach Darnell Lee.
"I love Coach Lee with all my heart," Daniels said. "He's a real father figure to me, and I wish I could really be like him when I grow up."
Daniels had 7.5 tackles overall and three tackles for loss during the Spartans' win.
Copyright 2016 WAFB. All rights reserved.