State tries to force exotic dancers involved in federal lawsuit to reveal identities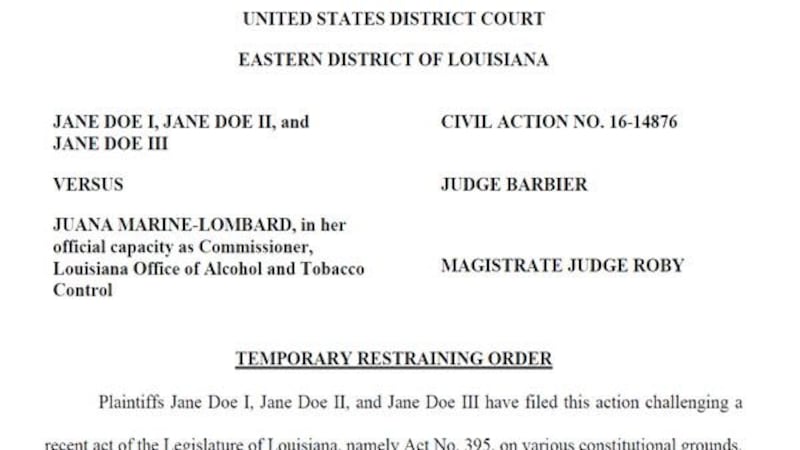 Published: Oct. 21, 2016 at 3:56 PM CDT
|
Updated: Jun. 27, 2017 at 6:28 PM CDT
NEW ORLEANS, LA (WAFB) - Lawyers for the state of Louisiana filed a motion in federal court that would require three women to reveal their names in the lawsuit aimed at preventing the raising of the minimum age for exotic dancers.
According to the Associated Press, the women argued they should have the right to withhold their identities. The motion that would force the women to expose their real names was filed by the defense.
As it stands, the women are named in the lawsuit as Jane Doe and they want to keep it that way. The lawyer representing the women says the state is trying to force the women to use their real names in a hope that they would rather withdraw the lawsuit.
RELATED: Lawmakers seek to raise minimum age for exotic dancers, combat human trafficking
The new law was supposed to begin being enforced on October 1, 2016. However, U.S. District Court Judge Carl Barbier a restraining order preventing enforcement by the Louisiana Office of Alcohol Tobacco Control.
"…the Court concludes that Plaintiffs have demonstrated a risk of irreparable injury at least in lost income and, furthermore, that there is minimal, if any, harm to the Defendant from a temporary stay of enforcement of Act No. 395," states the order.
The three women are all under the age of 21, so if the new law goes into effect, they will not be allowed to continue dancing. The lawsuit alleges that it is unconstitutional to require dancers to be over the age of 21 to work in a nightclub.
Copyright 2016 WAFB. All rights reserved.