New lawyers representing part of Sterling's family hold press conference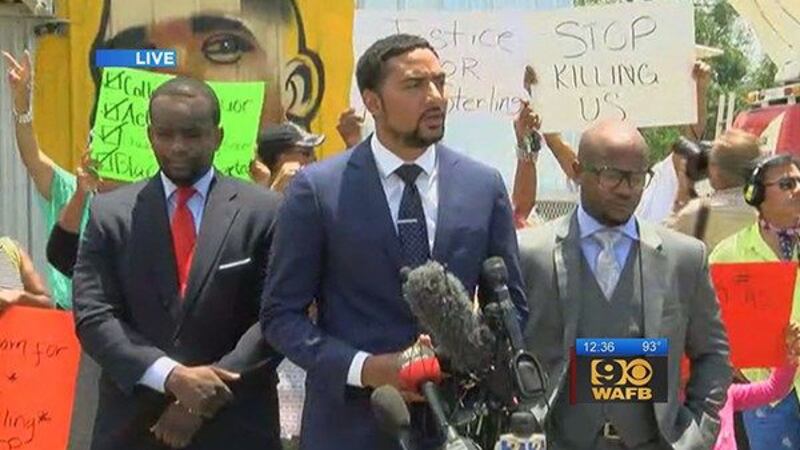 Published: Jul. 7, 2016 at 9:01 PM CDT
BATON ROUGE, LA (WAFB) - If viewing this story on a mobile device or in an email, click the link for additional features - http://bit.ly/29zxP9J 
A lawyer from South Carolina has been hired to represent the mother of Alton Sterling's oldest son and plans to hold a press conference outside the Triple S Food Mart.
Attorney L. Chris Stewart and Justin Bamberg have represented numerous families killed by members of law enforcement.
We are honored to have recently been hired to represent Quinyetta McMillon, the mother of Alton Sterling's 15-year-old son, Cameron Sterling.

Our primary mission is to provide this grieving family with the answers they are seeking regarding the senseless shooting death of Alton Sterling

Thanks to multiple videos that captured the horrific incident, we know far more than we typically would, but many questions still remain.

We will demand transparency from the Baton Rouge police department and all other agencies involved in this investigation.  We will not stop until every question has been answered.

We are not here to agitate or incite, but to simply follow the path to justice for this deserving family.

Our firm has sadly handled far too many of these high-profile tragedies at the hands of law enforcement.  The names are a haunting reminder that none of them should have died. Walter Scott, Gregory Towns, Chase Sherman, Vincent Rowell, Bobby Daniels, Bryant Heyward and now Alton Sterling has sadly been added to this list.  I fear what other names will be added in the future before we stem this epidemic.

To be clear, we appreciate the hard work and dedication of the vast majority of members of law enforcement.  But when they fail to follow their extensive training and unnecessarily take a life, they must be held accountable.

No police officer should be above the law.
RELATED STORIES:
Rallies held in honor of man killed in police shooting
Protests continue as FBI takes over investigation
New graphic cell phone video released in BRPD shooting
Video of cell phone footage provided by a private citizen
Coroner releases autopsy results and foundations of the investigation
Copyright 2016 WAFB. All rights reserved.