Gov. Edwards talks to CNN about criticism for handing Alton Sterling investigation over to feds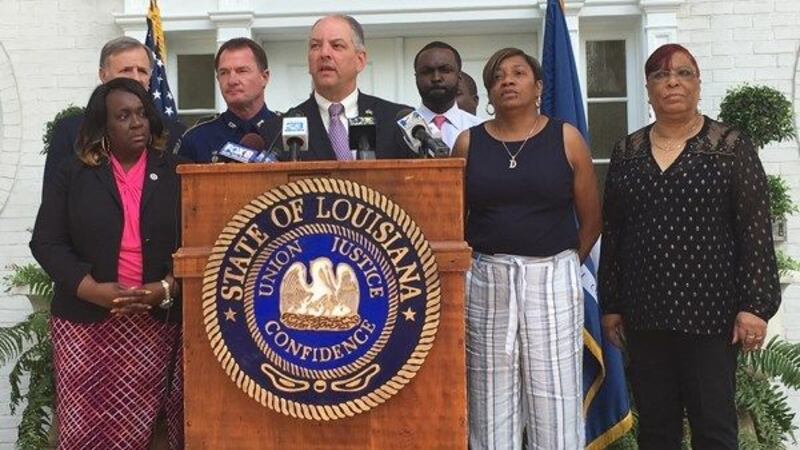 Published: Jul. 7, 2016 at 8:49 PM CDT
BATON ROUGE, LA (WAFB) - Gov. John Bel Edwards responded to criticism of the decision to hand the investigation of the shooting death of Alton Sterling by Baton Rouge police officers over to the US Department of Justice.
Edwards spoke Thursday morning with CNN about the issue. He told the news organization, "… we're making the best decisions to make sure that the situation remains under control here in Baton Rouge …"
Below is the governor's full quote to CNN:
Well first of all I reject that criticism. The answer is no. The state police will still be involved as they're called upon to assist in the investigation. And in fact later this afternoon, I will be meeting with the US Attorney for the middle district, Walt Green. I will also be meeting with Jeff Sallet the FBI special agent in charge out of the New Orleans office with Colonel Mike Edmonson to make sure we do remain involved. We also have the Attorney General's office here in Louisiana that is involved in this matter as well. We're not abdicating anything...we're making the best decisions to make sure that the situation remains under control here in Baton Rouge and that we don't experience a more upheaval in this eruption in our communities here in Baton Rouge and around Louisiana.
Edwards announced Wednesday morning that the FBI and DOJ would lead the investigation into the deadly shooting.
Police said they received a call from an individual who claimed Sterling had threatened the caller with a gun while Sterling was selling CDs in the parking lot of the Triple S convenient store on N. Foster Dr. Two officers arrived and confronted him.
The store owner, who witnessed the shooting, said things quickly got out of control. One officer used a stun gun on Sterling, then the other officer tackled Sterling to the ground. According to the store owner, the officers shot Sterling four to six times shortly after he was tackled. Cell phone footage captured part of the gunfire.
An autopsy showed Sterling died of multiple gunshot wounds to his back and chest. Officials said both officers had on body cameras, but they fell off during the struggle and do not show the shooting. However, police are analyzing dash cam video and store surveillance video, which are believed to have captured the ordeal.
RELATED STORIES:
Rallies held in honor of man killed in police shooting
Protests continue as FBI takes over investigation
New graphic cell phone video released in BRPD shooting
Video of cell phone footage provided by a private citizen
Coroner releases autopsy results and foundations of the investigation
Copyright 2016 WAFB. All rights reserved.