OBIT: Former Pointe Coupee Parish Sheriff Paul Raymond Smith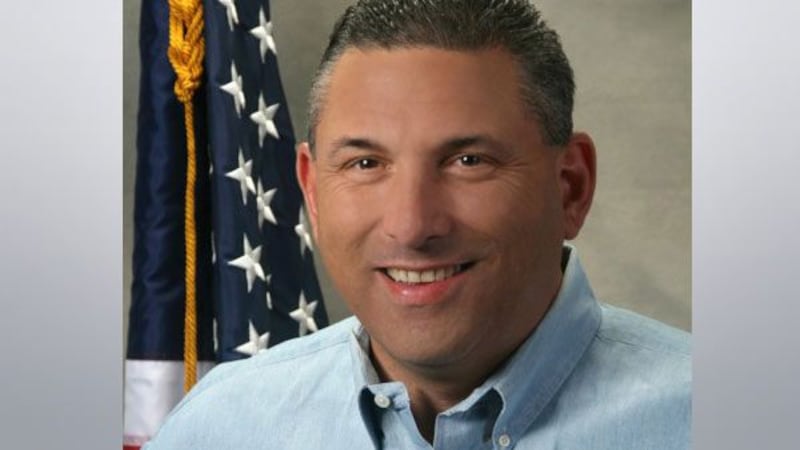 Published: Dec. 2, 2014 at 5:29 PM CST
A Mass of Christian Burial will be held on Friday, December 5, 2014 at 11:30 a.m. at St. Mary of False River Catholic Church for Paul Raymond Smith, former Pointe Coupee Parish Sheriff who passed away suddenly on November 27, 2014, while visiting his son and daughter-in-law in California.
Father Cleo Milano will be Celebrant of the Mass. Gift bearers will be Patrice Smith and Elizabeth "Teedie" Smith. Readers will be Dana Kahn and Christine Smith Dauterive. Musical selections will be performed by organist, Sarita Bouanchaud accompanied by harpist, Rebecca Todaro.
Paul Raymond was born on August 3, 1959 in New Roads and was a life long resident. He was elected Sheriff in 1995 and served until 2007. Paul Raymond followed in the footsteps of his great grandfather, Lamartine Bouanchaud, his great uncle and aunt, Alcide "Bub" and Eloise Bouanchaud and his uncle F.A. "Audie" Smith, who were all Pointe Coupee Parish Sheriffs.
He is survived by his wife Michelle; his sons, Raymond Gerard and his wife Holly of Ville Platte, LA; Clayton Paul and his wife Heidi of Corona Del Mar, CA; his grandchildren, Owen James and Ann Katherine of Ville Platte, LA and his step-daughter, Hannah Grace.
Paul Raymond is also survived by his mother Patricia Crosby Smith; his siblings and their spouses, Charles Smith and Emily; Dodd Smith and Jenny and sister-in-law, Marguerite Smith of New Roads; Elizabeth "Teedie" Smith of St. Francisville; Crosby Smith and Nelson of Palm Springs, CA; Guy Smith of Los Angeles, CA; Winnifred Whitner and Richard and Patrice Smith, of New Orleans, LA; and two uncles, Charles Ray Smith and John L. Crosby and a multitude of nieces, nephews and cousins.
He was preceded in death by his father, J. Olivier Smith; his brother and Godfather J. Olivier Smith, Jr.; his maternal grandparents, Winnie Bouanchaud and Raymond H. Crosby; his paternal grandparents Anita St. Dizier and Allen Key Smith and his maternal aunt and Godmother, Marie Brown.
Pallbearers will be Vincent Russo, Mark Fontenot, Terrell Landry, Jeff Kahn, Steven Dabadie, Charles Barrett Smith, Johnathan Smith, and Jeremy Landry.
Honorary Pallbearers will be Steve Kent, Rick Lucas, Ron Pourciau, Mann Webb, Glenn Watkins, Willie Olinde, Ricky Jarreau, Johnny Perot, Buddy Jo Leonard, Kevin McDonald, Cliff Ivy, Mike Miller, Claude Pennington, Austin Daniels, Hunter Gosserand and Brock Vosburg.
Paul Raymond attended University of Southwestern Louisiana in Lafayette and graduated from the Louisiana State Police Basic Academy in 1983. On June 12, 1987, he graduated from the FBI National Academy in Quantico, VA. He completed several law enforcement courses including the United States Marshall's Academy and the Louisiana State Police Academy on Crime Scene Investigation.
During his early term as Sheriff, he was instrumental in the creation of marine patrol on Pointe Coupee Parish waterways, and the continuation of the Pointe Coupee Sheriffs office aviation division, securing multiple federal grants to expand the program to include multiple aircraft. Paul Raymond was appointed as member of the Louisiana Commission on Law Enforcement by Louisiana Governor Kathleen Blanco in 2004. He also served as an Executive Board Member with the Capital District Law Enforcement Planning Council, Inc. Paul Raymond was a member of the National and Louisiana Sheriff's Associations, and was a member of the Louisiana Sheriff's Association Task Force and the Law Enforcement Training for the Louisiana Commission on Law Enforcement. He was president of the Louisiana Sheriffs' for Better Law Enforcement. Paul Raymond was a member of the Pointe Coupee Salvation Army Unit and was Charter President of the Pointe Coupee Jaycees. He was an avid hunter and a member of Ducks Unlimited. He also received special recognitions from the U.S. Army Corps of Engineers, US Marine Corps (Belle Chase, LA), Louisiana Army National Guard, Connecticut Army National Guard, and American Eagle Airlines. He was a member of St. Mary of False River Catholic Church.
Upon his retirement, Paul Raymond loved spending time with his family and attending activities in which his grandchildren participated.
He will be greatly missed by his family, the citizens of Pointe Coupee and his countless friends from throughout Louisiana and the nation.
The family requests that visiting hours be observed at Niland's Funeral Home in New Roads, LA on Thursday, December 4, 2014 from 2 p.m. until 8 p.m. Visiting hours will continue Friday, December 5, 2014 at St. Mary of False River from 8:30 am until the time of service. Immediately following the service, burial will take place at St. Mary's Cemetery.
In lieu of flowers, the family requests that donations be made to St. Jude Children's Research Hospital and Wounded Warrior Project.
The family would like to thank the Pointe Coupee Parish Sheriff's Office, New Roads Police Department, and many other law enforcement agencies throughout the state for their participation in the ceremonies.