LSU football program leading the way in concussion technology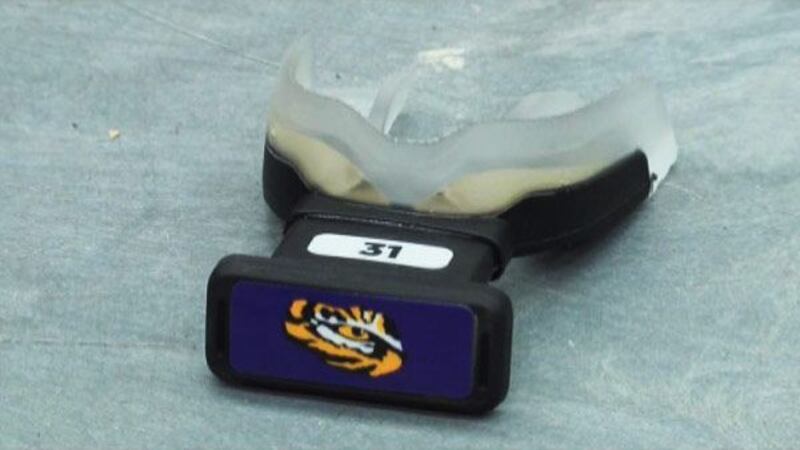 Published: Oct. 30, 2014 at 7:28 PM CDT
|
Updated: Oct. 31, 2014 at 1:21 AM CDT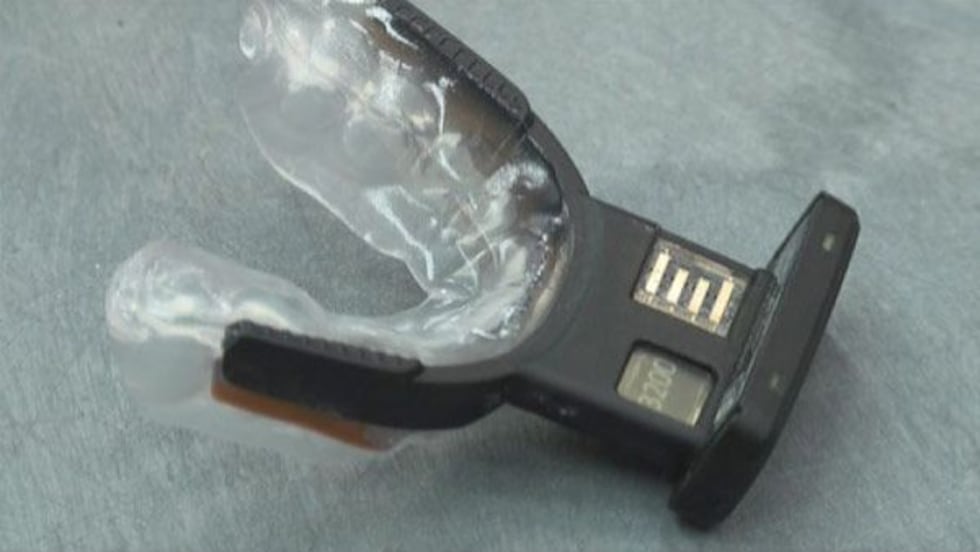 BATON ROUGE, LA (WAFB) - As the NCAA considers new return-to-play rules for football players who suffer concussions, LSU is taking a proactive approach to player safety. The football program is the first in the U.S. to partner with a biometrics company that makes an intelligent mouth guard.
Watching players run the one-on-one Big Cat drill, it's easy to see the intensity and physicality with which the Tigers compete. But it also highlights a major concern for players of full contact sports: concussions and possible long-term brain damage.
LSU averages six concussions per training camp and two during the regular season, according to Jack Marruci, director of Athletic Training.
"There's a high volume of concussions in training camps and we see a volume in a certain subgroup of the team, which is the offensive linemen and some defensive linemen. So we wanted to see and make it more clear why this was happening," he said.
About 20 LSU players now wear the Vector MouthGuard to measure the hits they take. They're made by a company called i1 Biometrics, and described by the CEO as a "smartphone in your mouth."
"It's got much of the same components in it," said Jesse Harper. "So accelerometers, gyroscopes, microprocessors, batteries, antennas - all the things in your iPhone are in this mouth guard."
When a player takes a hit, the mouth guard sends a signal to a wireless receiver on the sideline. The data comes in real-time, where a trainer is alerted via laptop or smartphone app. It shows exactly where the hit occurred on the head and the exact g-force of the blow. By the end of a practice or game, trainers have a cumulative list of every major impact for each player.
Developers say the location of the sensor is what makes the mouth guard stand out from other concussion-detection products.
"Number one is accuracy and so a mouth guard is unique in a sense that it's bolted onto the skull. So it doesn't sit on a helmet. It doesn't sit on top of a player's hair, and so you get that really tight, what we call 'fidelity of coupling' between the skull or brain and the product itself,'" Harper said.
One challenge is getting players to consistently wear the technology, but Harper said developers worked to make it seamless once it's put inside the mouth.
"There's no blinking lights. No buttons to push. There's nothing that disrupts the play of football so we wanted a product that they go out on the field, they put it in, and they play. Come off the field and they put it in a charging case," he added.
The data can help trainers decide when to pull players off the field, and provides a teaching moment for those players who are hesitant to report big hits.
"It's time-stamped so you know when it happened…'Well look here, this is where you took this 50 g blow with your head down. Now let's look at it on film. This is what you did. This is what you're supposed to do,'" Marucci said as an example.
The Vector MouthGuard costs $199, and is designed to last for one year. i1 Biometrics hopes to market the device to other college teams, as well as high schools, and other contact-sport teams.
"Researchers are excited. They like the accuracy side of our piece. They like that it's scalable. They can get a lot of data very quickly, so that's helpful, and I think now it's a matter of showing parents and players what the value is so that they want to wear the product and use it," Harper said.
Copyright 2014 WAFB. All rights reserved.