Troopers say farm tractor with no lights caused two 18-wheelers to crash
Published: Oct. 2, 2014 at 10:26 AM CDT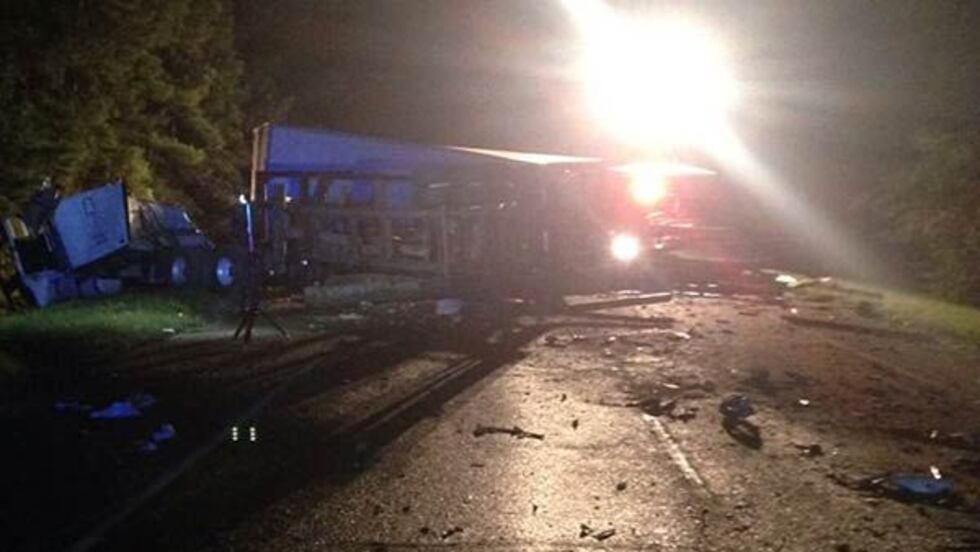 CLINTON, LA (WAFB) - Authorities are looking for a farm tractor and its driver they believe may have caused a collision between two 18-wheelers Wednesday evening.
Louisiana State Police reported the crash happened on LA 67 north of LA 422 in East Feliciana Parish, which is just before the Louisiana-Mississippi state line, around 7:45 p.m. The wreck sent one driver to the hospital with moderate injuries and forced officials to close a portion of LA 67 for several hours.
The injured driver was identified as Lacey David, 40, of Madison, Mississippi. He was flown by helicopter to Our Lady of the Lake Regional Medical Center in Baton Rouge. The other driver, Hardy Williams, 33, of Mt. Olive, MS, was not injured.
Tpr. Jared Sandifer said the preliminary investigation showed the semi driven by Williams was headed north on LA 67, while David was headed in the opposite direction in a log truck. He added investigators believe the tractor, which had no lights, was in the middle of the highway heading toward Mississippi and the big rigs collided when they tried to miss hitting it.
According to Sandifer, both 18-wheelers were badly damaged in the accident. The impact left logs and diesel fuel on the highway, which led to the road closure. A description of the tractor was not given.
The investigation is ongoing.
Troopers ask anyone with information about the crash to call LSP Troop A at 225-754-8500 or their local law enforcement.
Copyright 2014 WAFB. All rights reserved.