Baton Rouge restaurant employee finds 'GOD' in sliced eggplant
Published: Jul. 8, 2014 at 4:06 PM CDT
|
Updated: Jul. 8, 2014 at 8:19 PM CDT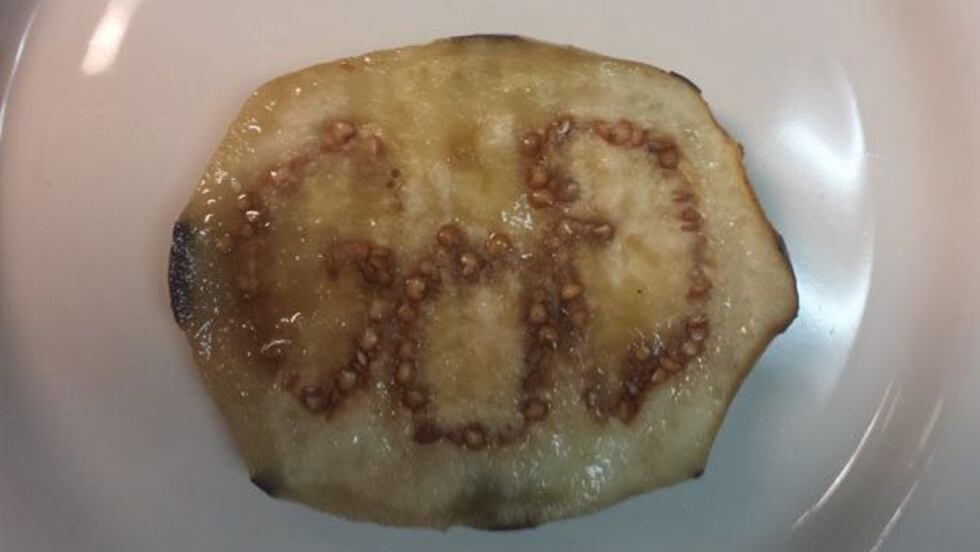 BATON ROUGE, LA (WAFB) - When an employee at Gino's Restaurant in Baton Rouge cut into an eggplant Monday, he found "GOD."
Chef Jermarcus Brady couldn't believe what he was seeing. "I saw a miraculous image formed by the seeds," said Jermarcus Brady. "It spelled out the word God!" Chef Brady has many responsibilities, one being cutting, salting and sauteing eggplants.
"When you sliced into it, the pattern showed from the seeds that were forming in the inside the letters G-O-D as God," said Brady. "I couldn't think of anything. I just had to tell somebody to come look at it."
Brady showed the eggplant to the owner of the restaurant and fellow coworkers and took photos, but he believed it was meant to be shared with everyone.
Brady says he is no stranger to life's struggle, and his faith has gotten him through. He raised four kids on a limited income before becoming a chef. He says the significance of the rare eggplant seeds aren't lost on him.
"Through the road, he's showing me that 'hey, I'm real' and that's the only thing I can depend on," said Brady.
The restaurant's co-owner, Gino Marino, has been in business for nearly 50 years and says with a find this rare, it is something he will never forget.
"You could cut one million eggplants and you'd probably never see that again, it's that rare," said Marino. "God is within us and he has different ways of showing it in our lives, and this is just one way of showing it."
Whether it is divine intervention or not, it does not matter to Brady. "I don't know what it means. All I know is it tells me 'hey, he's real' and there's nothing that can change my mind about that."
Gino's is an Italian restaurant near I-10 and College Drive in Baton Rouge.
Copyright 2014 WAFB. All rights reserved.