'Ride for Recovery' passes through Baton Rouge
Published: May. 4, 2014 at 3:27 AM CDT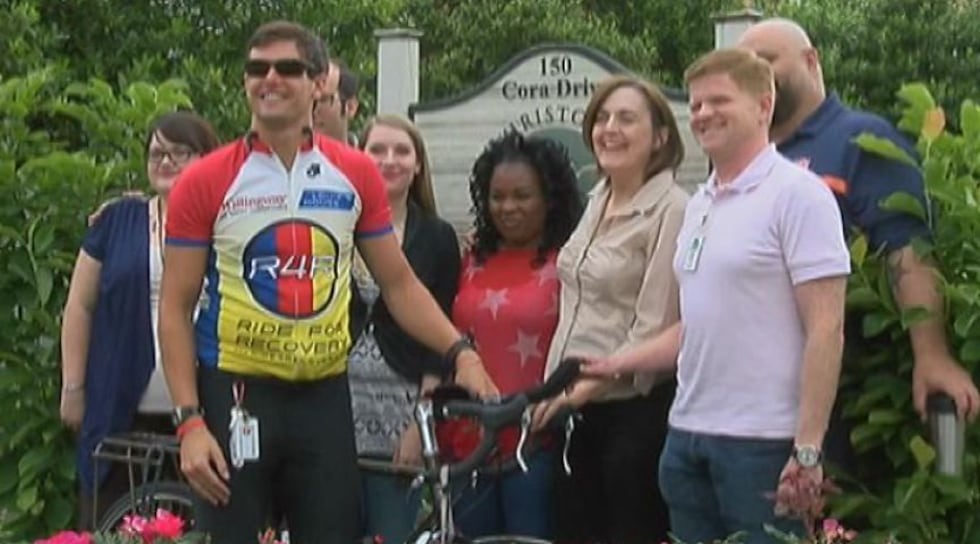 BATON ROUGE, LA (WAFB) - The road to recovery for a drug addict is often a long one, but for one man it's about 3,000 miles. At 26-years-old Steve Pulley is biking from coast to coast to raise awareness and money for recovery programs.
Baton Rouge is about two-thirds into his Ride for Recovery from San Diego, California to Charleston, South Carolina, and he's now well into a routine.
"This will be my 20th time speaking," Pulley said. "It just gains momentum as I'm moving across to the east coast."
Along the way he stops at treatment facilities and halfway houses, sharing his own story of addiction. The Charleston native went through six schools, four overdoses, and jail time before getting clean at age 20.
"For me recovery is something that has allowed to give me all kinds of opportunities. Where I thought my life would be smaller and smaller, and there are things that I couldn't do, it's actually gotten bigger and bigger, and this has been an awesome opportunity to share my message of hope and anything's possible," he said.
It's a message St. Christopher's Addiction Wellness Center was eager to promote.
"I think he's so much like all of our young man," said Executive Director Dr. Arlene Magee.
"What he's doing is indicative of what youth is doing, which is stepping outside of traditional boxes and making statements that are bold and important and draw attention to issues that really need to be looked at and inspire others," she said.
As an advocate for collegiate recovery communities, it's the youth Pulley is really trying to reach. Donations collected on his journey will go to the Center for Addiction Recovery at Georgia Southern University.
"Trying to attract young people to recovery is huge, and then to give them an outlet on a college campus is critical," Pulley said. "This is an epidemic we're talking about as far as addiction, and it's a public health problem, not a moral or criminal problem."
Whizzing through the Capital City in less than 24 hours, Pulley hopes his words linger for a lifetime in the minds of those who heard him speak.
The Ride for Recovery is sponsored by Willingway Hospital.
Copyright 2014 WAFB. All rights reserved.