Giant Louisiana sinkhole swallows more land
Published: Dec. 12, 2012 at 8:10 PM CST
|
Updated: Dec. 13, 2012 at 4:35 PM CST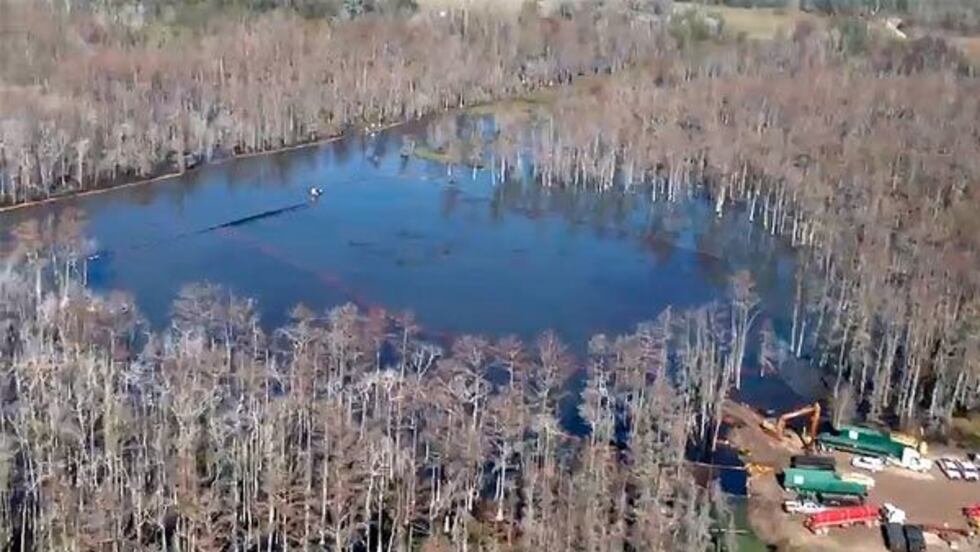 BAYOU CORNE, LA (WAFB) - Texas-Brine, the company that owns the cavern that is suspected of being the cause of the sinkhole in Assumption Parish, reports that a small slough-in happened Tuesday night on the Southwest side of the sinkhole.
The Assumption Parish OEP says they estimate a section of 20' by 30' was consumed by the sinkhole near the Pipeline Right of Way.

The massive sinkhole plaguing south Louisiana ate a large section of land on October 30, 2012. Officials stated a 20 foot by 80 foot chunk located on the east side of the sinkhole collapsed.
About 500 square feet of earth was lost on Oct. 9. An exact measurement of the sinkhole is unknown at this time.
About 150 homes have been under an evacuation order since Aug. 3.
Officials say a second vent well is "shut-in" over concern about a highly toxic gas. Crews are trying to find the best way to control small amounts of Hydrogen Sulfide gas detected at the well.
Officials say vent wells burning off gas trapped in an aquifer in Assumption Parish have removed slightly more than 2.7 million cubic feet of gas since flaring began. This is at the first vent well site that was shut-in.

Scientists believe the gas migrated upward from natural formations along the Napoleonville Dome after a Texas Brine Co. LLC cavern in the salt dome failed this summer and caused the large sinkhole to form.
The Department of Health & Hospitals (DHH) and the Department of Environmental Quality (DEQ) along with parish officials have scheduled a briefing for Bayou Corne residents specific to health concerns.
Information relative to updates of the sinkhole situation will not be presented at the meeting. The meeting will be focused on concerns brought up by residents to DHH & DEQ in past briefings.
The meeting is scheduled for Thursday, December 13, 2012 at 6 p.m. at the Assumption Parish Community Center at 4910 Highway 308 in Napoleonville, directly next to Assumption High School.
Copyright 2012 WAFB. All rights reserved. The Associated Press Contributed to this report.