Officials update public on giant sink hole
Published: Aug. 10, 2012 at 5:46 PM CDT
|
Updated: Aug. 15, 2012 at 11:11 AM CDT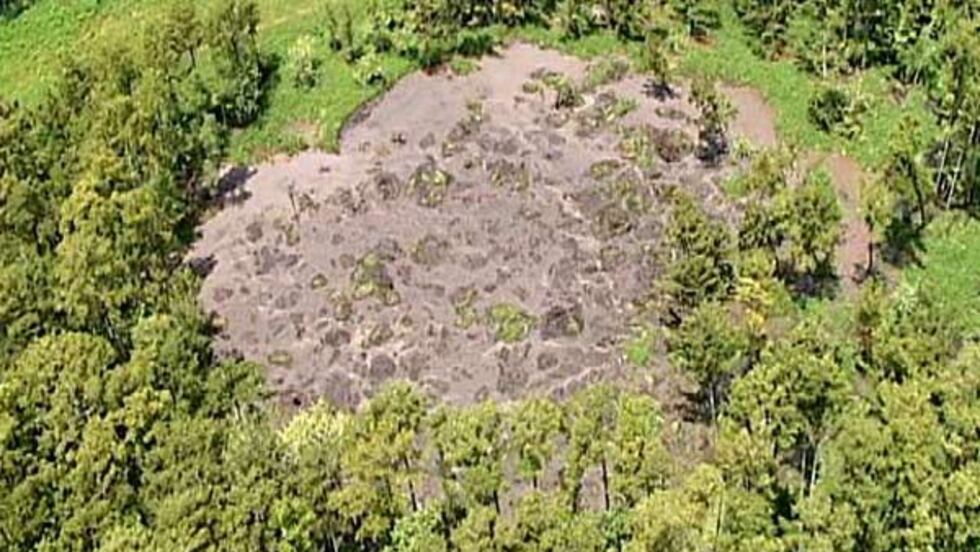 PIERRE PART, LA (WAFB) - Officials responding to the massive sink hole in south Louisiana updated the public on efforts to contain the problem and protect the people living in the surrounding area Friday afternoon.
Leaders with the Louisiana State Police, Assumption Parish Police Jury, Assumption Parish Sheriff's Office were on hand to speak about the latest on the slurry in the Bayou Corne area.
They gathered at Sportsman's Landing on LA 70 in Pierre Part.
Officials have ordered Texas Brine, the company responsible for a salt cavern in the Bayou Corne area, to immediately drill a relief well to investigate. They must submit a permit by Monday or the company will be fined $5,000 per day. DNR wants this done immediately.
During the news conference, officials say the responsible parties will be held accountable and fined $5,000 per day until the situation is under control. The officials say they are investigating every potential source that may have caused the slurry.
DNR officials say the bottom line is they're waiting on Texas Brine to submit the application to drill the relief well.
Officials at a Houston-based brine company told residents of a rural Louisiana town that it will be at least 40 days before they get definitive answers.
    
Mark Cartwright, president of Texas Brine Co., said Friday the company spent the last week "intensely focused" on an emergency response as they try to figure out the cause behind THE sinkhole.
    
Cartwright says they'll be drilling a relief well to investigate a brine cavern they own housed within the Napoleonville salt dome, and it will take at least 40 days to drill the well. Scientists speculate the 372-foot wide and 422-foot deep sinkhole might be related to structural problems within the salt dome.
Members of a Louisiana National Guard crew that flew over the giant sink hole Wednesday reported it has grown larger.
The helicopter crew used infrared equipment to observe a 10 to 20 foot growth on the north and south ends.
Meanwhile, scientists with the Louisiana Department of Environmental Quality were on site testing Thursday for naturally occurring radioactive materials.
Initial tests found nothing radioactive, but more materials have been sent for further testing. Those results are expected back next week.
Assumption Parish President Martin Triche says officials should host another community meeting soon to answer residents' questions. "There are a lot of questions that haven't been answered," he said.
Sheriff Mike Waguespak says for next 40 days residents will see an increased presence of law enforcement. He says daily briefings will be held. "Rest assured we will do our level best to make sure your property is safe while you're evacuated," said Waguespak.
"There are no more excuses. No more delays. We'll monitor daily and brief daily.  Our eyes are open and we are fully engaged," he said.
"Make no mistake about it, there are plenty eyes on this problem. Our biggest priority is to get you back to your homes."
Copyright 2012 WAFB. All rights reserved. The Associated Press contributed to this report.