Court reverses decision on Ascension Parish Schools
Published: Nov. 3, 2011 at 4:52 PM CDT
|
Updated: Nov. 10, 2011 at 11:21 AM CST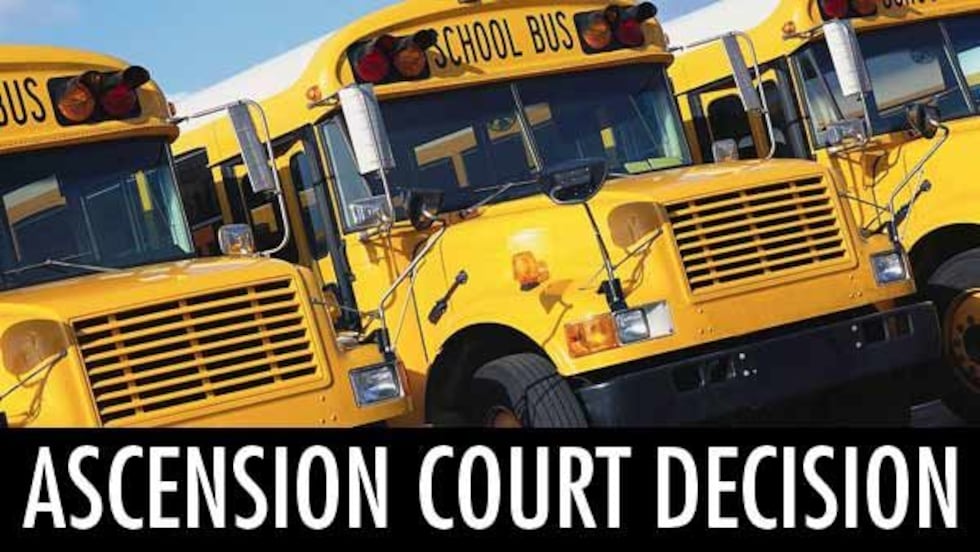 BATON ROUGE, LA (WAFB) - The U.S. Fifth Circuit Court of Appeals issued an opinion Thursday saying that the race of a student is a motivating factor in assigning students to three high schools in Ascension Parish. Under federal law, race cannot be used in assigning students to public schools.

The decision will not likely lead to any quick changes and the matter is certain to remain tied up in the legal system for quite some time. Nonetheless, Jill Craft, a lawyer representing a parent who filed suit over the matter, called Thursday's ruling "ground breaking".

The three schools include East Ascension High, Dutchtown High, and St. Amant High. All three schools are on the east bank of the parish.

The 5th Circuit's opinion reverses that of a lower court and orders that a trial be held on the matter. The matter had been before the 5th Circuit for nearly 18 months before Thursday's action.
The Ascension Parish School System was placed under a desegregation order in 1975. The parish was released from that order in 2004 when the federal courts found the parish had "unitary status" - meaning the schools were a desegregated as they could be.
In 2006, the enrollment of Dutchtown Middle School, which graduated students to Dutchtown High, rose to over 1,000 students and caused severe overcrowding.  

No other east bank middle school at the time had more than 730 students. To deal with the problem, the district created a "Growth Impact Committee" to "address the growth with minimal impact on residents" while still ensuring equal facilities and instructional quality for all students, Thursday's ruling said. 

Students attending certain middle schools know that, upon graduating, they will be in a "feeder zone" that "feeds" them to a particular pre-designated high school.

In January 2008, the Ascension Parish School Board voted to move Duplessis Primary from the Dutchtown "feeder zone" to the East Ascension feeder zone, assigned two brand new primary schools to each of the high school feeder zones, and re-drew attendance zones so that some students from the Dutchtown feeder zone and the St. Amant feeder zone were moved to the East Ascension feeder zone. Dutchtown High School is the newest of the three high school campuses.

Darrin Kenny Lewis, the father of two african american schoolchildren filed the lawsuit after the 2008 actions by the school board.  His children were assigned to attend East Ascension High School. Lewis claimed his children's Fourteenth Amendment rights to equal protection were being violated. Lewis claim the school board's actions were taken to ensure that East Ascension High, and its feeder middle schools, would maintain a disproportionately large non-white enrollment and leave Dutchtown High and St. Amant High as predominantly white.

Lewis also alleges in his suit that the new plan placed a disproportionate number of "at-risk students" in the East Ascension feeder zone and would ensure that those students would not receive the same educational opportunities as students at the other two high schools.
The 5th Circuit panel's majority opinion issued Thursday said U.S. District Judge Ralph Tyson should not have dismissed Lewis' claims before a trial because there was a "genuine issue of material fact" whether the school board acted with a racially discriminatory motive.
5th Circuit Judge Carolyn King disagreed, saying Lewis did not present evidence of racial bias.
Craft said the school board could bring the matter could end up going to trial at the District Court level or the school system could try to appeal to the U.S. Supreme Court.

"I think school systems need to be cautious about re segregating their schools simply because they have obtained unitary status," Craft said.  "You can't go back 40 years simply because you have the blessing of unitary status.  Discrimination is as illegal now as it was back then," she added.

The Ascension Parish school system has not yet issued a statement on Thursday's ruling.

Copyright 2011 WAFB. All rights reserved.