Dash cam video shows chase ending with bridge jump
Published: Aug. 24, 2011 at 10:03 PM CDT
|
Updated: Aug. 31, 2011 at 8:26 AM CDT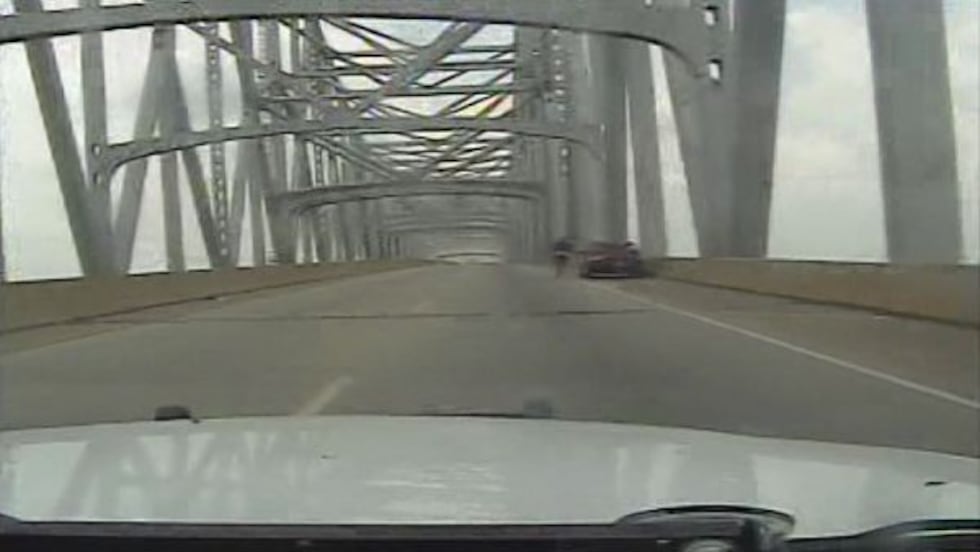 BATON ROUGE, LA (WAFB) - Authorities released video Wednesday of a chase involving a suspected murderer who chose to jump off a bridge into the Mississippi River instead of being arrested.
Investigators assume Kylan Laurent, 22, of Vacherie is dead following the leap, but are keeping up the search just in case the killer is still on the run.
Laurent led police on a chase through Vacherie, along LA 18 in St. James Parish, Tuesday afternoon.
The chase ended with Laurent diving 165 feet into the Mississippi River from the Veterans Memorial Bridge on LA 3213 in Gramercy.
The pursuit and the jump were caught on the dashboard cameras in Louisiana State Police units.
The incident began just before 1 p.m. Laurent was heading south on LA 18 from Vacherie, when he made a u-turn on LA 3213 near the Wallace community.
Laurent's 2005 Chevrolet Impala stopped at the top of the bridge, where he got out of the car and went over the wall into the river.
Agencies from Baton Rouge to New Orleans are still searching for Laurent or his body, in order to wrap up this case.
Laurent is accused in the murders of two women in the New Orleans area and the severe beatings of several other women, including at least one in Baton Rouge.
Police searched Laurent's home Tuesday night for clues. They went back Wednesday to gather more evidence.
Reportedly, troopers began tracking Laurent when they got a call from the Baton Rouge Police Department on Tuesday requesting they move in and pick him up.
Related Stories
Search continues for murder suspect who jumped off bridge
Murder suspect jumps from bridge
Copyright 2011 WAFB. All rights reserved.