"Checking in" on Facebook comes with hidden dangers
Published: May. 10, 2011 at 1:28 AM CDT
|
Updated: Aug. 16, 2013 at 6:42 AM CDT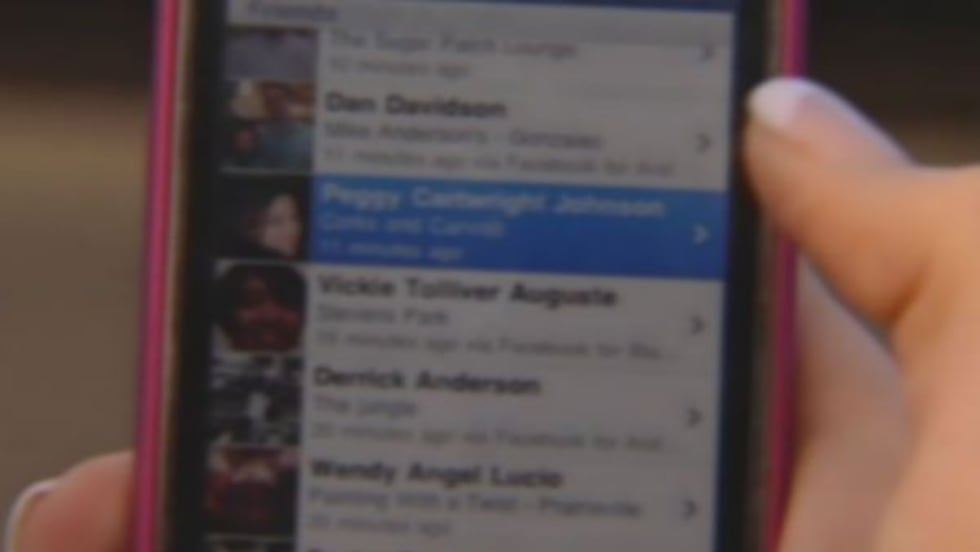 BATON ROUGE, LA (WAFB) - A simple click on your smart phone could unknowingly put you in danger. Social networking sites have made it easy, but do you know who is watching your every move?
On Facebook, it is as simple as hitting the "check in" button. It's not just about what can happen to you when you're away from home, but what could be happening when you're not there that could really cost you.
A cell phone and a car is all we needed to find Cathy Howell. She checked in at the Sugar Patch Lounge. A quick tap on the screen gave us a map and directions to the bar in West Baton Rouge Parish.
A quick drive over the Mississippi River and we were there. It didn't take us long to find Howell. She was sitting at the bar, just feet from the front door.
"I'm here because you checked in on Facebook that you are at the Sugar Patch Lounge," Reporter Cheryl Mercedes said. "Oh, yeah, we did," Howell replied. "It was really easy to find you. Do you normally check in here," Mercedes asked. "Uh huh, to let people know where I'm at," Howell explained.
Howell says she checks in everywhere.
"So these are all the places you've checked in," Mercedes asked. "In my bed, house, John Deere tractor," Howell said.
She's not the only one who checks in at home. A lot of people do.
Facebook puts you in the neighborhood. While it won't always take you to the exact spot on the map, if someone really wants to find you, it does not take that much effort.
Misty Baker checked in at home. The Google map took us to a neighborhood in Zachary, but did not give us a street name. No problem. We explored Baker's profile a bit, saw she was married to "Reggie", looked it up in on Whitepages.com, and there was an address and a list of people in her household.
When we knocked, a guy named Jesus Ramos came to the door.
"It took me here, to your house," Mercedes said. "But she's not living here. She's living somewhere else," Ramos said.
It appears the Bakers moved recently. Their listing had not been updated.
In Baton Rouge, Peggy Johnson was working on a painting at "Corks and Canvas." We spotted her first from the window, and asked her to step outside.  She did not seem too concerned with the fact that we found her.
"The people on my Facebook are friends and family," Johnson said.
She changed her mind after 9 News shared a story with her out of Indiana. A woman there reportedly caught a childhood friend on camera ransacking her house while she was out listening to a band. The woman in Indiana's status update said, "Heading to the Hill with Kurt to see Fire Department." That was enough for a pair of burglars to walk off with $11,000 worth of her stuff.
David Ferris supervises the State Attorney General's High Technology Crime Unit. He said so far this year his team has spoken to about 180,000 people about "checking in."  Ferris said social networking sites, like Facebook, keep him and his team busy.
"The trends are constantly changing, so it's been difficult for us to keep up with the new trends," Ferris said.
Ferris said while the fads will always advance, the concept remains the same.
"If you post online that this is where I am. I want everybody to come see me. Again, you're saying this is also where I am not. It's the same as giving the key to your house to a burglar," Ferris said.
Because the "check-in" feature is still pretty fresh, the Attorney General's Office does not yet have a report that shows exactly how many cases stem from people checking in.
Copyright 2011 WAFB. All rights reserved.