Sponsored - The following content is created on behalf of Campus Federal Credit Union and does not reflect the opinions of Gray Media or its editorial staff. To learn more about Campus Federal Credit Union, visit https://www.campusfederal.org/.
Power up your financial potential with this limited time offer at Campus Federal Credit Union. Invest your money in a 7-month certificate of deposit that pays 5.15% APY* dividends at maturity with only a $500 minimum balance to open. Enjoy the highly competitive rate along with the security of knowing your savings are federally insured by NCUA.**
Don't know exactly what a certificate of deposit (CD) can do? CDs differ from savings and checking accounts because they typically have higher interest rates. The money in a CD cannot be taken out or moved around for the entirety of its term, unlike a savings or checking account where you can make deposits or withdrawals when needed. If money is taken out of a CD prematurely, there is a risk of penalty fees or lost interest. The term can be months or years long, depending on the CD. With the guaranteed and predictable rate of return, they are considered safer, and a more conservative type of investment compared to stocks and bonds.
Don't miss your chance to super charge your money with this competitive rate. Act now to secure your financial future!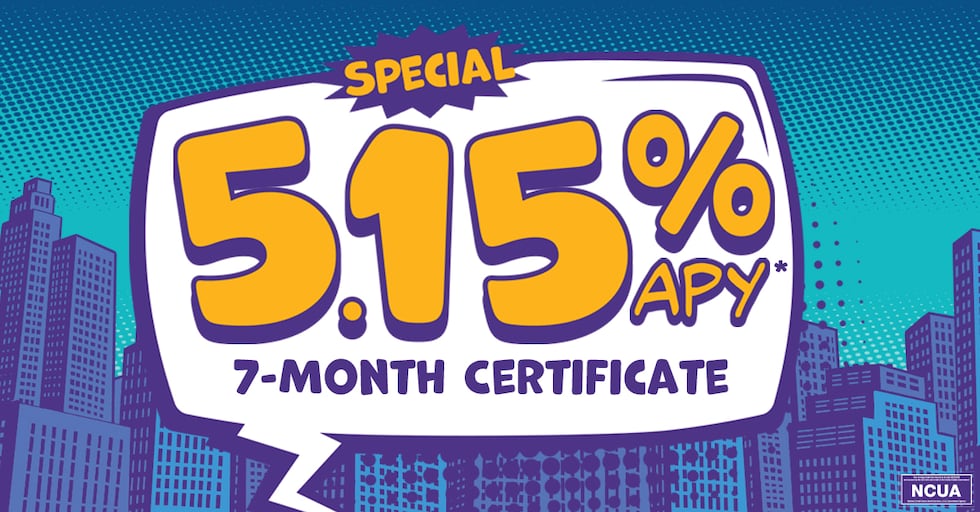 *The stated Annual Percentage Yield (APY) is accurate as of 9/12/2023, and is available with a minimum opening deposit of $500. Certificate accounts are subject to Substantial Penalty for early withdrawal which may affect APY. If minimum balance is not kept, service charges may affect APY. Fees could reduce earnings on the account. Offer available for a limited time and rate is subject to change.
**Deposits insured up to at least $250,000 per individual depositor. Follow this link to review the Share Insurance Calculator.