Sports Director
Baton Rouge, La.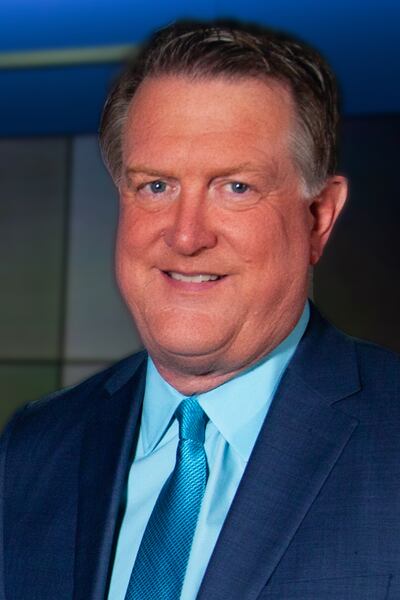 38-year member of the WAFB9 Sports team, 37 years as Sports Director, and 28 years as the weekday 6:00 p.m. and 10:00 p.m. sports anchor, plus the anchor of 9Sports Extra on Saturday nights during football season. Earned Best Sportscast in Louisiana for largest markets by Associated Press eight times and runner-up seven other times in 23 years of entries dating back to 1995. Was also runner-up in 2017 for AP's Louisiana/Mississippi Sportscaster of the Year for AP large markets and Louisiana Association of Broadcasters Lifetime Achievement Prestige Award in 2020.
Created the concept for Sportsline Friday Nite in 1990, and was honored by the LHSAA for completing 20, 25, and 30 years of live extended high school football coverage in South Louisiana. The weekly series was expanded to include year-round coverage of every sport with Sportsline OT from 2009 to 2012. Also created Sportsline Summer Camp in 2000, WAFB High School Football Player of the Week in 1985 and partnered with former NFL standout Warrick Dunn and his foundation to present the Sportsline Player of the Year starting in 2007.
National IRIS 1st Place winner for writing, anchoring, and producing preseason show on LSU Baseball's first NCAA CWS Championship team in 1991. Major events covered, include 7 Super Bowls (including the Saints' historic victory over the Colts in Miami's Super Bowl 44), plus the Saints' NFC Championship Games in 2006 and 2009, 9 Final Fours, 8 College World Series (including LSU's first two NCAA Championships) and LSU Football's 2003, 2007 and 2019 National Championship games.
Also did LSU play-by-play of football, basketball and baseball as an LSU student for WPRG-FM from 1979-1983 and first full-time job was Coordinating Producer and play-by-play announcer/studio host for LSU's pay-per-view cable network TigerVision. Also served as PA announcer for LSU Baseball at Alex Box Stadium for Skip Bertman's first season in 1984.
Family Info: Married 40 years with four children and two grandchildren.
Community Involvement: Good Shepherd Lutheran Church, supervisor of WAFB Sports college internship program, and numerous career days/reading events at local schools.
Hobbies: Music, travel, poor golfing, and family activities
Education
Louisiana State University: BA in Broadcast Journalism, minor in Speech
Awards
8 time winner of AP Best Sportscast Louisiana, Large Markets