FIRST ALERT: Strong storms possible tonight
Published: Nov. 20, 2023 at 4:30 AM CST
|
Updated: Nov. 20, 2023 at 10:33 PM CST
BATON ROUGE, La. (WAFB) - Today's Forecast: Breezy and warm weather can be expected today in advance of our next storm system. Highs will top out near 80 degrees, with south-southeast winds of 10-20 miles per hour, and higher gusts possible.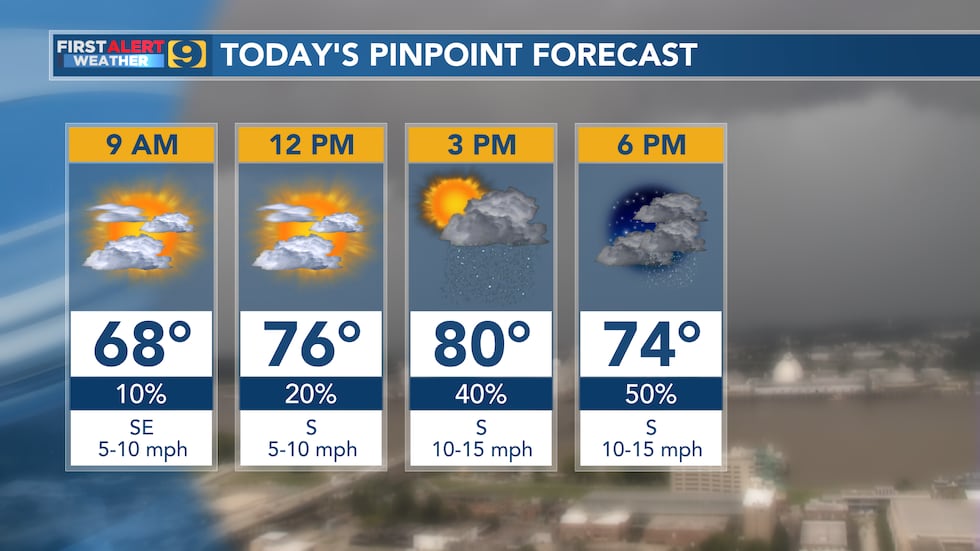 A few showers and t-storms will be during the day, but the main threat looks to hold off until this evening and tonight.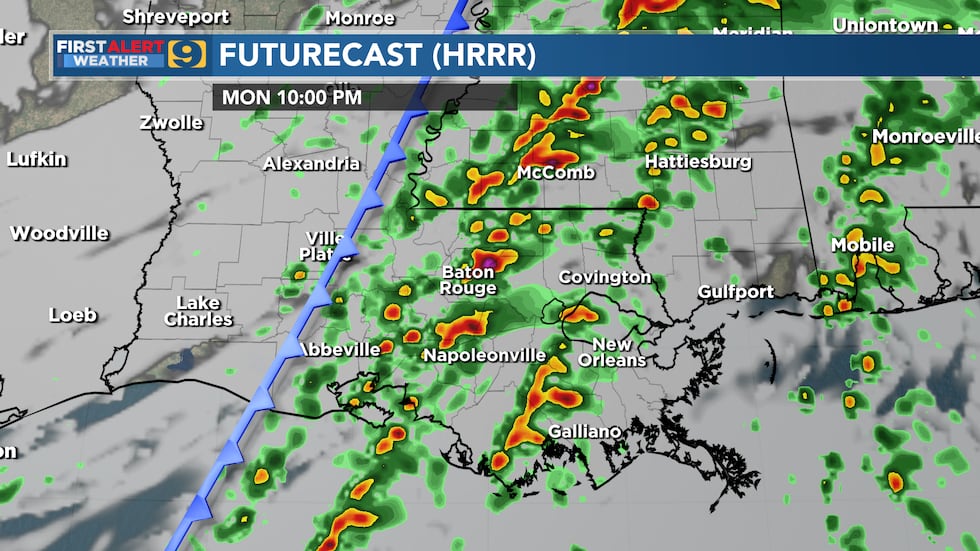 Severe Weather Threat
The Storm Prediction Center continues to post a Level 3/5 (enhanced) risk of severe weather near and north of the state line, with a Level 2/5 (slight) risk for the remainder of our viewing area. Within the Level 3 risk, the SPC is also noting the potential for a few strong tornadoes. Overall, the greatest threat from any stronger storms looks to be damaging winds, followed by hail, and a few tornadoes.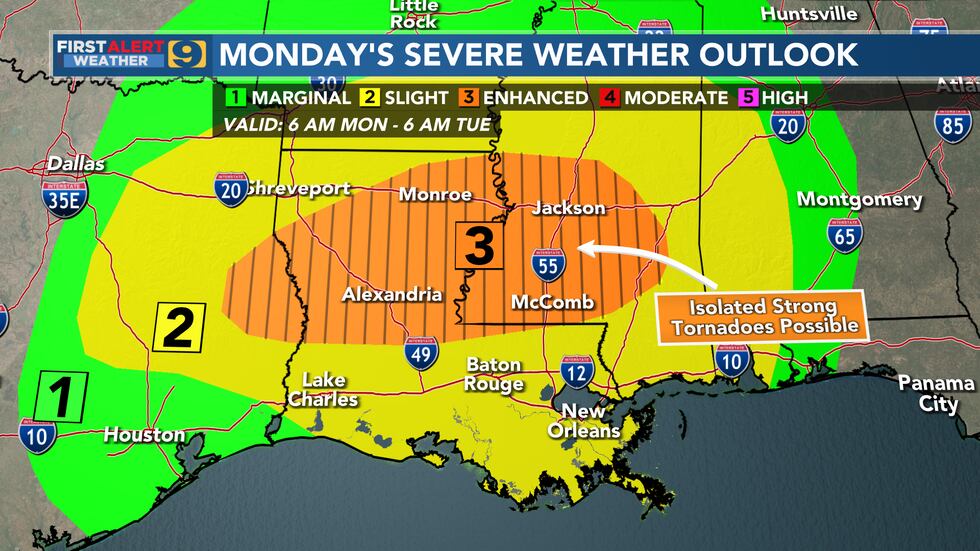 Storm Timing
Model guidance shows scattered storms developing by this afternoon, but best chances for rain and storms holding off until after dark. An isolated strong storm can't be completely ruled out this afternoon, but the severe weather threat should mostly hold off until after dark also. The main threat window for storms looks to run roughly from 7 p.m. through about 2 a.m. Tuesday. The storms will be moving fairly quickly from west-to-east through the area.
Rain Amounts
Showers and t-storms should be moving fairly quickly as they reach the area tonight, limiting the potential for heavy rainfall. It still looks like a decent soaking is on the way, with the Weather Prediction Center showing rain totals averaging anywhere from 0.25″ - 1.00″ across our area through Wednesday morning, with locally higher amounts possible.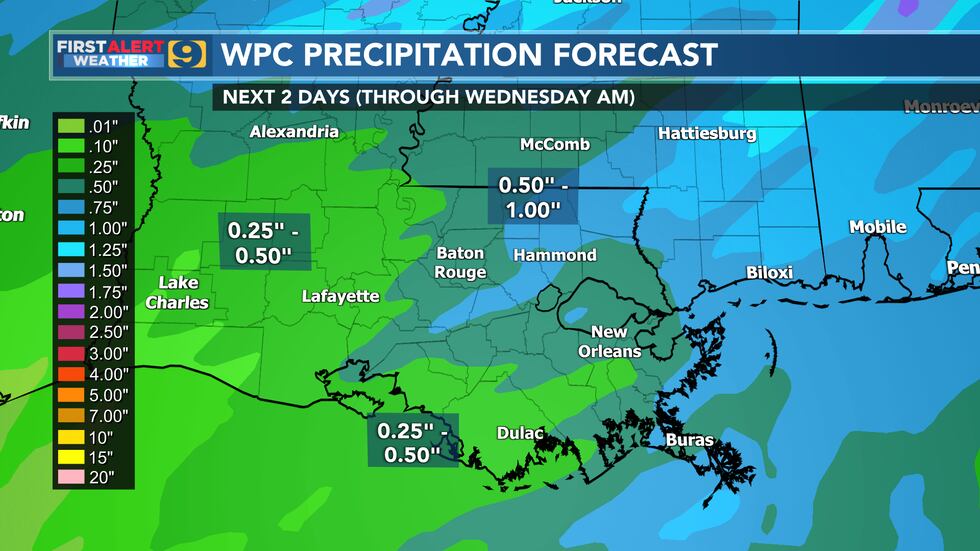 More Rain for Thanksgiving?
Any rains should exit before daybreak on Tuesday with this initial system, leaving us in a drier, but mainly cloudy pattern for Tuesday and Wednesday.
However, latest guidance has trended wetter for Thanksgiving as another disturbance potentially leads to low pressure developing in the northern Gulf of Mexico. There is still some uncertainty on the track of the low and how much rain moves inland, so for now I've got rain chances posted around 50%.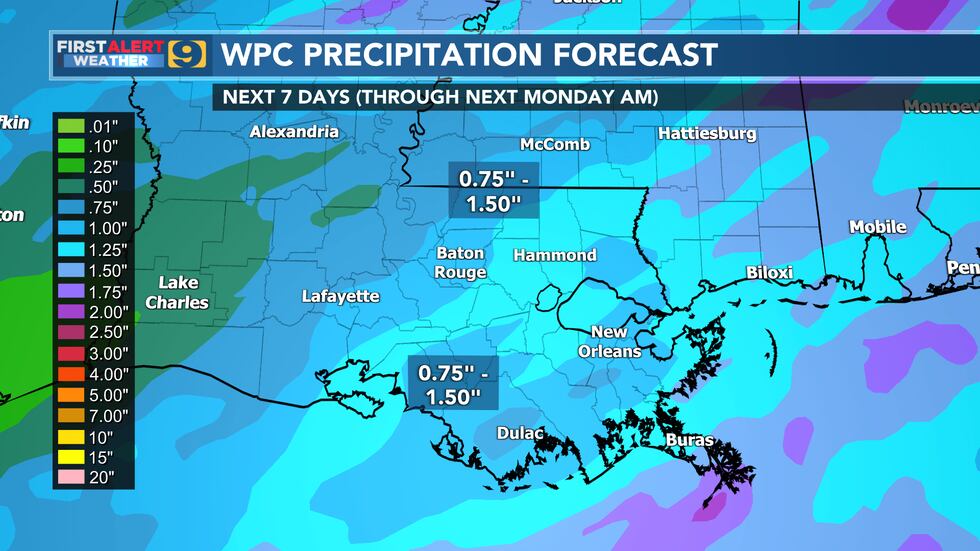 Click here to report a typo.
Copyright 2023 WAFB. All rights reserved.