FIRST ALERT: Severe threat late Monday; wet & chilly Thanksgiving
Published: Nov. 19, 2023 at 6:47 AM CST
|
Updated: Nov. 20, 2023 at 4:21 AM CST
BATON ROUGE, La. (WAFB) - It's a First Alert Night for Monday into Tuesday as our next cold front moves through the area. Showers and t-storms will be likely and severe weather will be possible. An Enhanced Risk (3 out of 5) for severe weather is posted for areas around and north of the state line.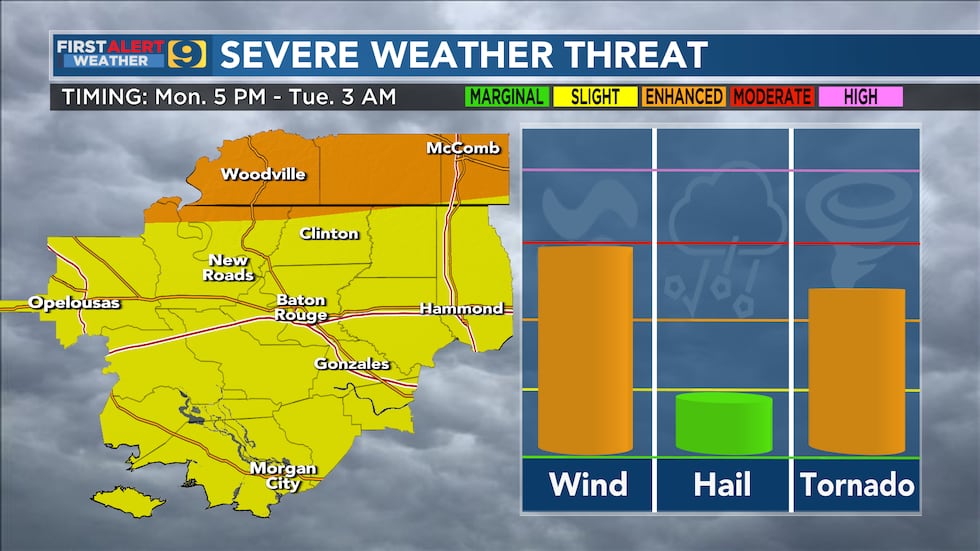 The remainder of the local area is under a Slight Risk (2 out of 5). The main concerns will be damaging wind and isolated tornadoes. The biggest remaining question mark is timing. Short-range high-resolution weather models are not in much agreement on when the potential "worst" of the weather will be pushing through with anywhere from Monday evening into predawn Tuesday remaining possibilities.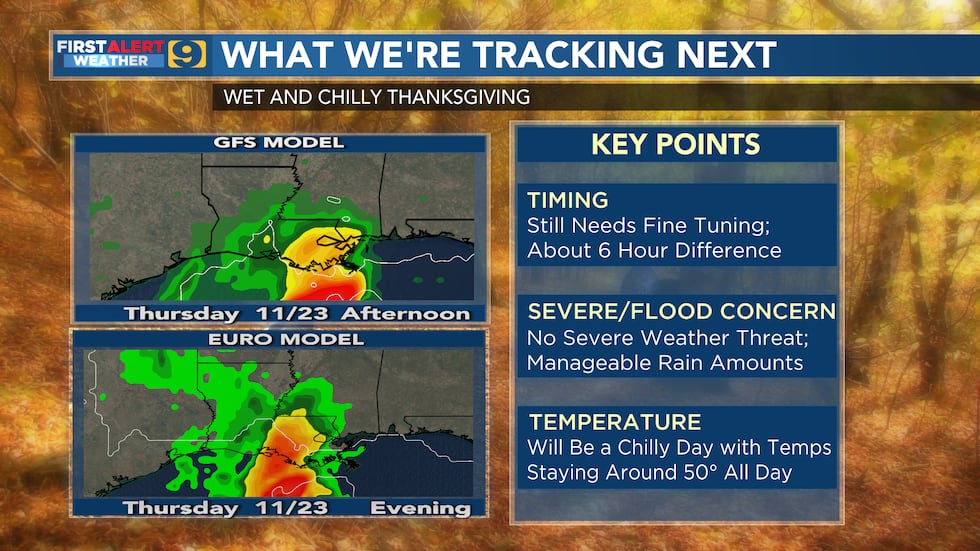 Keep up to date with our free First Alert Weather App and make sure you have a way of being notified when you head to bed Monday night.
The cold front will move through early Tuesday ending rain chances before dawn. Temperatures will take a dip keeping the temperature roller coaster on the move. We drop from a high of 80° Monday to low 60°s Tuesday. Skies are forecast to remain cloudy as a moisture stream from the southern branch of the jet stream stays overhead. A stray pocket of sprinkles here and there can't be totally ruled out Tuesday. Clouds will keep temperatures below normal as we move into Thanksgiving.
Unfortunately, the forecast does not look very pleasant for Thanksgiving. Rain appears likely with what could be persistent light to moderate rain from the morning into the evening. Temperatures will also remain cool hovering around 50° all day. The silver lining will be we don't expect severe weather or flood concerns as rains will be generally light in intensity.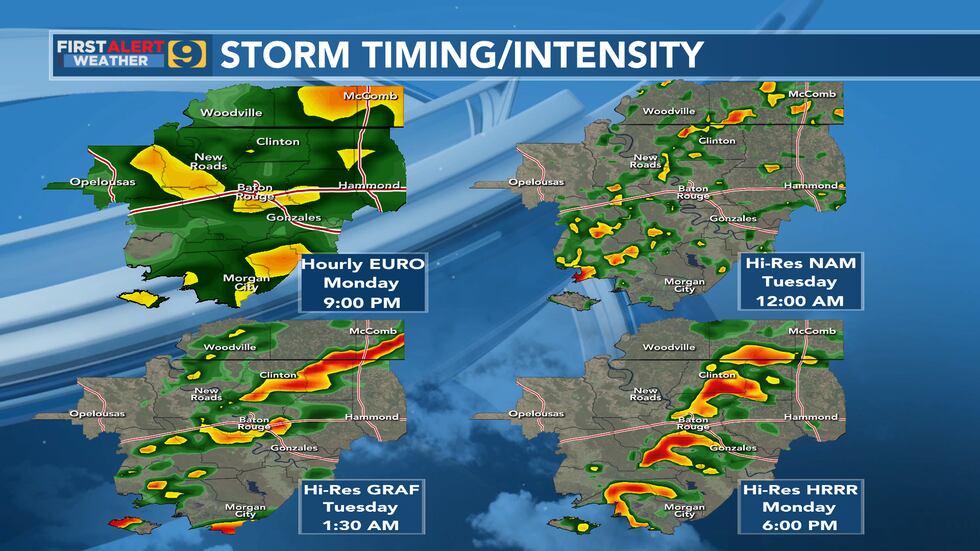 The forecast will then remain dry to close out the week with a slight increase in afternoon temperatures. It should be a comfortably cool next weekend. Uncertainty is high related to the beginning of next week's forecast. Long range models hint we could see an unsettled weather pattern, but the timing of rains is still unclear.
Click here to report a typo.
Copyright 2023 WAFB. All rights reserved.