New firetrucks replace 20+ year old units in Baton Rouge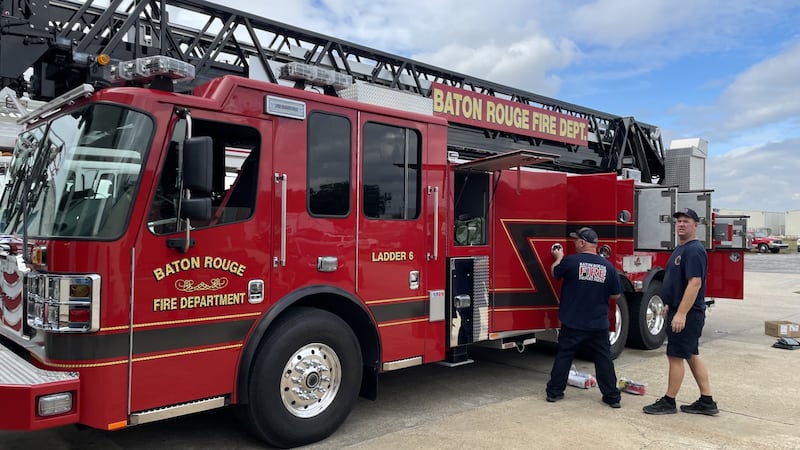 Published: Nov. 17, 2023 at 3:17 PM CST
BATON ROUGE, La. (WAFB) - New ladder trucks have arrived. The Baton Rouge Fire Department announced two new ladder trucks that will help firefighters provide life-saving response to the Baton Rouge community went into service on Friday, Nov. 17.
According to the fire department, these new trucks replace two of the nine units in their fleet that are more than 20 years old.
Fire Chief Michael Kimble says the new trucks are equipped with the most advanced tools in the fire service.
"When you add the best firefighters in the business to the best equipment, you get the best service available," Kimble said. "A definite class one service. We are grateful to Mayor Broome and her administration for helping secure these funds."
The fire department purchased the trucks for $1 million each using funding made available through the American Rescue Plan of 2021, which was aimed at supporting health and economic recovery efforts resulting from the COVID-19 pandemic, according to officials.
This funding was specifically made available for first responders and state and local government, officials added.
According to the fire department, these units are equipped with 107-foot ladders that can be used for everything from, but not limited to, high-rise rescues and fire extinguishment, reaching stranded civilians in flooded roadways or underpasses, and safe ventilation practices at active fire scenes. They also carry the "Jaws of Life" tools used to extricate victims who are trapped in vehicles or equipment.
Click here to report a typo.
Copyright 2023 WAFB. All rights reserved.