No. 20 Colorado knocks off No. 1 LSU to open the season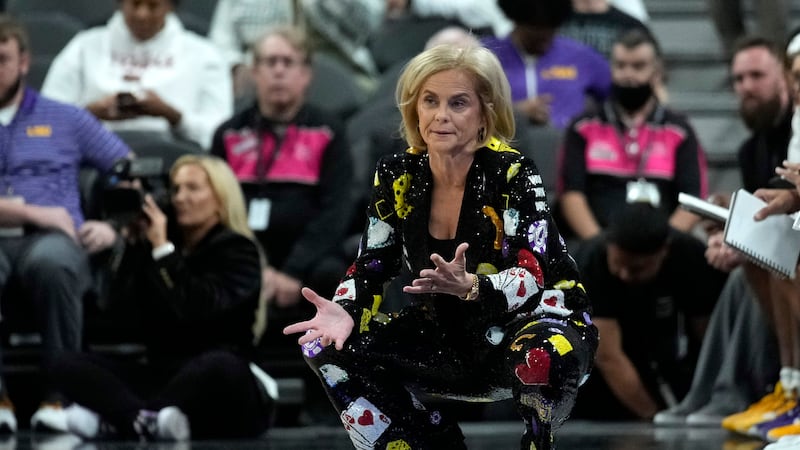 Published: Nov. 6, 2023 at 8:38 PM CST
|
Updated: Nov. 6, 2023 at 8:45 PM CST
LAS VEGAS (WAFB) - No. 1 LSU (0-1) dropped their season opener to No. 20 Colorado (1-0) on Monday, Nov. 6 in Las Vegas.
The Buffalos led as many as 21 points against the Tigers and defeated the defending National Champions 92-78.
Colorado was lethal from behind the arc knocking down 10 threes led by Frida Formann who was 7-for-10 from deep and led the Buffs with 27 points.
The Buffalos went on a 7-0 run late in the second quarter to get out to a seven-point lead over the defending National Champions, 36-29.
A veteran team for Colorado gave the Tigers trouble in the first half as Jaylyn Sherrod led the Buffalos with 12 points in the first half to go along with five rebounds, and two steals.
Colorado shot 46.7% from the field while LSU shot 33.3% from the field and trailed the Buffalos 38-32 at the half.
Angel Reese was the leading scorer for the Tigers in the first half with 10 points to go along with six rebounds. Hailey Van Lith added eight points going 2-for-3 from behind the arc and freshman Mikayla Williams added seven points for the Tigers.
Colorado extended their lead to 11 early in the third quarter, 48-37 over the Tigers. LSU cut the lead down to six before Colorado went back up by 11 to make it 54-43.
The Tigers trailed the Buffs 63-51 entering the fourth quarter, but Colorado proved to be too much offensively and took advantage of missed shots and turnovers by LSU.
Four different Tigers scored in double figures Williams led the team with 17, Sa'Myah Smith added 16 and Van Lith added 14. Angel Reese had a double-double with 15 points and 12 rebounds.
LSU will return home to take on Queens in the PMAC on Thursday, Nov. 9 at 7 p.m.
Click here to report a typo.
Copyright 2023 WAFB. All rights reserved.