I-TEAM: Though deputy was cleared in man's shooting death, family seeks wrongful death judgement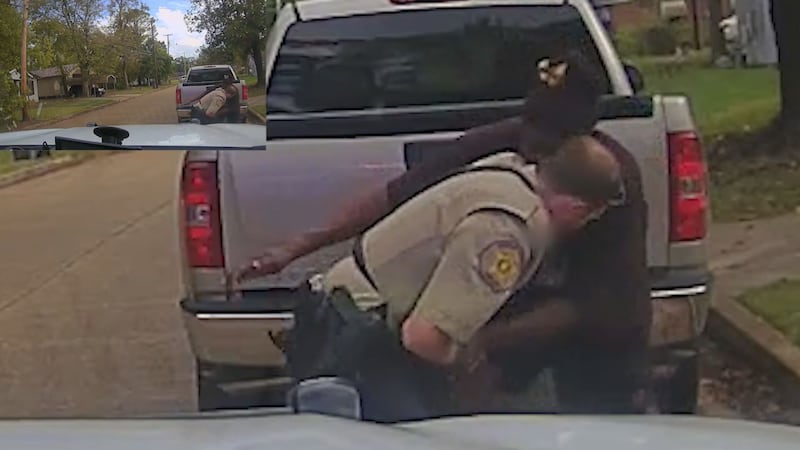 Published: Nov. 7, 2023 at 4:00 PM CST
|
Updated: Nov. 7, 2023 at 4:20 PM CST
ALEXANDRIA, La. (WAFB) - Two women are suing Rapides Parish Sheriff's Deputy Rodney Anderson, who was cleared of any wrongdoing after shooting and killing their father Derrick Kittling.
Civil rights attorney Ron Haley filed a federal wrongful death lawsuit on behalf of Laneesha Alexander and Rebecca Nichols who are identified in the lawsuit as Kittling's biological daughters. The family is seeking payment and a jury trial.
According to the lawsuit, Deputy Anderson was aggressive from the moment he pulled Kittling over to investigate the dark window tint and a modified exhaust pipe on his truck in November of 2022.
The lawsuit alleges Deputy Anderson gave confusing orders to Kittling on where the man should stand, and as Kittling walked away, the deputy got physical.
According to the lawsuit, Kittling was defending himself as he wrestled with Deputy Anderson and took control of the deputy's taser.
Footage from the deputy's body camera, dash camera, and a cellphone video from a witness showed the two men scuffling to the ground. The video also shows the moment the taser is fired, but the moment Anderson fires his service gun is not clearly visible.
According to the lawsuit, the deputy shot Kittling once in the head, killing him.
Rapides Parish District Attorney Phillip Terrell decided not to bring charges against Anderson after declaring that "evidence overwhelmingly demonstrates that the actions were justified."
Last April, Haley said he was disappointed that Deputy Anderson was not charged. Haley said he believed that footage of the fight was "very clear" in proving Anderson was the aggressor.
Rapides Parish Sheriff Mark Wood is also listed as a defendant in the lawsuit, which alleges he failed to maintain policies and procedures that "protect civilians from reckless indifference of Defendant's Parish agents, servants, and employees in its Sheriff Department."
Kittling is the brother of Lt. Colonel Kenny VanBuran, who was promoted to lead LSP's Bureau of Investigations in 2021. LSP officials assured the public they would perform a "thorough and impartial investigation" into the shooting and said VanBuren would not be involved.
Click here to report a typo.
Copyright 2023 WAFB. All rights reserved.