Death toll in I-55 pile-up climbs to 8
Published: Oct. 24, 2023 at 6:57 AM CDT
|
Updated: Oct. 24, 2023 at 5:10 PM CDT
MANCHAC, La. (WVUE) - In an update Tuesday afternoon (Oct. 24), Louisiana State Police say one of the I-55 crash victims has died at the hospital, bringing the total number of fatalities up to eight.
Police also increased the count of vehicles involved from 158 to 168, and the number of injured persons now stands at 63.
All of the vehicles have been removed from the elevated portion of I-55 in Manchac. A DOTD investigation into the road's integrity is underway. A more comprehensive inspection will take place once the surface of the bridge is cleared of debris, diesel, and other chemicals.
Drone video showed significant damage to the southbound deck. LSP says bridge inspectors identified multiple areas requiring repairs.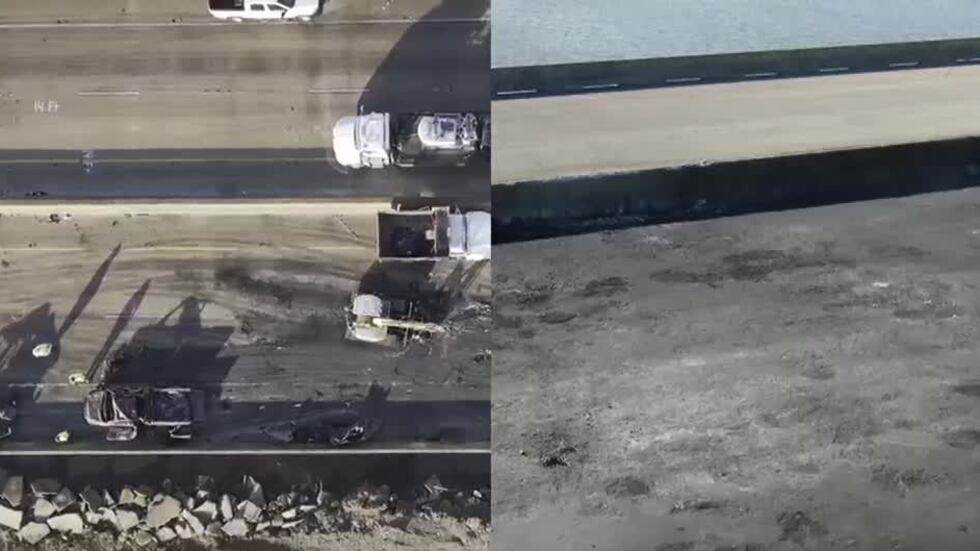 Drivers and owners of vehicles involved in the crash who are looking for information on where their vehicle was towed are encouraged to contact Troop B by email at TroopB@la.gov.
Just before 1 p.m. Tuesday, northbound traffic was allowed to travel on the elevated portion of I-55 to the Ruddock exit where traffic will be diverted to the low road. Southbound traffic will be diverted to the low road at the Ruddock entrance ramp where you can enter the elevated portion of I-55.
An estimated 168 vehicles were involved and over 60 people injured, according to the Louisiana State Police.
Vehicles were crushed, piled atop each other and engulfed by flames. Some people got out of their vehicles and stood on the side of the road or on the roofs of their cars looking in disbelief at the disaster, while others cried out for help.
"Everybody had to run and get out their car so fast, because the more and more you sat there, the more and more cars just kept hitting everybody," said Kylie Cuevas.
The interstate remains closed in both directions Tuesday near Ruddock and Manchac. Drivers are advised to use an alternate route.
RELATED STORIES
Louisiana chef among those killed in massive I-55 pile-up
I-55 crash survivors recount terrifying moments of 158-vehicle pileup
Authorities are advising the public to take alternate commutes such as the Causeway through Mandeville or Twin Span through Slidell. Old U.S. Highway 51, the I-55 service road, is open for north and southbound traffic from Ponchatoula to LaPlace and authorities are strongly advising motorists to take caution on the route as it is a two-lane highway experiencing higher than normal traffic volume.
"It felt like it was a very long time that we were kind of holding our breath and holding each other's hands just waiting for someone to plow into the back of us. I'm not sure exactly how long it was but we just watched in my rear view...... I did see a nurse running out to help people as well," said driver Erica Glory.
Gov. John Bel Edwards asked for prayers "for those hurt and killed" on Monday and issued a call for blood donors to replenish dwindling supplies.
School buses were summoned to transport stranded motorists from the accident sites. At midday, state police told reporters at the scene that one vehicle went over the highway guardrail and into the water, but the driver escaped unharmed.
The National Weather Service said there were multiple wetland fires in the region. Smoke from the fires mixed with fog to create a "superfog."
See a spelling or grammar error in our story? Click Here to report it. Please include the headline.
Subscribe to the Fox 8 YouTube channel.
Copyright 2023 WVUE. All rights reserved.