I-TEAM: Work continues on home damaged in BRPD operation tied to Brave Cave lawsuit
Published: Oct. 10, 2023 at 9:13 PM CDT
|
Updated: Oct. 11, 2023 at 7:18 AM CDT
BATON ROUGE, La. (WAFB) - Baton Rouge councilman Cleve Dunn Jr. says workers have almost completed repairs on a home that was reportedly damaged during the Baton Rouge Police Department operation that resulted in the detainment of Jeremy Lee. The councilman and other leaders rallied to raise private money to help pay for the work, after learning a family had been living inside the home since January with no door and a busted front wall.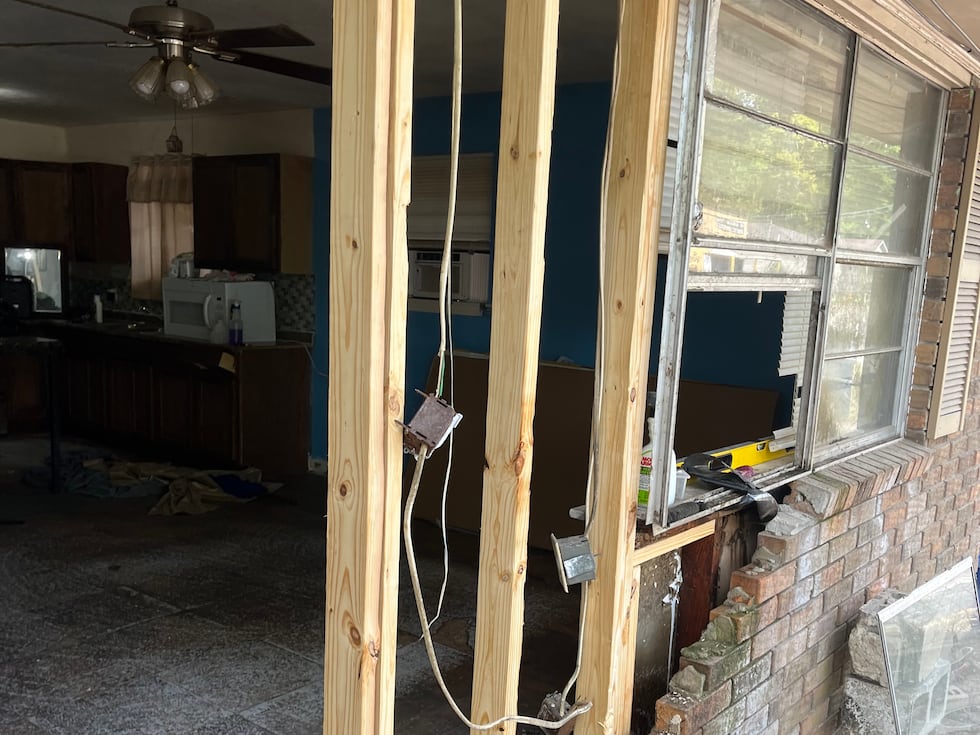 Dunn Jr. says he first learned about the family's situation at a council meeting two weeks ago when he was approached by community activist Geno McLaughlin.
"Geno made me aware that 'hey Cleve the hole is still in that home. These young folks are still living in that home exposed to the elements, exposed to rain, exposed to heat, exposed to all of the elements.' When he made me aware of that, I said 'We're not going to wait on city-parish. We're not going to wait on law enforcement. We're going to raise money privately and we'll get the repairs done.'"
McLaughlin tells WAFB that everyone living inside of the home is under the age of 20. He added that the youngest member of the household is just a few months old.
"Their mom died during COVID-19. So, they don't have the resources at their disposal to come in and close up a home. That cost. That is a significant cost right there," he said.
Both men hope to highlight this family's situation at the next meeting of the Metro Council on Wednesday night.
Councilman Dunn Jr. has added an agenda item requesting a report from city leaders that lists the options everyday people can use to ask the city-parish to pay for property damage caused by officers.
Dunn Jr. had previously requested reports from different law enforcement agencies across the parish to investigate cases where officers caused property damage while serving warrants. He pushed to have that information revealed to the council after police raided a home belonging to Erica Rayford on New Year's Eve. Rayford was away from home when police reportedly tore into her home looking for a relative and caused damage.
"Nobody was present at all, and the windows were broken out. Flashbangs were launched in that home. It was totally damaged," said Dunn Jr.
Dunn Jr. says this latest agenda item builds on that crusade. Lee's detainment and subsequent lawsuit was the first case made public that was tied to BRPD's Brave Cave - a processing center where officers in BRPD's Street Crimes Unit interrogated suspects. Lee alleges he was held for hours and brutalized inside the building. Since the WAFB I-Team's first report on Lee's case, the FBI has launched an investigation and Mayor Sharon Weston Broome has shut down the Brave Cave and the Street Crimes Unit.
"In this situation, there were two points of entry to the home. One of them was open and accessible. The other one was not open and accessible. Residents on the site told law enforcement the side door was open, and you can enter that way. You don't have to tear down the front door. They refused that information and decided to tear down the front door and tear open the front wall, and to leave that wall exposed and the people exposed to the elements since January. I feel situations like that are unacceptable. In those cases, city-parish or law enforcement should be on the hook for those damages," said Dunn.
"There are times when the police and law enforcement will have to enter a home through some other means. In this particular case and many others that is not the case. So we want to use this as an example and work with our partners, work with council members to see how we can - whether through legislation or coming up with an ordinance or such - find a way to make these families whole," said McLaughlin.
Dunn Jr. says he's prepared for pushback. When asked how he would respond to critics of his agenda item, Dunn Jr. said he'd tell them to think of their own homes and families.
"I'd say to them think about if this happened to their home, if law enforcement entered their home and damaged their home to this degree - which was unjustifiable. Again, there are situations where this is justified. But these that we have pointed out we feel are not justifiable," he said.
The meeting Wednesday will be the first time the council learns the latest on the Brave Cave investigation and the actions of officers tied to Lee's case since the last council meeting two weeks ago. At that last meeting, Baton Rouge Police Chief Murphy Paul and council members lobbed criticisms at each other. The meeting led several council members to call for the police chief's resignation while other council members rallied support for the chief. Dunn Jr. says he doesn't expect the political bad blood from that meeting to spill over into an effort to block his latest effort to get answers from the city-parish.
"We're elected to office and appointed to office to have tough conversations. What I will tell my colleagues and all the stakeholders is that this is what government is. This is what the democratic process is - having tough conversations. I think we can have tough conversations and be humane and be respectful, but that's the job. That's what comes with the territory of the job. We have to have tough conversations. We have to face them head-on. We should not run from them. We should not hide from them," said Dunn Jr.
Dunn Jr. says the city-parish already has processes for people to make financial claims against the city-parish. He wants to investigate what barriers are in place that prevent people from getting their property paid for. He plans to ask city-parish leaders to make it easier for people to understand the requirements of making a claim, and who to contact.
McLaughlin says he hopes the help given to this family is enough to encourage others to reach out to city leaders about their issues, even when city agencies are the cause of those issues.
"Our job is to hold government accountable for the things that they do," he said.
"We're in election season, right? We know that going to the polls elects people. But then, oftentimes, we'll forget that you still have a civic duty to engage with them. Sure, they should be seeking out engagement, but we did the job of electing them. So, if we have any sort of issue whether it is streetlights or a case like this - issues with law enforcement - we know who to go to," he added.
The Metro Council meets on the 3rd floor of City Hall at 4 p.m.
Click here to report a typo.
Copyright 2023 WAFB. All rights reserved.