Family announces Greg Brooks has rare form of brain cancer; TAF launches Greg Brooks Victory Fund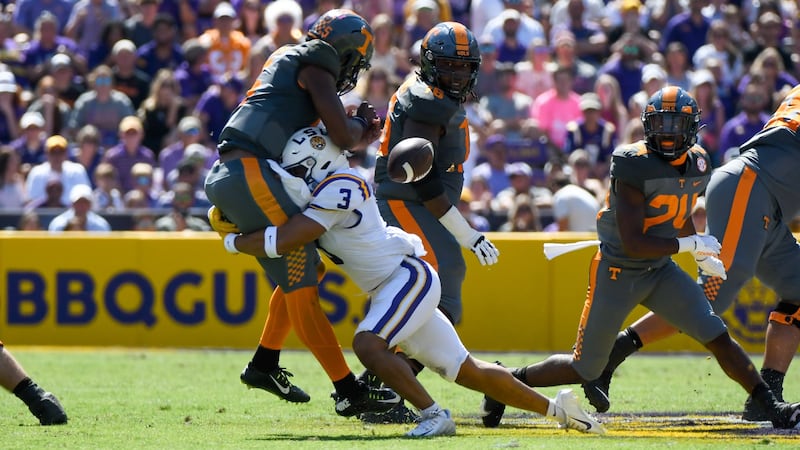 Published: Sep. 20, 2023 at 7:06 AM CDT
|
Updated: Oct. 4, 2023 at 2:50 PM CDT
BATON ROUGE, La. (WAFB) - The family of LSU safety Greg Brooks Jr. released a statement Wednesday, Sept. 20 saying Brooks had emergency surgery on Friday, Sept. 15 to remove a large brain tumor.
Our Lady of the Lake Health and the Brooks family announced on Wednesday, Oct. 4 that Brooks has been diagnosed with a rare form of brain cancer, medulloblastoma.
"For the last three weeks, Greg has been recovering from an extensive surgery to remove a brain tumor that was located between his cerebellum and brainstem," said Catherine O'Neal, MD, Chief Medical Officer at Our Lady of the Lake Health. "Greg's speech and ability to communicate has been impacted, and although he is responsive and working daily with physical therapy, he will face months of intensive rehabilitation. The surgery was successful in removing the tumor, and there is no evidence that the cancer has spread. As he begins rehab in the coming weeks, Greg's family and care team will determine a treatment plan in collaboration with nationally recognized specialists in this specific form of brain cancer. He has a long journey ahead and will need the full support of our community behind him as he faces this battle."
To help cover expenses resulting from his illness, The Tiger Athletic Foundation has launched The Greg Brooks Victory Fund.
Supporters can contribute to The Greg Brooks Victory Fund here.
"Greg is a fighter and a winner, and we believe wholeheartedly that he will conquer this battle with cancer," stated LSU President William F. Tate IV. "Victories are rarely achieved alone, which is why we're calling on fans from around the world to rally behind The Greg Brooks Victory Fund. Your support will ensure that Greg and his family have everything they need as they embark on their journey to healing and recovery."
Brooks missed LSU's 41-14 win at Mississippi State last weekend and head coach Brian Kelly had ruled him out for this Saturday's SEC home game against the Arkansas Razorbacks. The only info that had been shared on Brooks' ordeal before today was that he was dealing with "a medical emergency".
Brooks is a graduate student from Harvey, Louisiana, and attended West Jefferson High School. He played three seasons at Arkansas, before transferring to LSU before the 2022 season. Brooks was one of LSU's top leaders this year and was named a team captain before the season began. During the Tigers' preseason work in August, Brooks had missed practice time with what he described to be vertigo.
Read the statement from the family below:
Click here to report a typo.
Copyright 2023 WAFB. All rights reserved.