Ryder Cup in Rome stays right at home for the Europeans. The US loses its seventh straight in Europe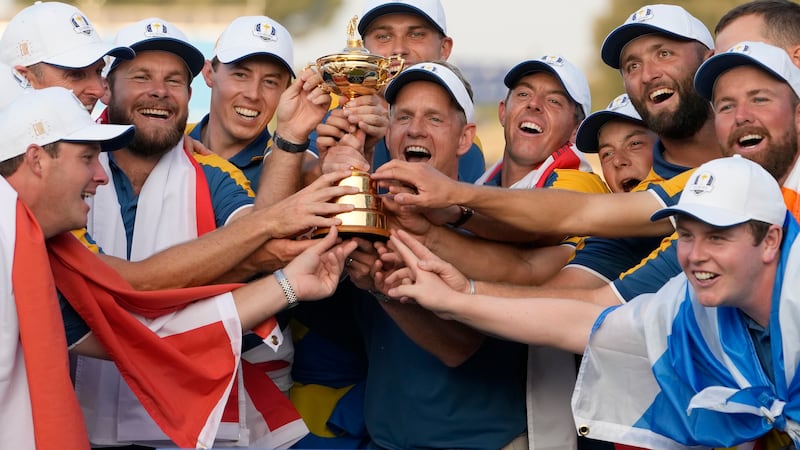 Published: Oct. 1, 2023 at 4:37 PM CDT
GUIDONIA MONTECELIO, Italy (AP) — The best collection of players at Marco Simone had flags from their eight countries draped around their shoulders as they took turns clutching and thrusting the gold Ryder Cup, the very trophy that turns them into one nation, one team, with one purpose.
The celebration was familiar on European soil, and so was the winner of the Ryder Cup.
Team Europe, embarrassed two years at Whistling Straits when it suffered its worst loss to the Americans, got their payback Sunday, along with that 17-inch trophy.
"Not many people gave us a chance, I don't think, especially two years ago," European captain Luke Donald said. "Well, we proved them wrong."
Europe now has seven straight wins at home dating to 1993.
This one wasn't even particularly close, from the opening session Friday, which Europe swept for the first time in history, to the Sunday singles that led to a 16 1/2-11 1/2 victory.
Rory McIlroy, in tears two years ago after his shabby performance, was among Europe's top players who quickly doused any American dreams of a rally. He beat Sam Burns to go 4-1 for the week, the first time he was Europe's top scorer in his seventh appearance.
"I was so disappointed after Whistling Straits — we all were," McIlroy said. "And we wanted to come here to Rome and redeem ourselves."
Jon Rahm, Viktor Hovland and Tyrrell Hatton also picked up key points early in the singles lineup, leaving Europe needing only a half-point to reaching the winning total. Tommy Fleetwood delivered the clincher, hitting a signature shot on the signature hole at Marco Simone — a drive to 25 feet on the reachable 16th against Rickie Fowler.
Fowler, now with a 1-8-5 road record in the Ryder Cup, hit into the water and wound up conceding the birdie to Fleetwood, who raised both arms to the loudest cheer of the week.
"I really didn't want to come down to one of us at the back," said Fleetwood, in the 11th spot in the lineup. "Just so happened to play a part — it was a bit bigger than I thought I was going to have when we saw the draw. But just so proud of being part of this team."
The Americans were confident, mainly based on their 19-9 victory in Wisconsin two years ago, that they finally would win on European soil for the first time in 30 years.
Now make it 34 years. Their next chance is 2027 at Adare Manor in Ireland.
"I think the European team played some phenomenal golf. I think it really is quite that simple," U.S. captain Zach Johnson said, his voice choking to the point that it was hard for him to complete a sentence. "Team USA will be better for it. We'll figure it out."
Johnson is sure to face scrutiny for his six picks, leading to perceptions they were as much about friendships as good form. The six picks combined to go 4-12-4 for the week. Whether it would have mattered is hard to tell.
Europe has the magic touch in these matches.
"This is our time to shine, not because this is our stage. We are just taking care of it because of the amazing role models that we've had before us that have shown us how to do it," said Justin Rose, at 43 the oldest player in the Ryder Cup.
"A good pairing on the European team doesn't mean playing with your best mate," he said. "It means representing something bigger than yourself. And I feel like that's for me what being a European Ryder Cup player is all about."
Whatever hopes the Americans had Sunday didn't last long.
They needed to win the last five matches still on the course. Matt Fitzpatrick of England was in position to win the 18th hole for the clinching half-point with Max Homa buried in gnarly rough above the bunker. Homa, on the advice of caddie Joe Greiner, boldly took a penalty drop, chipped to 7 feet and made the par for the full point.
Homa was a rare bright spot for the U.S. team, going 3-1-1 in his Ryder Cup debut. The mettle came from Patrick Cantlay, whose hat led to the only real drama at Marco Simone, and led to more anger than McIlroy has experienced in these tense matches.
Cantlay was the only player not wearing a USA cap (he says it didn't fit right) but an unsubstantiated Sky Sports report Saturday morning said it was to protest not getting paid. Cantlay referred to the report as "outright lies."
But the Europeans fans picked up on it and heckled him endlessly, waving their caps at him at every turn. Cantlay never flinched, making three straight birdies to win a fourballs match.
McIlroy still had a putt to tie, and he was furious when he felt Cantlay's caddie, Joe LaCava, celebrated for too long and too close to the action, even when asked to move. McIlroy was seen that night being held back as he described the behavior as "(expletive) disgraceful."
"I was probably the angriest I have ever been in my career," McIlroy said. "I said to the U.S. guys I thought it was disgraceful what went on. I made that clear. I needed to calm myself down because I could have let it bring me down the wrong path."
McIlroy said he has texted LaCava, who previously worked for Tiger Woods, and they would move on from that.
Europe went into the singles session knowing no team had ever come back from a five-point deficit on Sunday. The Americans made them sweat, but only briefly.
Rahm won the 18th hole to earn a half-point against Scottie Scheffler. Hatton completed an unbeaten week by beating British Open champion Brian Harman. Hovland put the first blue point on the board in a win over Collin Morikawa.
All Europe needed was one more halve, and Fleetwood assured that with a 2-up lead with two holes to play against Fowler.
The only mood that mattered was pure joy, with Europeans leaping into the water to celebrate a win they badly needed.
The Americans still lead the overall series in the Ryder Cup dating to 1927. But since Europe joined the party in 1979 — the modern era — Europe now has a 12-9-1 advantage.
Next up is Bethpage Black on Long Island in New York, renowned for its harsh fans even before the flags of two continents are involved. McIlroy led a chorus of European players already hopeful Donald will return as captain.
"I think one of the biggest accomplishments in golf right now is winning an away Ryder Cup," McIlroy said. "And that's what we're going to do at Bethpage."
___
AP golf: https://apnews.com/hub/golf
Copyright 2023 The Associated Press. All rights reserved.