Federal student loan payments are starting again. Here's what you need to know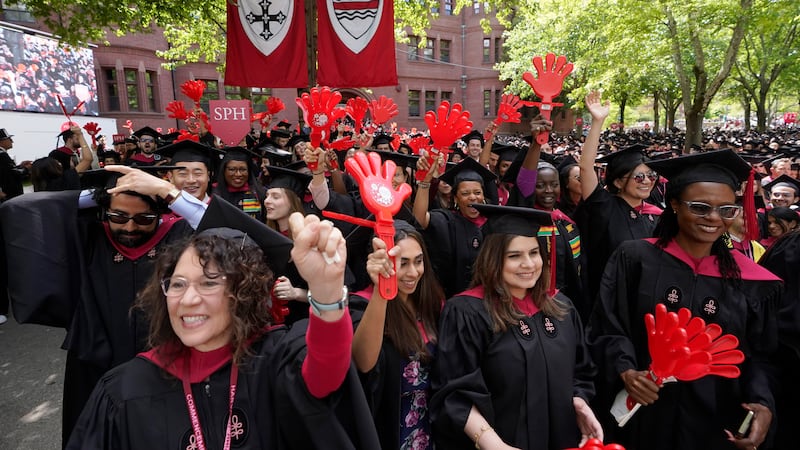 Published: Oct. 1, 2023 at 9:51 AM CDT
NEW YORK (AP) — Federal student loan borrowers will need to start making payments again this month after a three-year-plus pause due to the pandemic.
You should expect a bill that lays out how much you have to pay each month at least 21 days before your due date. It's likely that most borrowers have received their bill already but if you have not, visit your loan servicer account. Interest started accruing again in September.
If you have student loans and haven't made a payment in the last three years, don't panic. Here's what experts recommend:
WHERE DO I START?
The first step is to log in to your StudentAid.gov account and check who your loan servicer is. Many loan servicers changed during the pandemic, so you might have a different one than you did back in March 2020, said Amy Czulada, outreach and advocacy manager at the Student Borrower Protection Center.
Once you know your loan servicer, you'll log into your account with them to access your student loan balance, monthly payment amount and interest rate. Czulada also recommended that you look at which type of student loan you have, so you know which income-driven repayment plans you might qualify for.
Lastly, update your personal information in your account with your loan servicer to make sure you receive all important correspondence.
HOW DO I KNOW WHAT MY PAYMENTS WILL BE?
Borrowers can find out what their monthly student loan payment will be on their account with their loan servicer. If you don't know who your servicer is, you can find it by logging in your studentaid.gov account.
WHAT IF MY PAYMENTS ARE TOO HIGH?
If you think you'll have a hard time making payments once they resume, you have several options.
This summer, President Joe Biden announced a 12-month grace period to help borrowers who struggle after payments restart. You can and should make payments during the first 12 months after payments resume, but if you don't, you won't be at risk of default and it won't hurt your credit score. Interest will accrue whether you make payments or not.
Betsy Mayotte, president of The Institute of Student Loan Advisors, recommends that you research if you qualify for an income-driven repayment plan. Borrowers can use the loan-simulator tool at StudentAid.gov or the one on TISLA's website to find a payment plan that best fits their needs. The calculators tell you what your monthly payment would be under each available plan, as well as your long-term costs.
WHAT'S AN INCOME-DRIVEN REPAYMENT PLAN?
An income-driven repayment plan sets your monthly student loan payment at an amount that is intended to be affordable based on your income and family size. It takes into account different expenses in your budget, and most federal student loans are eligible for at least one of these types of plans.
Generally, your payment amount under an income-driven repayment plan is a percentage of your discretionary income. If your income is low enough, your payment could be $0 per month.
Last year, the Biden administration announced a new income-driven repayment plan. The SAVE plan offers some of the most lenient terms ever. On this plan, interest won't pile up as long as borrowers make regular payments.
It's still possible that the SAVE plan could face legal challenges similar to the one that led the Supreme Court to strike down Biden's proposal for mass student loan cancellation.
ARE THERE ANY OTHER PROGRAMS THAT CAN HELP WITH STUDENT LOAN DEBT?
If you've worked for a government agency or a nonprofit, the Public Service Loan Forgiveness program offers cancellation after 10 years of regular payments, and some income-driven repayment plans cancel the remainder of a borrower's debt after 20 to 25 years.
Borrowers should make sure they're signed up for the best possible income-driven repayment plan to qualify for these programs.
Borrowers who have been defrauded by for-profit colleges may also apply for borrower defense and receive relief.
If you'd like to repay your federal student loans under an income-driven plan, the first step is to fill out an application through the Federal Student Aid website.
HOW CAN I REDUCE COSTS WHEN PAYING OFF MY STUDENT LOANS?
If you sign up for automatic payments, the servicer takes a quarter of a percent off your interest rate.
HOW DO I ENROLL IN AUTOMATIC PAYMENTS?
You can enroll in automatic payments through your loan servicer's account. Borrowers who were enrolled in automatic payments prior to the payment pause need to re-enroll again, said Czulada.
WHAT ELSE SHOULD I KNOW?
Czulada recommends staying vigilant about scams. You should never have to pay to get help with your loans or to apply for any programs.
"The Department of Education will never call you on the phone. So, if you're getting a phone call that says 'Hey, pay $100 now and you'll get your debt canceled,' that's a red flag that it's a scammer," said Czulada.
To protect yourself from scams, the Department of Education recommends that you know their official email addresses, check for typos in advertisement and never share your log-in information.
___
The Associated Press receives support from Charles Schwab Foundation for educational and explanatory reporting to improve financial literacy. The independent foundation is separate from Charles Schwab and Co. Inc. The AP is solely responsible for its journalism.
Copyright 2023 The Associated Press. All rights reserved.