NY woman who fatally shoved singing coach, age 87, is sentenced to more time in prison than expected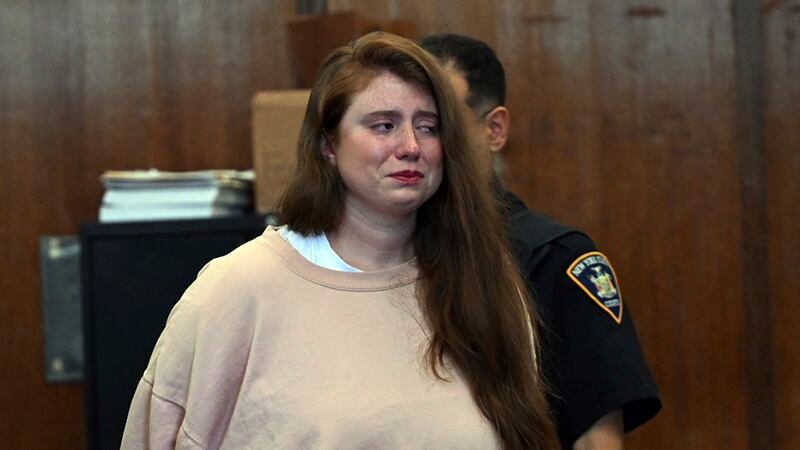 Published: Sep. 30, 2023 at 3:05 PM CDT
NEW YORK (AP) — A New York judge sentenced a woman who pleaded guilty to fatally shoving an 87-year-old Broadway singing coach onto a Manhattan sidewalk to six months more in prison than the eight years that had been previously reached in a plea deal.
During Friday's sentencing of Lauren Pazienza for manslaughter, Manhattan state Supreme Court Judge Felicia Mennin said she was unconvinced that the 28-year-old Long Island woman took responsibility for her actions on March 10, 2022, when she pushed the vocal teacher, Barbara Maier Gustern, to the ground.
Gustern, whose students included "Blondie" singer Debbie Harry, lay bleeding on a sidewalk. She died five days later.
Pazienza pleaded guilty on Aug. 23. She could have been sentenced to 25 years had she been convicted during a trial.
Pazienza, a former event planner originally from Long Island, has been locked up at the city's notorious Rikers Island jail complex since a judge revoked her bail in May 2022.
According to prosecutors, Pazienza attacked Gustern after storming out of a nearby park, where she and her fiance had been eating meals from a food cart.
Gustern had just left her apartment to catch a student's performance after hosting a rehearsal for a cabaret show, friends told The New York Times.
Gustern's grandson, A.J. Gustern of Colorado, called Pazienza's apology "contrived."
"I curse you, Lauren Pazienza," he said as he read from a statement in court, Newsday reported. "For the rest of your days, may you be miserable."
Pazienza encountered Gustern on West 23rd Street and shoved her to the ground in what police called "an unprovoked, senseless attack."
Gustern worked with singers ranging from the cast members of the 2019 Broadway revival of the musical "Oklahoma!" to experimental theater artist and 2017 MacArthur "genius grant" recipient Taylor Mac, who told the Times she was "one of the great humans that I've encountered."
Copyright 2023 The Associated Press. All rights reserved.