Latest search for remains of the Tulsa Race Massacre victims ends with seven sets of remains exhumed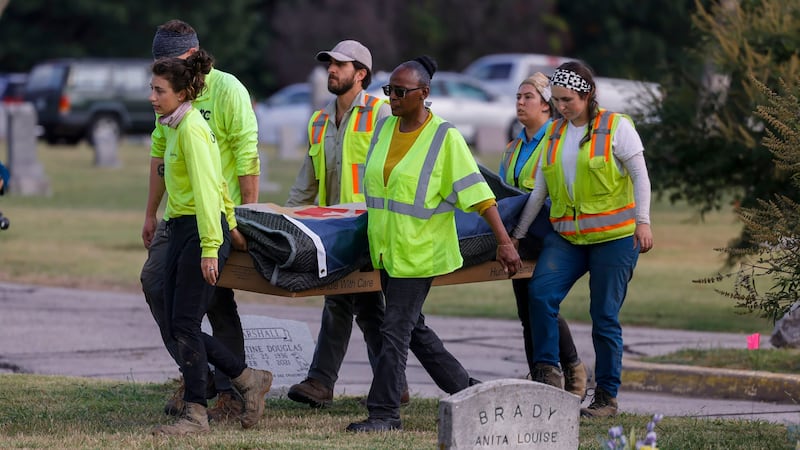 Published: Sep. 30, 2023 at 10:33 AM CDT
OKLAHOMA CITY (AP) — The latest search for the remains of victims of the 1921 Tulsa Race Massacre has ended with 59 graves found and seven sets of remains exhumed, according to Oklahoma state archaeologist Kary Stackelbeck.
The excavation ended Friday, Stackelbeck said, and 57 of the 59 graves were unmarked and previously unknown.
The seven that were exhumed were found in simple, wooden boxes that Stackelbeck has said investigators were searching for because they were described in newspaper articles at the time, death certificates and funeral home records as the type used for burials of massacre victims.
"For all of those seven individuals that we've exhumed up to this point in time, those individuals have been transported to our onsite forensic laboratory," where efforts to identify them and determine the causes of their deaths will begin.
None of the remains found thus far have been confirmed as victims of the massacre.
The seven exhumed remains will be reburied in their original grave sites after the forensic analysis is complete and any DNA is collected, according to a news release from the city of Tulsa.
Any recoverable DNA will be collected and sent to Intermountain Forensic in Salt Lake City in an effort to help identify them. Previous searches have resulted in 66 sets of remains located and 22 sent to the Utah lab.
The just-ended search began Sept. 5 and was the third such excavation in the search for the remains of the estimated 75 to 300 Black people killed during the 1921 massacre at the hands of a white mob that descended on Greenwood, the Black section of Tulsa.
More than 1,000 homes were burned, hundreds more were looted and destroyed and a thriving business district known as Black Wall Street was destroyed.
The three known living survivors of the massacre are appealing a ruling that dismissed their lawsuit seeking reparations from the city and other defendants for the destruction of the once-thriving Black district.
Copyright 2023 The Associated Press. All rights reserved.