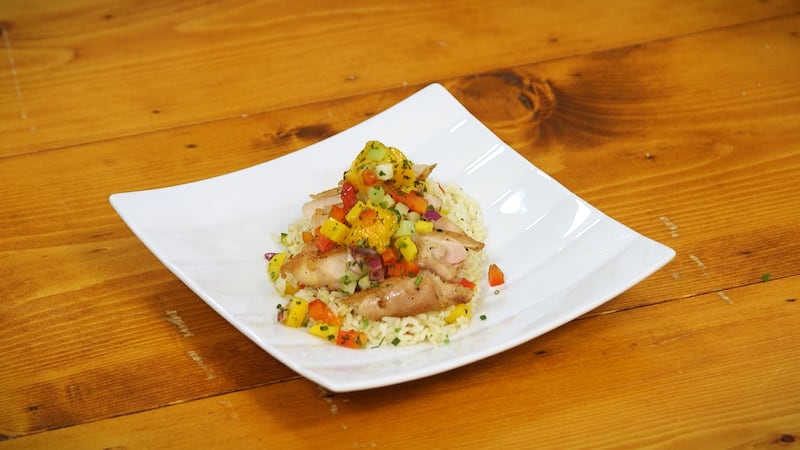 Published: Sep. 28, 2023 at 4:56 PM CDT
BATON ROUGE, La. (WAFB) - Easy, healthy and flavorful with just a few simple ingredients, this Mango Salsa Chicken will be your go-to dish for those busy nights!
The salsa itself is irresistibly sweet and spicy, and outrageously delicious. You may also substitute with store-bought salsa for a completely hassle-free meal.
Ingredients for Mango Salsa:
1 mango, peeled and diced

½ cup peeled and diced cucumber

½ cup diced red bell peppers

1 tbsp minced jalapeño

⅓ cup diced red onions

⅓ cup chopped cilantro leaves

1 tbsp lime juice
salt and freshly ground black pepper to taste.
Ingredients for Chicken:
6 boneless, skinless chicken thighs

Mango Salsa (see above)

2 tbsps olive oil

salt and ground black pepper to taste

1 cup long-grain white rice

1½ cups water
Method:
In a medium bowl, combine all ingredients for salsa, mixing well. Season to taste with salt and pepper then set aside. In a large cast-iron skillet, heat olive oil over medium-high heat.
Season chicken with salt and pepper then add to hot skillet. Sear until browned well on both sides, 2–3 minutes per side.
Remove chicken and transfer to a plate. Add rice to skillet then cover with water and 1 cup salsa. Stir mixture and bring to a boil.
Arrange chicken on top of rice, reduce heat to simmer, cover and cook until chicken and rice are cooked through, 17–20 minutes.
When ready to serve, place rice in center of a plate, top with chicken mixture and garnish with additional salsa.
Click here to report a typo.
Copyright 2023 WAFB. All rights reserved.