Balloon release to honor St. Helena student killed in school shooting
Published: Sep. 13, 2023 at 4:40 PM CDT
|
Updated: Sep. 15, 2023 at 10:10 PM CDT
GREENSBURG, La. (WAFB) - The family of Vernon Gordon Jr. held a balloon release on Friday, Sept. 15 for him after being killed on Tuesday, Sept. 12.
The family is holding a balloon release for Vernon Gordon Jr., the student killed in the shooting on Tuesday, Sept. 12 at St. Helena College and Career Academy.
RELATED: Juvenile suspect arrested in connection to deadly shooting at St. Helena school; class canceled until Friday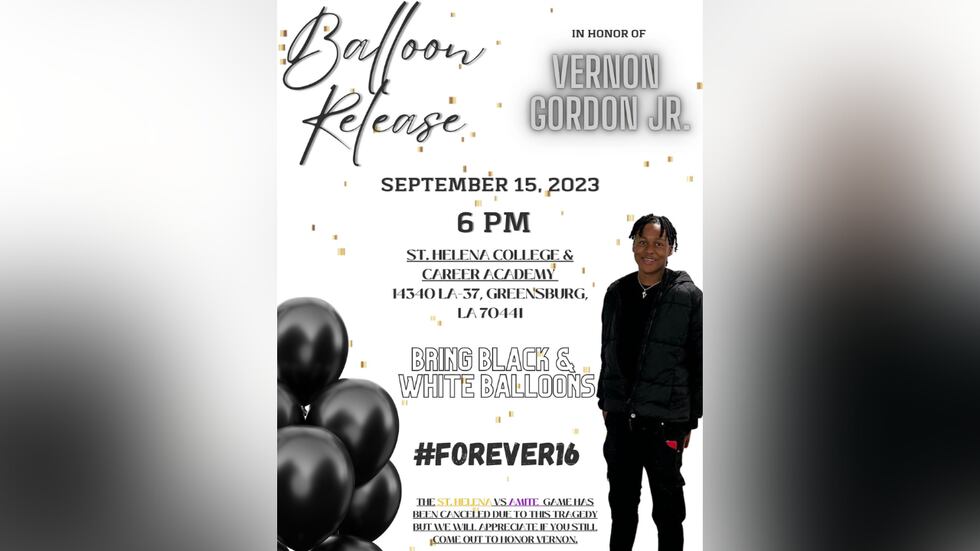 The St. Helena Sheriff's Office arrested a 14-year-old juvenile who is the alleged shooter.
St. Helena Superintendent Kelli Joseph released the statement below following the tragic death.
Click here to report a typo.
Copyright 2023 WAFB. All rights reserved.