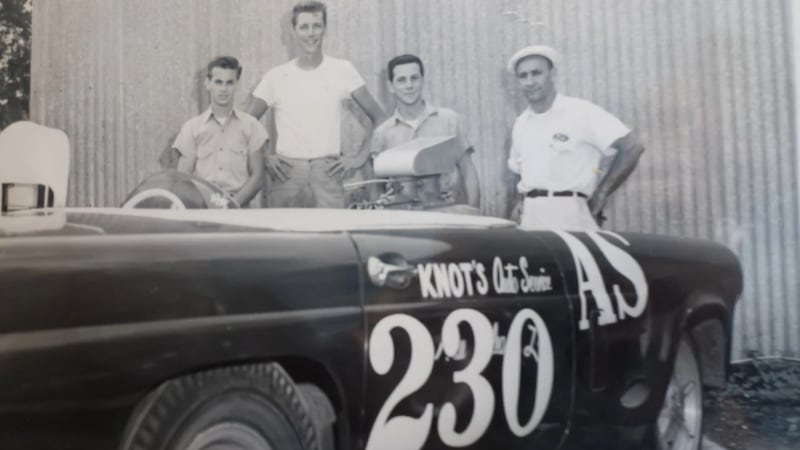 Published: Aug. 27, 2023 at 9:27 PM CDT
BATON ROUGE, La. (WAFB) - A Metairie man who has already passed the age of 100 reveals what he thinks is his secret to living a long life. "Knot" Farrington tells Dave Mcnamara that he stays too busy to slow down.
"I'm telling you, yep. Feels good this morning, huh?," asked L.W. Knot Farrington.
This is the daily routine for L.W. Knot Farrington. And his longtime friend Benny Harrell. They meet at 7:00 a.m. and Knot drives to the neighborhood tastee donut shop for breakfast. More than 60 years ago, Knot was setting world speed records behind the wheel of a race car he built at his New Orleans mechanic shop. You ever miss the old days when you're driving 200 miles an hour?
"Well, actually I do. I'd like to go back out there again, but that's hell," said Farrington.
Starting in 1960, Knot Farrington, set the record for the fastest gasoline powered car at the Bonneville salt flats in Utah. His top speed was nearly 242 miles per hour. He donated his record setting car to the Louisiana sports hall of fame museum in Natchitoches.
"Go light this morning," said Farrington.
"He has work to do. He's going plant in his garden today, so he doesn't wanna be too heavy," said Benny Harrell.
Knot likes his biscuits golden brown.
"Golden brown makes the lips go up and down," said Farrington.
He doesn't miss a chance to inject a little humor as he explains how New Orleans has been so good to him.
"The city of New Orleans named the sandwich after me, they call it poor boy," said Farrington.
Knot is a few days away from another birthday. He's turning 104. You know, the rest of us are wondering, how do you do it?
"I never thought I'd live to be a hundred years old, but then hell, I couldn't do it, you know? Because my health has been so good to me and all. He worked, won't hurt to at all," said Farrington.
Knot has always worked. After owning his own mechanic shop for 36 years, he sold the business and retired. Then went to work as fleet manager for the Jefferson Parish Sheriff's Department for another 30 years. When was the last time you got pulled over for speeding?
"Well ten or 15 years ago, a while ago," said Farrington.
Well that was in your nineties.
Breakfast was only the warmup. This man who can't stop working has cabbages to plant in his fall garden.
"You put your plants about 18 inches apart. You can't put them too close together," said Farrington.
He's already mixed in shovels of fertilizer and turned the rich soil by hand.
"Oh, hey my man. Alright. How you doing? A beautiful dog he has," Farrington said.
He likes to keep his yard looking neat.
"I enjoyed my work, I enjoyed it. While I do, I've always had pride and whatever I do, if I got that, swept the yard, cut the yard, I want to do it and do it right. To me, it just makes me feel a hell of a lot better, Farrington said.
And even after 104 years, it seems the work is never done for Knot Farrington and that's what keeps him going.
Click here to report a typo.
Copyright 2023 WAFB. All rights reserved.