Heart of Louisiana: Alligators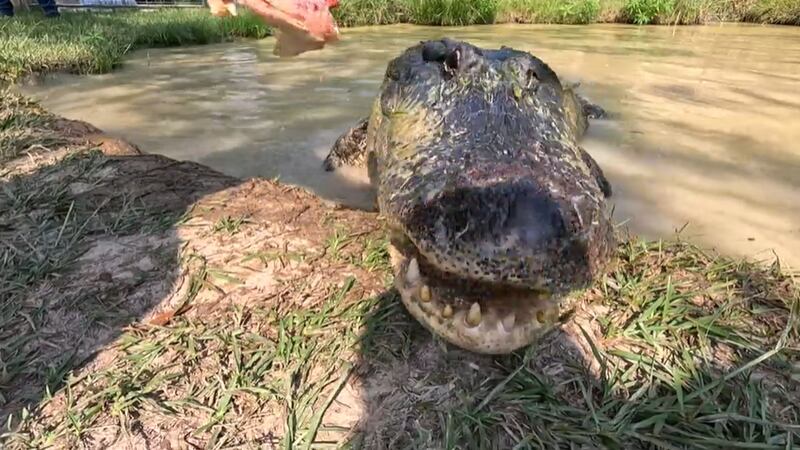 Published: Aug. 20, 2023 at 8:00 PM CDT
BATON ROUGE, La. (WAFB) - It's not that unusual to see an alligator here in Louisiana. But it's an entirely different experience when you can watch them eat or even pet one.
Mike Kliebert grew up around alligators. It started with his great-grandfather's turtle farm near Ponchatoula. The family had Louisiana's first alligator farm, and now Mike gives tours at his private zoo with alligators, reptiles, amphibians, and a few other exotic animals and birds. Kliebert describes the experience as educational. There's the giant alligator snapping turtle his dad trapped 50 years ago. How much you think he weighs?
"He's probably 120," Mike Kliebert said.
And despite the prevalence of alligators in Louisiana, Kleibert says a lot of locals stop by.
"You know when you can get five, 10 foot away from a 13 foot alligator and see that mouth open and see them teeth and the pearly whites and gargle down a big piece of chicken? That's when it's fun," Kliebert said.
Kliebert and his staff feed the big gators by hand.
"It's something that's in my blood. I love alligators. A lot of people have dogs and cats. I got alligators," Kliebert said.
I'm thinking dogs and cats don't bite the way alligators do.
"That's right. I've been nibbled on by a dog and many other animals, but in my experience, nothing bites like an alligator," Kliebert said.
I'm sure you get this question all the time from folks that come out and look at these alligators. They see you feeding and handling the alligators you ever been bit?
"Yes, sir. Unfortunately, I've been bit in the middle of a tour, you know, and it comes with a job. Come on Gumbo, let's go," Kliebert said.
You can see the difference between alligators and a few crocodiles that are on display.
"Beautiful. Cool, to the touch, you're pretty heavy," a woman said.
And if you ever wanted to hold and pet an alligator, this is the place.
"Heavy huh," Kliebert asked.
There is also the snake house where you can try to make new friends.
"We'll get you, if you afraid of snakes. We'll get you out of that," the guide said.
Here you can hold a snake, whether it's small or big.
"And when I say big, we're talking 13 feet. Small fitting the palm of your hand," Kliebert said.
There are mouths to feed as you walk among tortoises or get close to a south American cousin to the raccoon.
"The biggest compliment that we receive is, uh, we make people feel comfortable," Kliebert said.
And whether that means getting hands-on with a gator or simply observing, you can watch and learn more about these animals as they keep an eye on you.
Click here to report a typo.
Copyright 2023 WAFB. All rights reserved.