Body of man who went missing following concert in downtown Baton Rouge found
Published: Aug. 14, 2023 at 11:46 AM CDT
|
Updated: Aug. 14, 2023 at 12:22 PM CDT
UPDATE: The body of a New Iberia man was found along I-10 west on Tuesday, August 15 according to the West Baton Rouge Sheriff's Office (WBRSO).
Officials state that Jeffery Leon, 45, body was found in a crash site along I-10 West near mile marker 145.
"Today, Baton Rouge VCU detectives contacted our office requesting assistance with a missing persons investigation. BRPD detectives had reason to believe that Jeffery Leon BM 45 years old last know whereabouts was in West Baton Rouge Parish. WBR detectives working alongside VCU detectives immediately began combing the LA 415 corridor in hopes of obtaining video footage of Mr. Leon. Detectives were able to obtain video footage of Leon on LA 415 at a gas station. The video footage revealed he was the sole occupant of the vehicle and left the LA 415 corridor traveling northbound and later seen traveling southbound. Detectives continued searching the surrounding area and located a crash site on I-10 westbound near mile post 145. Upon inspecting the crash site detectives discovered a 2008 Ford Expedition registered to Mr. Leon and was occupied by one deceased person. WBR traffic unit is working the crash as a single vehicle fatality. Detectives believe the occupant of the vehicle is in fact Mr. Leon based upon his clothing description when he was reported missing. Detectives do not suspect foul play. Toxicology testing will be done as part of the traffic fatality investigation," said Sergeant Landon Groger with the West Baton Rouge Parish Sheriff's Office in a statement to WAFB.
---
BATON ROUGE, La. (WAFB) - The Baton Rouge Police Department is searching for a man that went missing after attending a Zydeco concert in downtown Baton Rouge.
According to officials, Jeffery Joseph Leon, 53, of New Iberia, was last seen in the 300 block of 3rd Street around 2:30 a.m.
Leon is a popular DJ in Acadiana, known by the name 'Jazzy Jeff Leon'
"I'm just lost, I'm just, I just need help to find my husband," said Latasha Leon, the wife of the missing man.
Leon was in town attending a concert at the Basin Music Hall. Signs outside the venue show it was a 'Zydeco on Third Street' event.
"We're looking at video surveillance footage from that particular area, we've pinged his phone to see his last known location, so we're all out in an attempt to find Mr. Leon," said Sgt. L'Jean McKneely with BRPD.
Leon was supposedly heading home to New Iberia in a tan colored 2008 Ford Expedition with chrome rims, police believe.
Family members told police that Leon apparently called them from a gas station early Saturday morning, August 12, to tell them he was getting some gas then heading home.
The picture below is a similar make and model to Leon's car, however the rims are different.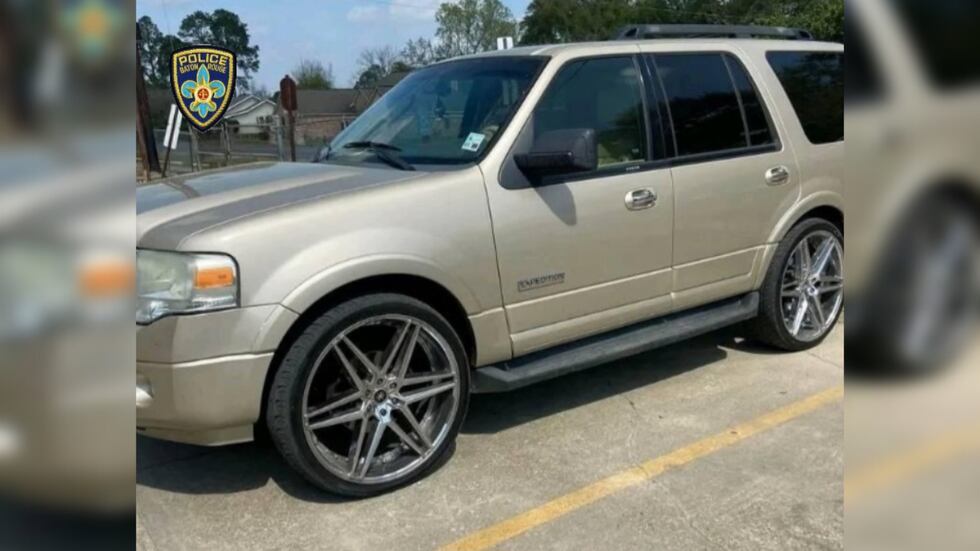 "But just to cut off all communication and now we can't find him anywhere. So, we're reaching out to all local law enforcement from here all the way to New Iberia because something could have happened along the way. And nobody's heard or seen from him since, so that makes it suspicious," said Sgt. McKneely.
"He was supposed to DJ the very next day which was a Saturday afternoon, 3, 4, 5 o' clock. And he didn't show up for that and that's not like him. He shows up for all his parties," said Delanne Jones the cousin of Leon.
Leon's wife is now pleading for answers, hoping someone may know where her husband is after not hearing from him for days.
"I miss him so much, just bring him home, I just want closure, I just want peace," said Leon.
WAFB has learned this investigation is not just being handled by Baton Rouge Police. Multiple law enforcement agencies from Baton Rouge all the way to New Iberia are assisting with this case and helping look for Leon.
"I'm just tired. please hold closure. just give me what I want please," said Leon.
"Please yall, if y'all had any information about his whereabouts, y'all please come forward. We need y'all to come forward, we need help," said Carolyn Etienne, cousin of Leon.
Leon was last seen wearing a white t-shirt and a red baseball cap.
Anyone having information on Jeffery Leon whereabouts is urged to contact the Missing Persons Division at (225) 389-2000 or Crime Stoppers at (225) 344-7867.
Click here to report a typo.
Copyright 2023 WAFB. All rights reserved.