Heart of Louisiana: Paddle Chicot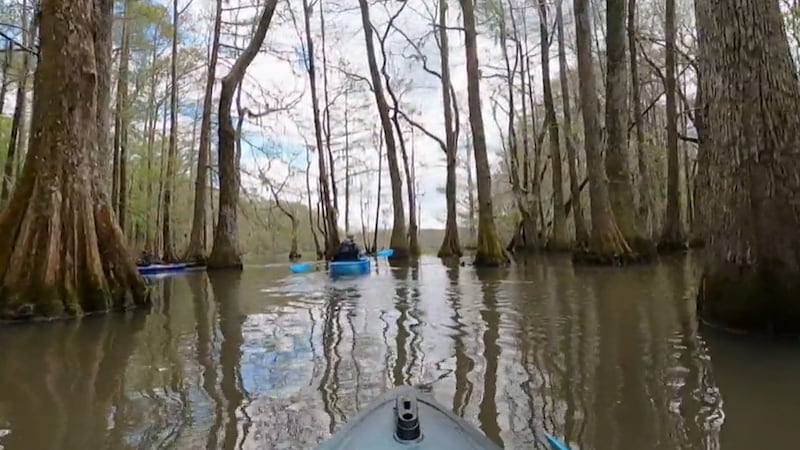 Published: Aug. 13, 2023 at 5:42 PM CDT
BATON ROUGE, La. (WAFB) - A lot of state parks have trails for hiking, biking and even horseback riding. But Chicot State Park near Ville Platte has trails for paddling a canoe or kayak through a beautiful Cypress tree filled lake.
From the moment you begin your paddling journey on Lake Chicot, you realize that this is a special place. The 2000 acre lake is completely surrounded by the sprawling Chicot State Park. One of the oldest in Louisiana, the lakes, edges and countless inlets and coves are shaded by large moss covered trees.
"We have two trees that actually grow in the water here, bald cypress which everybody associates with Louisiana with the cypress knees that grow out of the water. But we also have another tree. That's not one that you see as often and that's the tupelo swamp," said Emma Debenport.
The lake is 10 miles long and it's a popular spot for fishing and the occasional tournament. The paddling trails keep you away from most of the motorboat traffic. As you weave your away through some of the most beautiful scenery on this lake.
"The trail will go along and then there may be a big cove. That really is fun. If you're in a canoe or a kayak, because you can get into the skinny water where the big boats don't go," said Debenport.
I joined a group of a dozen kayakers who were on a bird watching trip led by Mike Van. Etten of pack and paddling Lafayette.
"There's a lot of birds, eagles, ospreys ducks, probably the most common ducks out here would be wood ducks. But we're here in Northern Parula right now. So different times of the year, you have different birds coming here," said Mike Vanetten.
As we glide quietly through the tall trees, we can hear the chirping of birds. The birds catch our eye. As they fly among the high tree branches, we spot an Osprey sitting on its huge nest, a top, a cypress tree.
"You gets to see some things you. Don't normally get to see, you know, turtles on a log or alligators. Moving around in the water and some lilies and some just different plant life and animal life," said Barbara Feske.
"We have a trail splitting and going two different directions right here," Vanetten said.
There are three different canoe trails that zigzag around the lake. They are well marked with yellow signs that keep paddlers. On course, the total distance is 12 miles, but it's probably best not to turn your trip into a marathon paddle. This is a place where you really want to take your time.
"So you would launch from one of the landings you could get on the trail. And if you didn't want to go for a long distance, you just turn around and go back the same way," Vanetten said.
"It's one of the nicest paddles because of that the atmosphere, the trees, the birds, that the water, the way the water was," said Patricia Hanks.
"Sometimes there'll be people who've never canoed before everyone always enjoys it," Debenport said.
And if you don't own one, you can rent a canoe at the state park, and then you can start your own relaxing journey around this scenic tree filled lake.
Click here to report a typo.
Copyright 2023 WAFB. All rights reserved.