AG Jeff Landry urges Pardon Board to follow rules while considering death row clemency pleas
Published: Jul. 19, 2023 at 10:51 PM CDT
|
Updated: Jul. 24, 2023 at 5:37 AM CDT
BATON ROUGE, La. (WAFB) - Louisiana Attorney General Jeff Landry is now weighing in on the historic 50 plus clemency requests from death row prisoners at Angola.
The executive director of the Louisiana Board of Pardons and Parole asked for an opinion from Landry's office on its administrative rules. To decide whether or not a death row inmate is able to submit an application within a year from a direct appeal decision by a judge in these capital cases.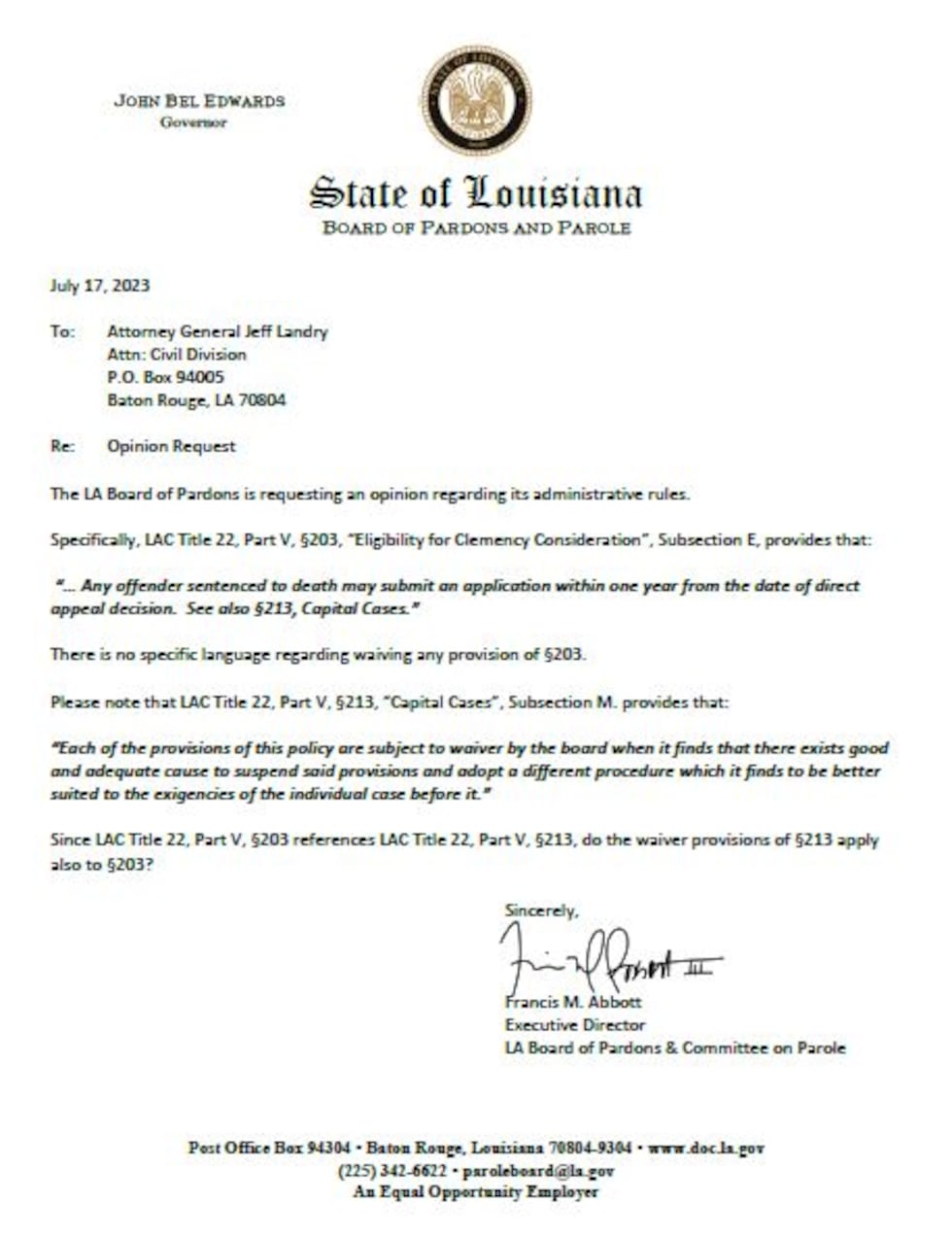 "They had a year from the time they finished their appeals to file this clemency application, and while that rule could be waived, it can only be waived in emergent circumstances," said Loren Lampert, executive director of the Louisiana District Attorneys Association.
In his four-page letter opinion to the Louisiana Board of Pardons and Parole, Attorney General Landy basically said while exceptions are allowed in the rules, it would have to be under emergency circumstances.
"In the matter at hand, however, there exists no factual basis for the Board to engage in emergency rulemaking. Even to the extent that the nature of the Board rules at issue here demonstrate that your request concerns death row inmates, the carrying out of the death penalty upon lawfully convicted and sentenced individuals does not satisfy any of the five reasons set forth by the legislature in La. R.S. 49:962(A)(1)," said Landry in the opinion.
But that's not an option in these cases, being that these prisoners don't have an execution date yet.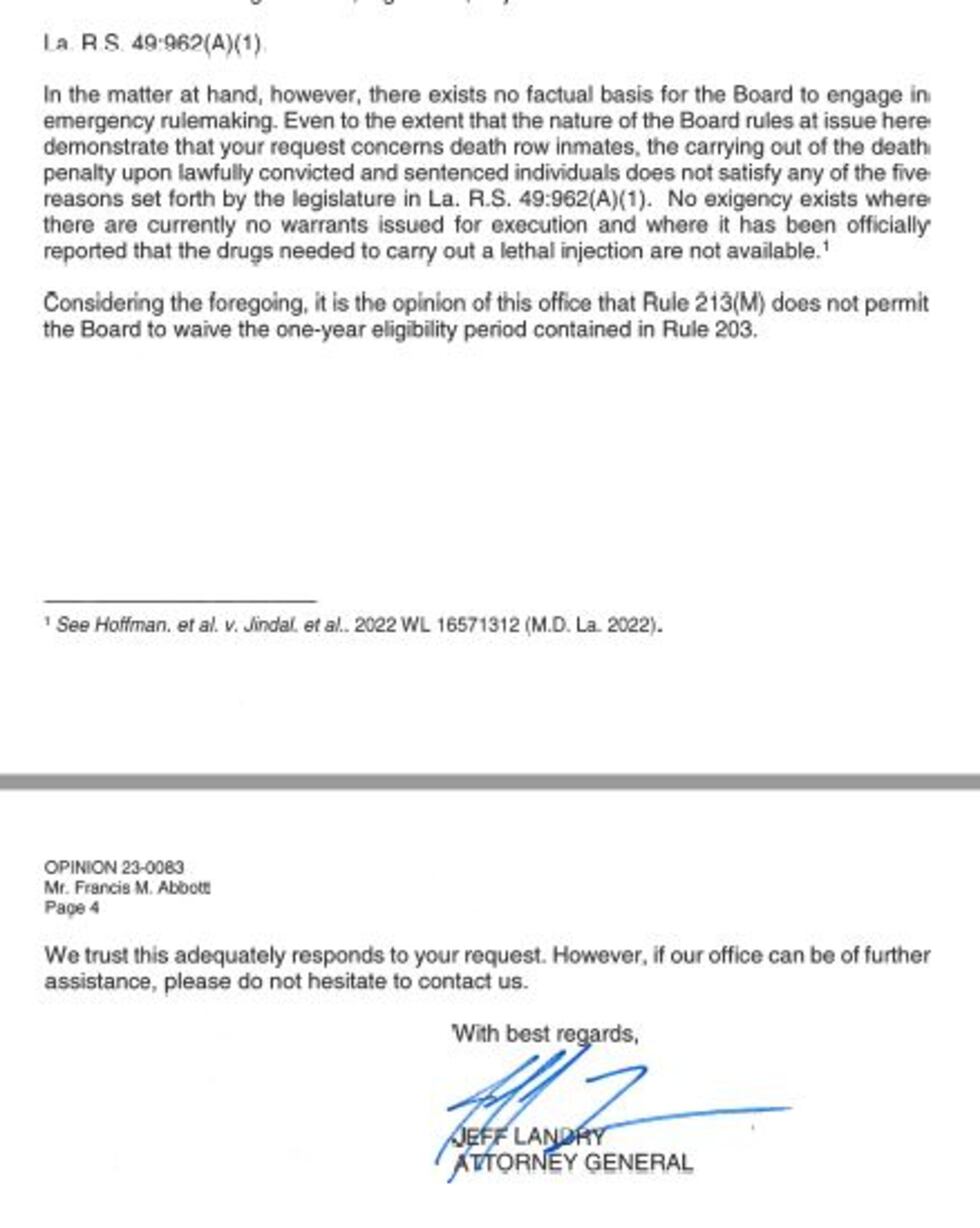 "So, they can change the rule, but they would have to change the administrative rules procedure act, which would require as far as promulgation of the rule, through drafting, and advertising and taking public comment. So, as long as they go through that process, they have the authority to modify the rule," said Lampert.
The process is being sped along with 6 months left in Louisiana Governor John Bel Edwards' term, who has the final say in the matter once the Pardon Board makes their recommendation.
Gov. Edwards spoke about the topic at length today on 'Ask The Governor' with Jim Engster.
"But none of them are even asking them to get out. They are asking to have their sentence commuted from death to life without parole," said Gov. Edwards (D).
"Well, it sounds like if you would receive an instrument like that, you would be inclined to accept it," said Engster.
"I'll review them individually as I receive them," said Gov. Edwards.
"I'll suspect you're going to get a few now," replied Engster.
The attorneys representing the prisoners who filed the clemency requests are firing back on the opinion by the Attorney General and filed a letter to the board as well.
"The clemency applications filed by Louisiana's death row prisoners reveal that our state's death penalty system is racially biased and riddled with errors. Attorney General Landry's opinion has no binding force. It is a baseless attempt to prevent the Board from considering the prisoners' claims of innocence, intellectual disability, serious mental illness, racial bias, prosecutorial misconduct, and other problems exemplifying Louisiana's broken death penalty system. As our letter to the Board states, the death row prisoners are eligible to pursue clemency and we look forward to presenting their cases to the Board in a fair and transparent process," said Cecelia Kappel, Executive Director, Louisiana Capital Appeals Project.
Meanwhile, the Louisiana District Attorneys Association just wants all the rules to be followed by the Pardon Board, on behalf of the victims.
"But we all understand, there is a way to file for clemency, this is a real process, and it's part of the due process that's created by our Louisiana constitution. Do it right though, take your time, review these in sunlight, and then make your decision and live with it," said Lampert.
Also on Wednesday, June 19, EBR District Attorney Hillar Moore submitted a public records request regarding these Death Row clemency applications.
The Louisiana Board of Pardons will meet on Monday, July 24.
RELATED: Nearly all of Louisiana's death row inmates ask Gov. Edwards for clemency
Click here to report a typo.
Copyright 2023 WAFB. All rights reserved.