Emery Jones Jr. returns to Catholic High School to coach at youth football camp
Published: Jul. 18, 2023 at 9:28 AM CDT
BATON ROUGE, La. (WAFB) - BATON ROUGE, La. (WAFB) - Catholic High School Football hosted its youth camp for local 3rd-6th graders on Monday night, July 17.
Members of the coaching staff and varsity team attended to help staff the event. Some former CHS players were invited back as well with Emery Jones Jr. as the headliner. The two-time state champion and current LSU offensive lineman was very excited to return to his old stomping grounds.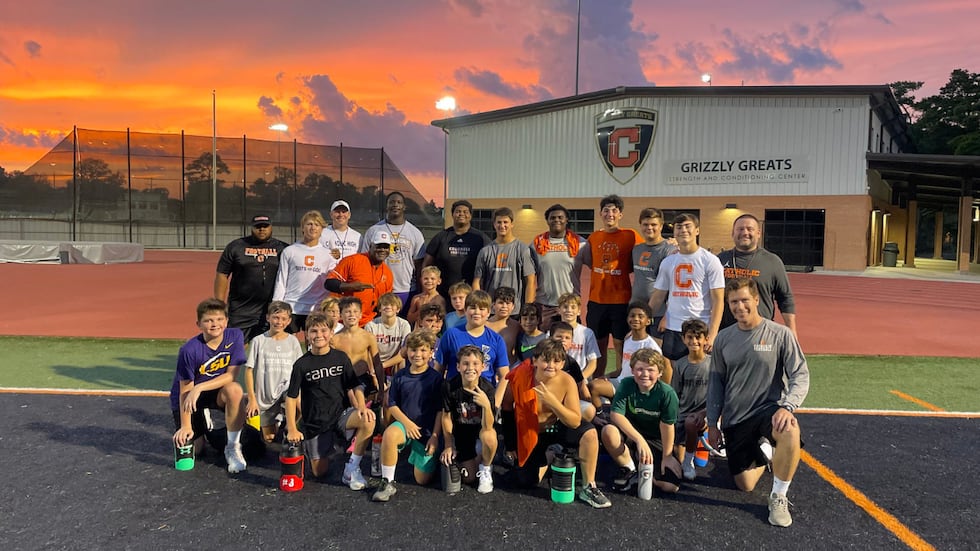 "It's amazing to just come back and be here with all the coaches and be at the alma mater where I came (from)," Jones said.
The Baton Rouge native assisted with coaching nearly 40 kids who showed up for the camp. The staff facilitated drills that focused on footwork, safe tackling, and some games at the end.
Jones shared that he particularly enjoys teaching the younger kids because they soak up information like a sponge.
"They're real innocent, they don't know all the bad yet," Jones said. "They're still trying to understand and figure out things. I think that's the best time to get to them and share your information when they're still learning and they still hold onto it when they grow."
Taking younger people under his wing is something Jones has developed a reputation of doing. Those still with the program think back to his days at Catholic High School and remember times when the SEC football player served as a mentor.
"I actually played with him when I was younger," said Ervin Smith. "I was a freshman; he was a senior. He was actually one of them that taught me most of my moves. I treat him like a brother and thank him a lot."
Smith is a rising junior with Catholic High who was helping run the camp. The center enjoyed some moments to catch up with Jones and reminisce in good memories.
In addition to the players, members of the coaching staff took notice of Jones's eagerness to teach when he wore a Catholic High uniform and roamed the sidelines.
"Knowing who he is and his character and those kinds of things, it comes as no surprise," said Hudson Fuller, the first-year Catholic High School Football head coach. "He's definitely got a serving heart, and I think he's just scratching the surface on his platform and giving to other people."
That serving heart is fueled by a message Jones still carries with him that he received from his mother, Tamika.
"Big thing my mom talks about is sharing the wealth and not even talking about money," Jones said. "Sharing your knowledge, sharing your wisdom, sharing your care for the game. Just sharing all the things you have to offer and give it back to the people who need it."
Jones has been very active in the Baton Rouge community since his transition to LSU. The rising sophomore is driven to be a role model.
"I kinda just always want to be that image that you can do it," Jones said. "Your dream is not too far to chase and that you can do anything possible."
Click here to report a typo.
Copyright 2023 WAFB. All rights reserved.