2023 MLB Draft: LSU's Ty Floyd selected No. 38 overall to the Reds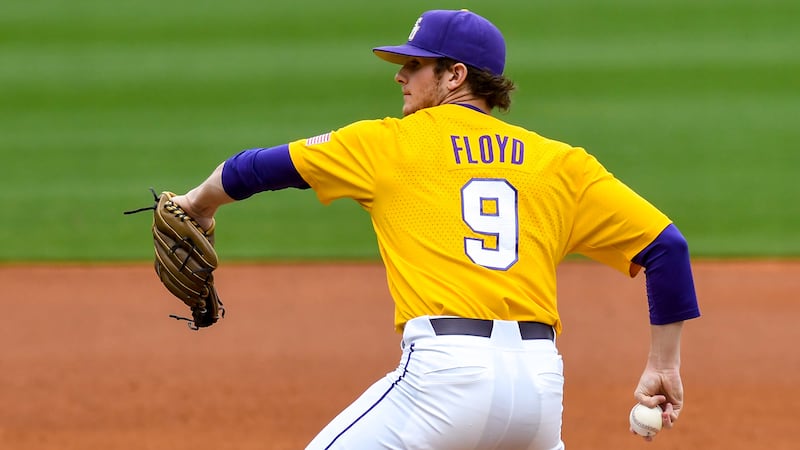 Published: Jul. 9, 2023 at 9:21 PM CDT
SEATTLE (WAFB) - LSU right-hander Ty Floyd has been selected No. 38 overall of the 2023 MLB Draft by the Cincinnati Reds.
Floyd, who had a dominant post-season for the Tigers and was instrumental in getting the game-one win over the Florida Gators in the College World Series.
Against Florida, Floyd tied the record for most strikeouts in a game prior to extra innings with a career-high 17 strikeouts and was also the most by an LSU pitcher in a CWS game.
Floyd also was brilliant in an elimination game against Wake Forest where he limited the Deacons to two runs in five innings while striking out 10.
During the 2023 season, he posted a 7-0 record, with a 4.35 ERA in 91 innings with 37 walks and 120 Ks, he finished No. 4 in the SEC in strikeouts and No. 5 in opponent batting average at .208. His 120 strikeouts ranked No 12 in the nation.
He was voted to the 2023 College World Series All-Tournament Team as he made two starts with 27 strikeouts in 13 innings of work allowing just five runs on seven hits.
In his career, Floyd made 55 career appearances, 27 of them starts, and posted a 12-6 career record with a 4.17 ERA in 175 innings, 74 walks, 229 strikeouts, and a .203 batting average.
Click here to report a typo.
Copyright 2023 WAFB. All rights reserved.