2023 MLB Draft: LSU CF Dylan Crews selected No. 2 overall by the Nationals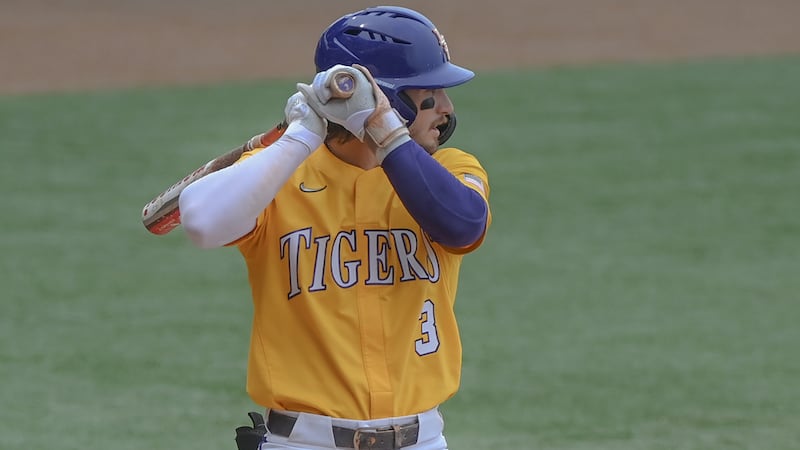 Published: Jul. 9, 2023 at 6:18 PM CDT
SEATTLE (WAFB) - LSU centerfielder and the 2023 Golden Spikes Award winner Dylan Crews has been selected No. 2 overall by the Washington Nationals in the 2023 MLB Draft.
Crews, the reigning back-to-back SEC Player of the Year is one of the most decorated players in LSU baseball history.
This past season Crews was named a 2023 consensus First-Team All-American, 2023 College World Series All-Tournament team, 2023 NCAA Regional All-Tournament team, 2023 SEC Male Athlete of the Year, 2023 First-Team All-SEC, 2023 All-SEC Defensive Team, and an ABCA Gold Glove winner.
Crews is the second Tiger to win the Golden Spikes Award, joining former No. 1 overall pick Ben McDonald.
For his career, the centerfielder hit .380 with 43 doubles, eight triples, 58 home runs, 184 RBI, 237 runs, 152 walks, 23 stolen bases, a .689 slugging percentage, and a .498 on-base percentage.
During his National Championship season, Crews hit .426 with 16 doubles, two triples, 18 home runs, and 70 RBI.
He finished the season No. 1 in runs scored (100), No. 1 in walks (7), No. 2 in base hits (110), and No. 3 in batting average at .426. He reached base in every game this season and reached base in 75 straight games dating back to the last four games of the 2022 season.
His 110 hits ties the school record for most in a single-season with Brandon Larson who did it in 1997.
Crews ranks No. 4 all-time in career home runs and No. 4 in career runs scored with 237, his 100 runs scored this season is the most in a single-season.
Click here to report a typo.
Copyright 2023 WAFB. All rights reserved.