Rep. Clay Higgins posts video response of confrontation with activist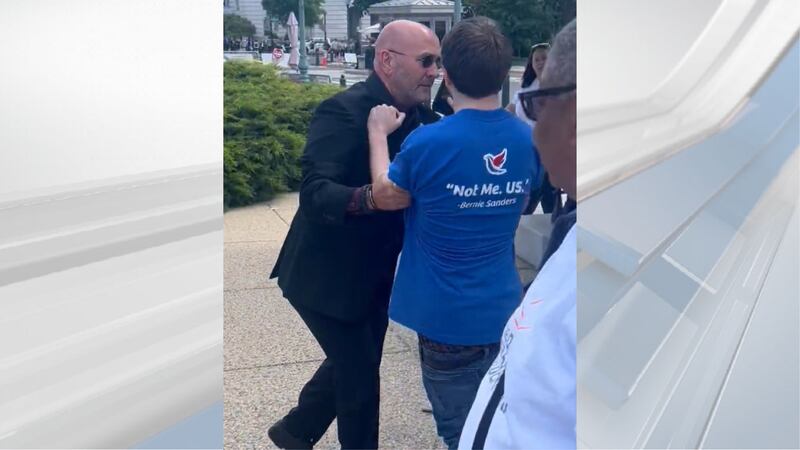 Published: May. 18, 2023 at 7:26 AM CDT
|
Updated: May. 18, 2023 at 4:40 PM CDT
Washington D.C. (KPLC) - Several videos posted to Twitter captured Congressman Clay Higgins pushing an activist away from a news conference outside the U.S. Capitol Wednesday, May 17.
The activist and others posted video of the confrontation to social media on Wednesday afternoon. On Thursday, Congressman Higgins posted his own video, with a follow-up statement and clips of what happened Wednesday.
In his first statement, Higgins said, "Activist was a 103M. Threatening. He was escorted out and turned over to Capitol Police. Textbook."
103M is a police code that refers to a disturbance by a person believed to have mental health issues.
In the video posted to social media, Higgins added the following statements "On May 17, 2023, many Members of Congress, primarily House Freedom Caucus Members, conducted a scheduled press conference regarding concerns over the World Health Organization and America's sovereignty. Many activists and liberal protesters were present. One agitator activist protester became very disruptive and threatening in violation of the law. It's unknown why Capitol Police were not stationed at the press conference. Congressman Higgins successfully de-escalated the situation."
Videos posted by activists show the man approaching the news conference and asking Representative Paul Gosar questions. The video then shows him being approached by Congressman Higgins and having a conversation.
In a second video, the activist then tries to ask Representative Lauren Boebert questions but is confronted by several individuals including Congressman Higgins who seem to escort him away from the podium area. The activist can then be seen walking to a different spot on the other side of the podium to continue asking questions where he is intercepted by Congressman Higgins who can be seen in a separate video pushing the activist away from the area.
The final video posted by the activist shows him being detained by capitol police.
Capitol Police released a statement on the incident saying, "We are aware of this situation, interviewing the people who were involved, and reviewing the available video."
Copyright 2023 KPLC. All rights reserved.