2023 NFL DRAFT: Saints select TCU RB Kendre Miller in 3rd round (No. 71 overall)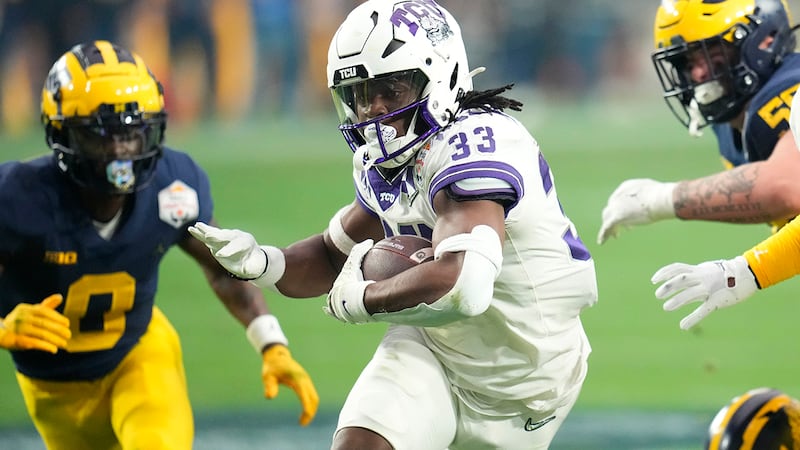 Published: Apr. 28, 2023 at 8:43 PM CDT
KANSAS CITY, Mo. (WAFB) - The New Orleans Saints selected TCU running back Kendre Miller in the third round (No. 71 overall) in the 2023 NFL Draft.
Player bio by Chad Reuter with NFL.com:
Miller rushed for 2,508 yards and 34 scores as a senior quarterback at Mount Enterprise High School in Texas, earning a scholarship from the Horned Frogs. He made an impact as a true freshman, starting one of nine appearances (54-388-7.2, two TDs) and then led the team with seven rushing scores in 2021 (83-623-7.5 rushing; 12-117-9.8, one TD receiving in 10 games with three starts). Miller broke out as a junior, leading the team with 1,399 rushing yards (224 carries, 6.2 per) and tying for eighth nationally with 17 rushing touchdowns in 14 starts, missing the national title game due to injury. The 2022 first-team All-Big 12 Conference pick also caught 16 passes for 116 yards (7.3 per).
Analysis by Lance Zierlein with NFL.com:
The size and production will check important boxes, but Miller's lack of tempo and explosiveness between the tackles could turn him into a grinder against the speed of NFL defenses. His restricted stride length provides greater control to cut early in the run, but it works against him when he needs to hit the gas and stride past linebackers. He has the size and strength to keep runs moving though contact, although he could be an even better run finisher. His third-down value is relatively low, so he will need to sell himself as an early down backup on the next level.
CLICK HERE for more.
Click here to report a typo.
Copyright 2022 WAFB. All rights reserved.