2023 NFL DRAFT: Saints select Fresno St. QB Jake Haener in 4th round (No. 127 overall)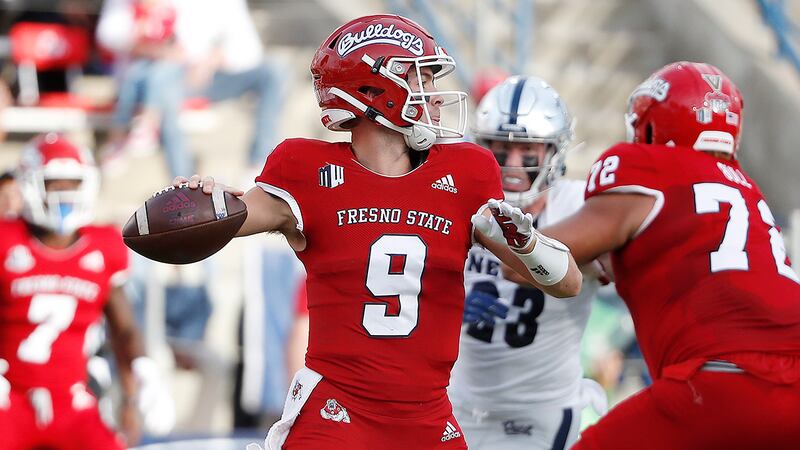 Published: Apr. 29, 2023 at 12:20 PM CDT
KANSAS CITY, Mo. (WAFB) - The New Orleans Saints selected Fresno St. quarterback Jake Haener in the fourth round (No. 127 overall) in the 2023 NFL Draft.
Player bio by Chad Reuter with NFL.com:
Haener signed with Washington out of Monte Vista High School in California but decided to transfer back home to FSU after earning the Scout Team Most Valuable Player Award during his 2017 redshirt season and playing in just four games as a backup the following fall (9-13-69.2, 107 yards, one TD, one INT). Haener was required to sit out the 2019 season due to NCAA regulations but came strong in his first year on the field with Fresno in 2020. The honorable mention All-Mountain West Conference selection ranked fifth in the FBS with 336.8 passing yards per game, sixth with 25 completions per game and sixth in total offense with 339.8 yards per game in six starts (150-232-64.7, 2,021 yards, 14 TD, five INT); three rushing TD). Haener was expected to head to the NFL after a second-team all-league effort in 2021, when he ranked ninth in the FBS with 4,096 passing yards and completed 329 of 490 attempts (67.1 completion percentage) and threw for 33 touchdowns (nine INT) in 13 starts. However, he returned to play for Fresno in 2022, garnering first-team All-Mountain West accolades (252-350-72.0, 2,896 yards, 20 TD, three INT in 10 starts) despite missing four games with an ankle injury.
Analysis by Lance Zierlein with NFL.com:
Team captain with below-average size and arm talent, but above-average football IQ. Haener plays with a pre-snap plan and does a nice job of getting the ball out quickly against the blitz. He senses edge pressure and slides to find a new location to throw from. He doesn't have the drive velocity to successfully window shop and might require a timing-based scheme or spread attack where he can make quick throws in rhythm. Haener's lack of traits, coupled with limited mobility outside the pocket, create a challenging road to NFL success.
CLICK HERE for more.
Click here to report a typo.
Copyright 2022 WAFB. All rights reserved.