2023 NFL DRAFT: Saints select Clemson DT Bryan Bresee in 1st round (No. 29 overall)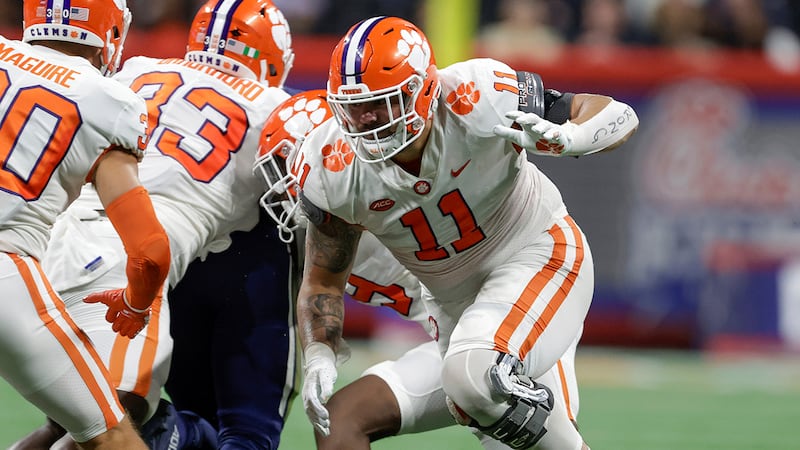 Published: Apr. 27, 2023 at 10:37 PM CDT
|
Updated: Apr. 27, 2023 at 11:13 PM CDT
KANSAS CITY, Mo. (WAFB) - The New Orleans Saints selected Clemson defensive tackle Bryan Bresee in the first round of the 2023 NFL Draft at No. 29 overall on Thursday, April 27.
WATCH: Head coach Dennis Allen recaps Day 1 of the 2023 NFL Draft
Player bio by Chad Reuter with NFL.com:
The nation's top recruit in the 2020 class was a two-time first-team USA Today All-American at Damascus High School in Maryland. Bresee (pronounced bruh-ZEE) started 10 of 12 appearances in 2020 (23 tackles, 6.5 for loss with four sacks, two pass breakups). He was a third-team All-ACC pick in 2021 despite only starting the Tigers' first four games (12 tackles, three for loss with 1.5 sacks, one interception) because of a torn ACL. Bresee was a second-team All-ACC selection in 2022 (15 tackles, 5.5 for loss with 3.5 sacks, two pass breakups in 10 games, seven starts). Bresee missed the Louisiana Tech game to be with his family after the death of his younger sister, Ella, who passed away from brain cancer at the age of 15. Later in the season, Bresee missed time due to a kidney infection.
Analysis by Lance Zierlein with NFL.com:
Burly but athletic interior tackle who plays with a strong desire to get past the man in front of him. Bresee rarely gets caught up in long block engagements and possesses a deep anchor to battle double teams. He operates with subtle hand fighting that helps puts pressure on blockers but currently lacks the rush sophistication and shed technique to make more plays in the backfield. If he can stay healthy and gain much-needed experience, Bresee should continue to progress at his position and become a good run defender with an ability to disrupt the pocket within his first few NFL seasons.
CLICK HERE for more.
Click here to report a typo.
Copyright 2022 WAFB. All rights reserved.