Heart of Louisiana: Valentine Lake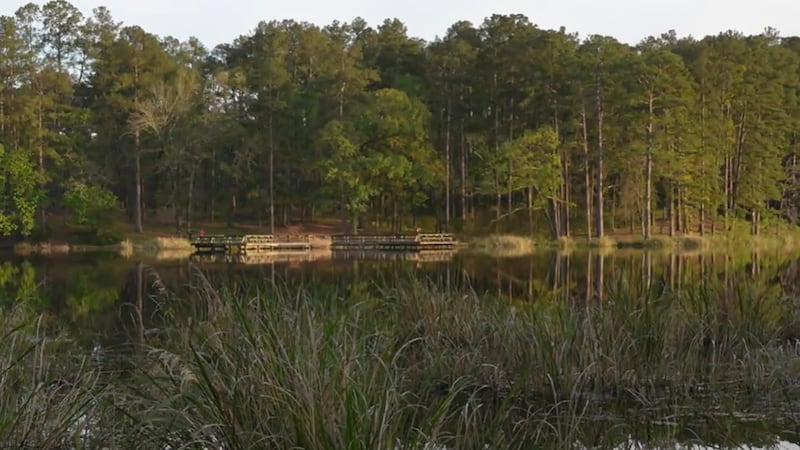 Published: Apr. 16, 2023 at 4:07 PM CDT
BATON ROUGE, La. (WAFB) - For a Louisiana campground, Valentine Lake is a bit on the primitive side, but this secluded campground on a quiet lake is a real beauty.
Valentine Lake is a hidden gem in central Louisiana. The recreation area and campground are located about 20 miles west of Alexandria, tucked away in the piney woods of the Kisatchie national forest. It's one of the older public campgrounds in the state.
"It was actually built by the civilian conservation corps back in the 1930s. They built the dam, and the spillway, and made this approximately 40-acre lake, which we managed today as one of our rec areas," Jonny Fryar said.
Valentine Lake has 14 campsites with some along the lake shore.
"We have running water at the bathrooms, but each site doesn't have electricity or water. So it's a little more primitive, but it's really a beautiful setting. It's quiet. A lot of people like that, so they come here," Fryar said.
One of the enjoyable things about this recreation complex is the trail system, whether it's along the lake or deep into the woods of the Kisatchie and the trails at Valentine Lake connect with the 25-mile-long wild Azalea trail. The longest hiking trail in the state. When I visited in the middle of the week, only a couple of campsites were in use. Bart and Karen Austin are traveling from their home in Wisconsin to Colorado.
"This is a jewel. Nobody here that I think are 20 sites maybe, and what could be better," Bart Austin said.
"Absolutely stellar, and I don't wanna say a well-kept secret because when you say that, it's no longer a well-kept secret," Karen Austin added.
They told me they spent the day hiking and spotted an alligator and they got some food advice from a local trail runner.
"She stopped and told us what to look for because she's a Louisiana person. By goodness, you better have some boudin balls before you leave the state," Bart said.
So that would be boudin balls.
"Well, that's what she said, boudin balls, and I have a hard time pronouncing that," Bart added.
The next day I met another camper, Michael Mazur from New Orleans, who says he's been here several times.
"The solitude, of course, the loveliness of the campgrounds just nature itself, and it's a three-hour drive out of New Orleans, so it gets us out of the city," Michael Mazur.
The lake is stocked with Florida bass and there are several fishing piers. You can paddle, but no power boats are allowed. I met Luis Wilson on one of the piers
"Since I like to take pictures and just walk around, I came here. Beautiful place the first time, and I've been here for three hours already, waiting for the sunset to see the colors," Luis Wilson said.
It was worth waiting for. The sun dipped below the trees and said farewell with a golden blanket of color and the relaxing sounds of nature.
Click here to report a typo.
Copyright 2022 WAFB. All rights reserved.