In Ghana, Kamala Harris 'excited about the future of Africa'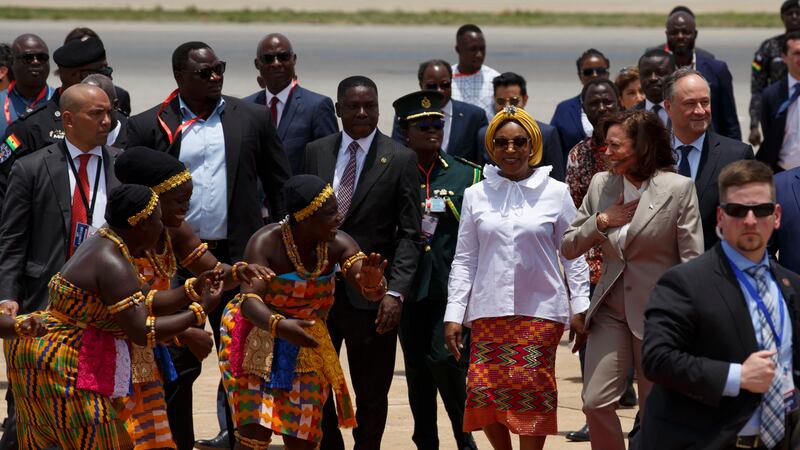 Published: Mar. 26, 2023 at 9:41 AM CDT
Accra, GHANA (AP) — Vice President Kamala Harris was greeted by schoolchildren, dancers and drummers as she arrived Sunday in Ghana for the start of a weeklong visit to Africa intended to deepen U.S. relationships amid global competition over the continent's future.
"We are looking forward to this trip as a further statement of the long and enduring very important relationship and friendship between the people of the United States and those who live on this continent," Harris said.
The children cheered and waved Ghanaian and American flags as she stepped off her plane after an overnight flight. She smiled broadly and placed a hand on her heart as she passed by the dancers.
"What an honor it is to be here in Ghana and on the continent of Africa," Harris said. "I'm very excited about the future of Africa." She said she wanted to promote economic growth and food security and welcomed the chance to "witness firsthand the extraordinary innovation and creativity that is occurring on this continent."
Ghana is one of the continent's most stable democracies, but Harris is arriving at a time of severe challenges for the West African nation. Its economy, among the fastest growing in the world before the COVID-19 pandemic, faces a debt crisis and soaring inflation that is driving up the cost of food and other necessities.
A country of 34 million people that's slightly smaller than Oregon, Ghana is also wary of threats from instability in the region. Burkina Faso and Mali have each endured two coups in recent years, and local offshoots of al-Qaida and the Islamic State group operate in the area known as the Sahel, which is north of Ghana. Thousands of people have been killed and millions more have been displaced.
The fighting has created an opening for the Russian mercenary outfit known as Wagner, which maintains a presence in Africa despite participating in the invasion of Ukraine as well. Mali welcomed Wagner after it pushed out French troops that were based there, and there are fears that Burkina Faso will do the same.
The economic and security challenges will likely be discussed on Monday when Harris meets with Ghana's president, Nana Akufo-Addo. They also are expected to hold a joint news conference.
The two leaders have met twice before, both times in Washington.
During their first meeting, in September 2021, Akufo-Addo said "our big challenge — and it is a challenge of all those who want to develop democratic institutions on our continent — is to ensure and reassure our people that democratic institutions can be a vehicle for the resolution of their big problem — that is economic development as the means to eradicate poverty on the continent."
Harris is the highest-profile member of President Joe Biden's administration to visit Africa this year. After Ghana, she plans to visit Tanzania and Zambia. She returns to Washington on April 2.
The expanded outreach is intended to counter China's influence, which has become entrenched in recent years through infrastructure initiatives, lending money and expanding telecommunications networks. Ghana, for example, reached a $2 billion deal with a Chinese company to develop roads and other projects in return for access to a key mineral for producing aluminum.
Most of Harris' events in Ghana will focus on young people. Africa's population has a median age of 19.
On Monday, she plans to visit a skate park and co-working space that has a recording studio for local artists. Her husband, Doug Emhoff, who is accompanying her on the trip, will hold a town hall meeting with actors from a local television show and attend a girls basketball clinic.
In the evening, they will attend a state banquet with the Ghanaian president and first lady.
On Tuesday, Harris will give a speech and visit Cape Coast Castle, where enslaved Africans were once loaded on ships bound for America.
Before leaving for Tanzania on Wednesday, Harris will meet with women entrepreneurs and Emhoff will tour a chocolate company that was founded by two sisters. The name of the company, '57 Chocolate, is a reference to when Ghana became independent.
Cameron Hudson, an Africa expert at the Center for Strategic and International Studies, said Ghana has been "a bright spot in the region" but "it's facing some very stiff headwinds."
He noted that the country's south, where the capital of Accra is located, is primarily Christian, while the northern area is mostly Muslim, and there are fears that militants could expand their operations there.
"These terrorist groups are able to prey on existing fault lines within these societies," he said.
Hudson said Ghanaian authorities have intercepted weapons shipments and human smugglers. Sometimes there are bursts of violence, and the number of incidents spiked last year.
Copyright 2023 The Associated Press. All rights reserved.